The Pentax Auto 110 was launched in 1979, a real SLR camera and its system for Kodak 110 pocket film*(see below). It was followed by the Pentax Auto 110 Super in 1982. Production ended in 1985.

* 110 film was introduced by Kodak in 1972. The film sits in a cartridge, like Kodak's earlier 126 film, but is much smaller. A frame is 13mm × 17mm, has one perforation per image to control film advance and 24 frames per cartridge (12 were also available). The film is protected by a backing paper like 120 film. The frame number is visible through a window at the back of the cartridge. The basic film is ordinary 16mm film which was already on the market, so it could be processed in existing machines. The small picture size made very small, pocketable cameras possible.

Kodak introduced with its 110 film a line of Kodak Pocket Instamatic cameras which were followed by cameras from other manufacturers. Most cameras were cheap point-and-shoot, but very sophisticated models were also made. Small digital cameras made 110 film obsolete. Bit by bit manufacturers stopped making 110 format film (Fujifilm in 2009), but in 2012 (and 2019) Lomography made a large batch of 110 film, followed by other firms.

The Pentax Auto 110 has interchangeable lenses and an advanced, yet fully automatic exposure system for an easy use. It was the smallest SLR camera system ever built. Its main features are:

3 Pentax 110 lennses at the launch:
18mm F2.8 Wide-Angle lens, 6 elements in 6 groups, filter 30.5mm, min. focus 0.25m (!!), 27 gr.
24mm F2.8 Standard lens, 6 elements in 5 groups, filter 25.5mm, min. focus 0.35m (!), 13 gr.
50mm F2.8 Telephoto lens, 5 elements in 5 groups, filter 37.5mm, min. focus 0.9m, 57 gr.

In 1981 3 more lenses were added:
18mm F6.3 Pan Focus (focus-free) lens, filter 30.5, min. focus 1.75m, 29 gr., which is a rare and expensive lens (I have not seen it yet)
70mm F2.8 Telephoto lens, 6 elements in 5 groups, filter 49mm, min focus 1.5m, 160 gr., which is heavier than the body
20mm - 40 mm F2.8 Zoom lens, 8 elements in 8 groups, filter 49mm , 0.7m, 172 gr., which is heavier than the body

Electronic shutter, 1s at f2.8 - 1/750 at F13.5 (F18 on Super)
Size: Body 99x56x32(45mm with standard lens), Weight: Body 159 gr. (172 gr. with standard lens)
100 and 400 ISO, automatic coding, TTL metering, low light warning, split-screen focus aid in bright real SLR finder, for Super model: microprism ring added in finder, self-timer, exposure compensation, single-stroke film advance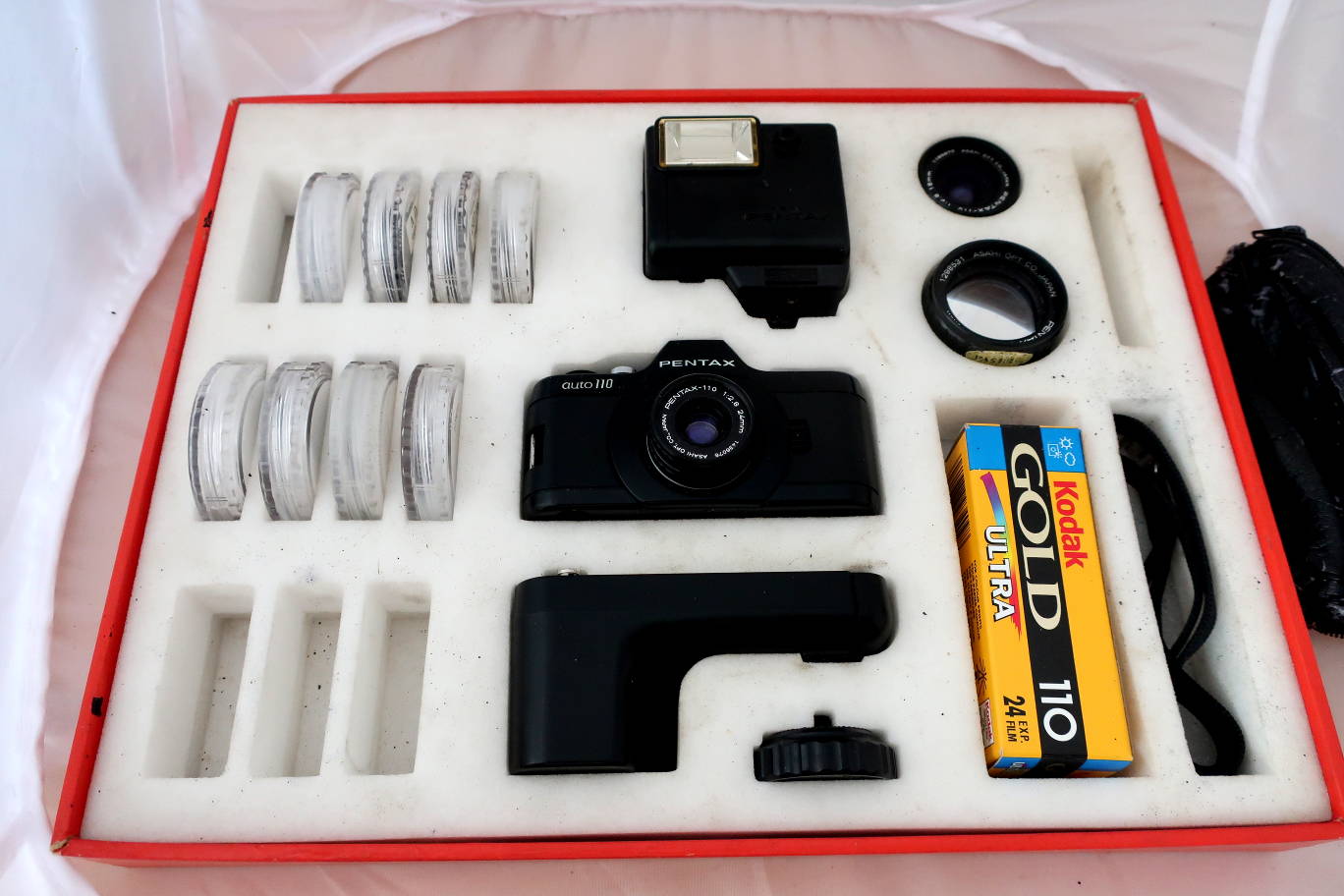 Camera complete system in original box. Only one filter and the hoods are missing.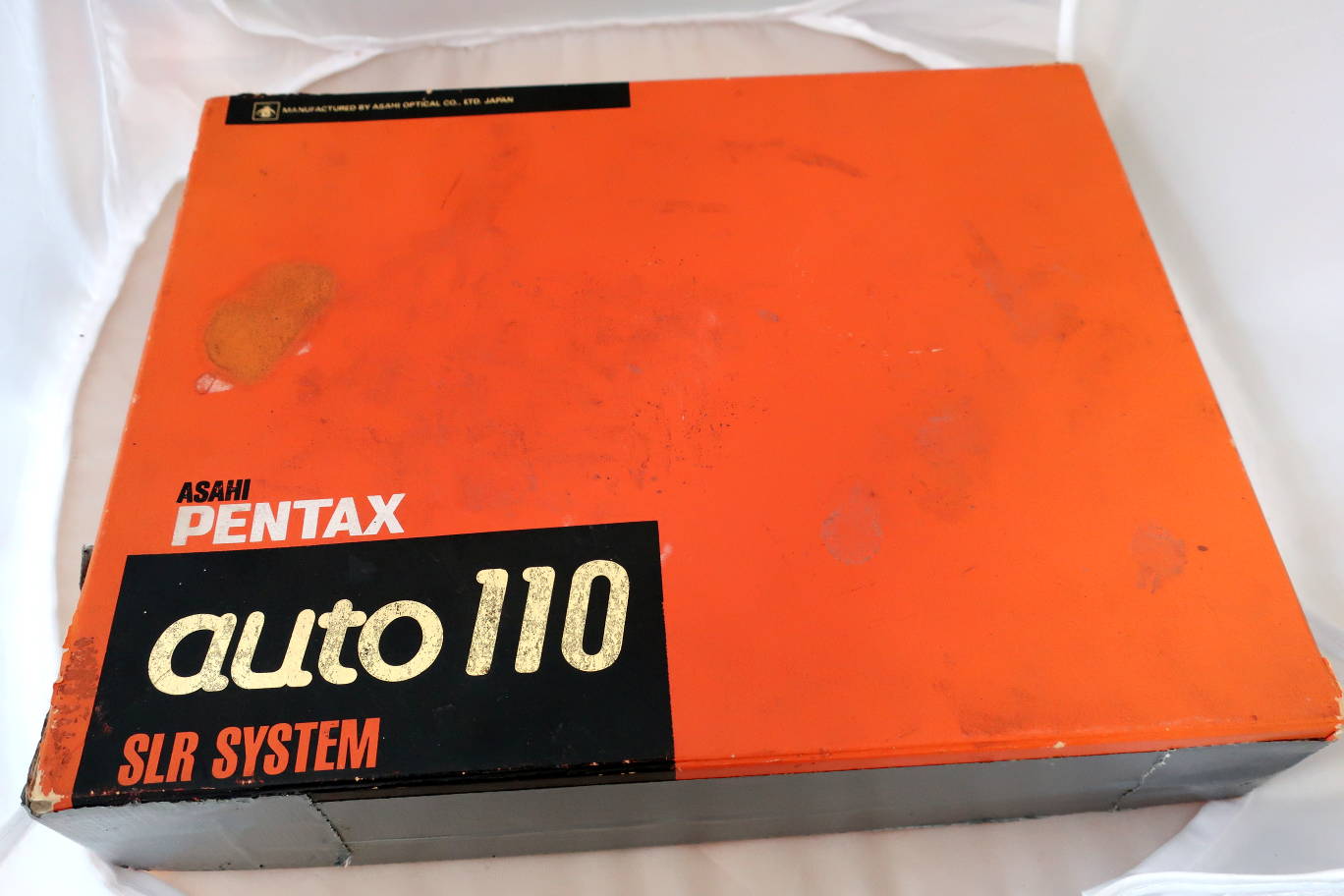 The lid of the box.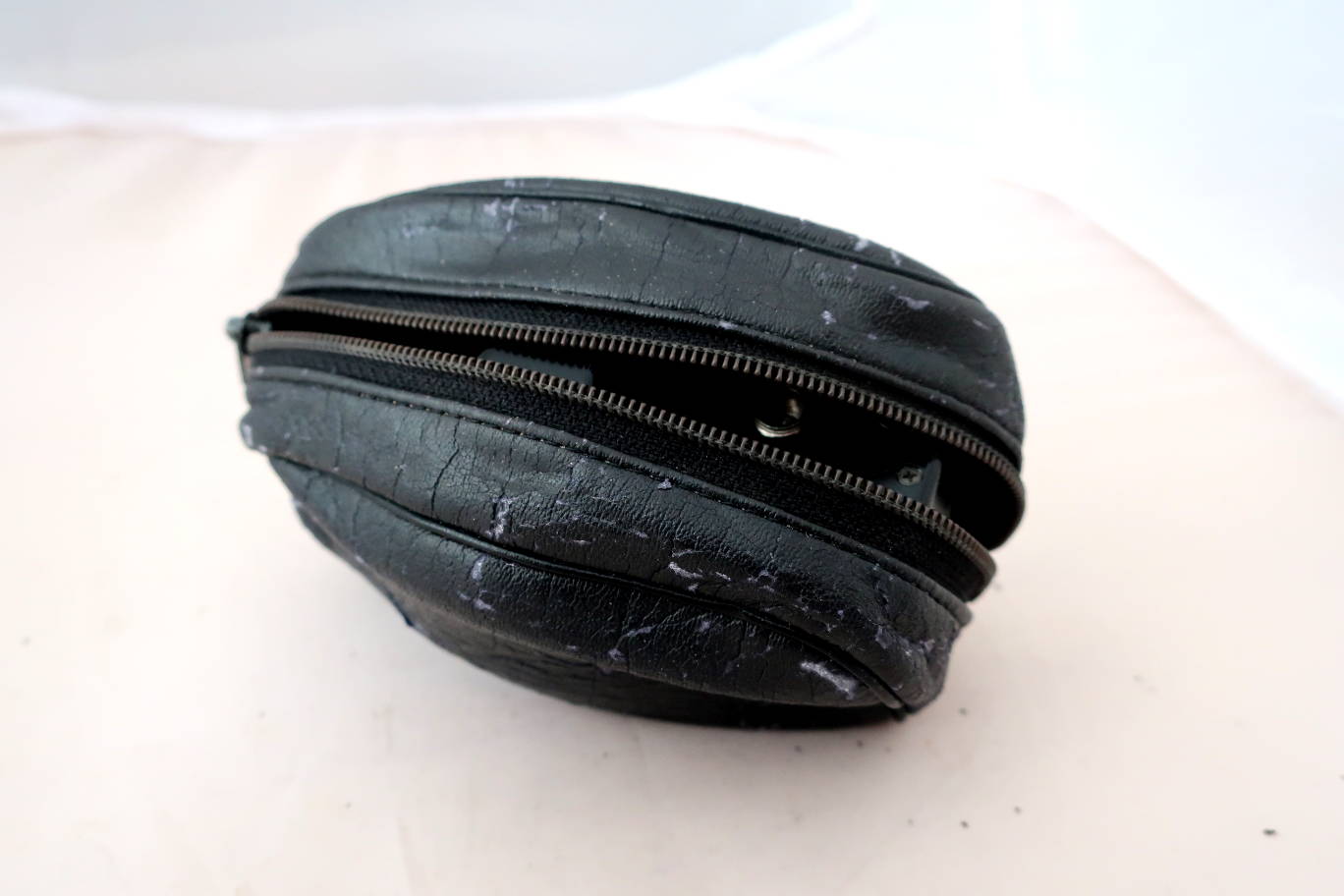 Camera in original faux leather pouch, which has suffered from time.


Camera and standard lens. Lens release next to the lens. On the prism the early Asahi lettering is not whitened any more.


Back view.
The window will show the film type and the frame number, when a cartrigde is inserted.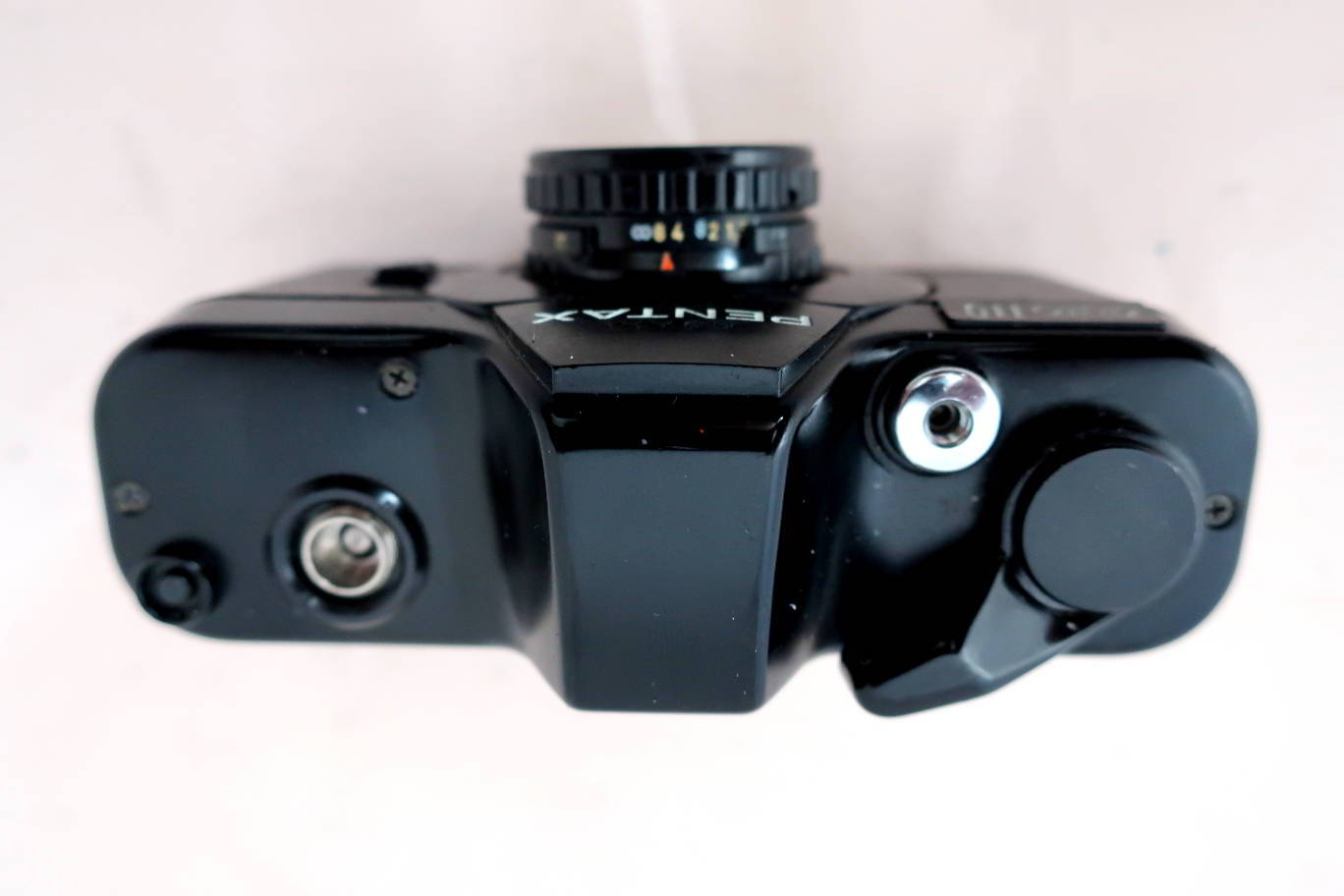 Seen from the top. Flash connections, shutter release, wind lever.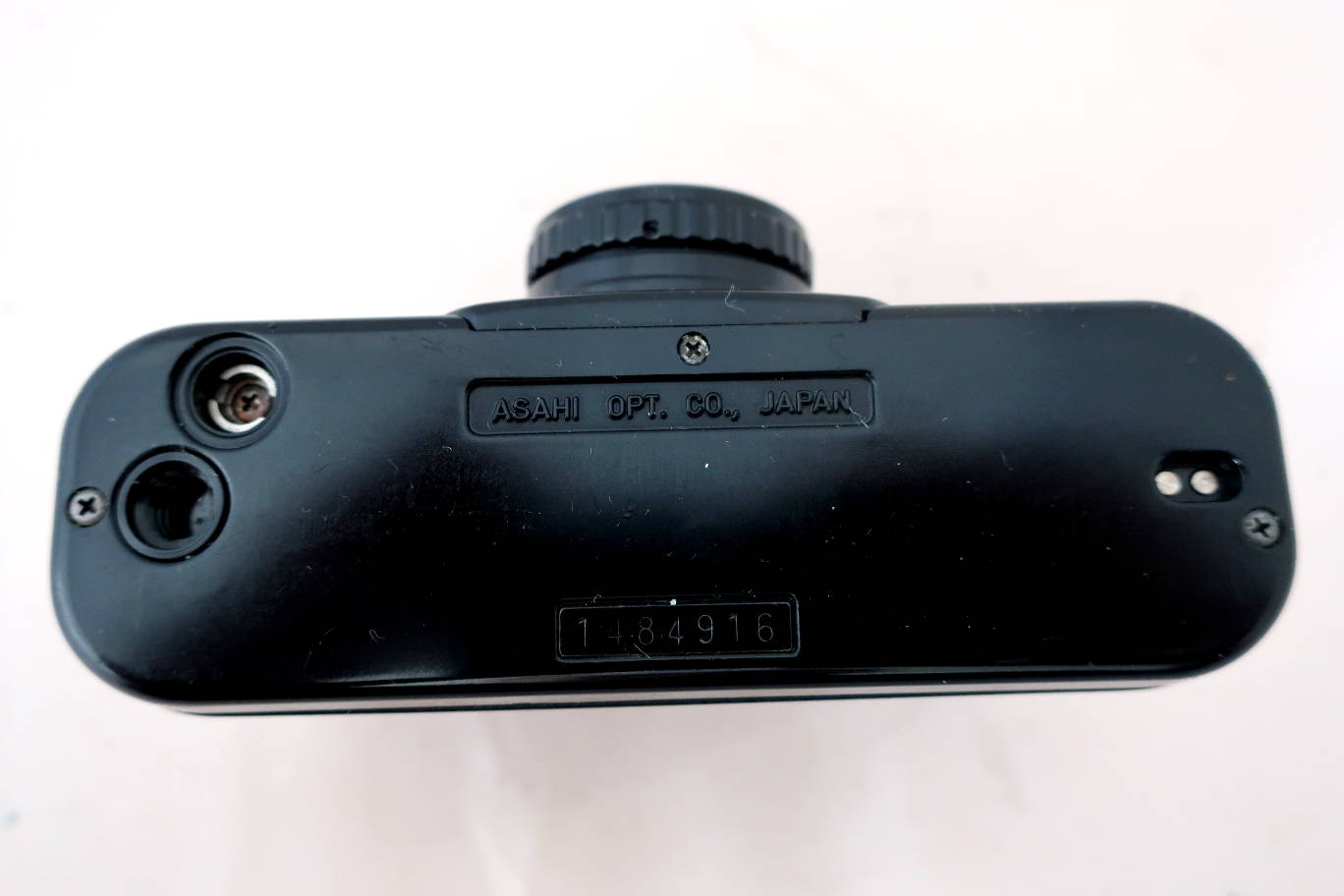 Seen from below. Tripod socket, a spacer is necessary for the tele and zoom lenses. Winder connection and contacts,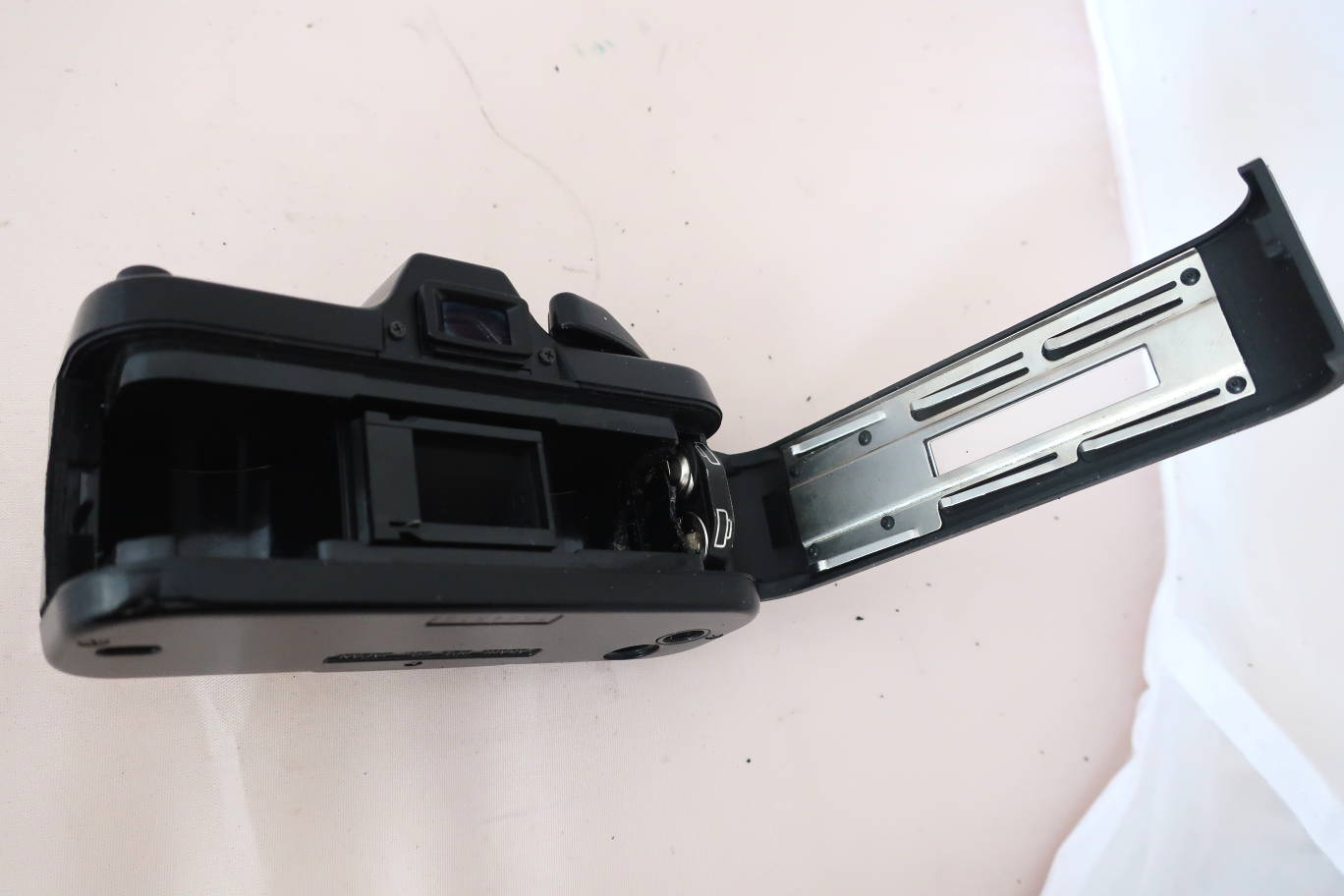 Camera film compartment open. Battery compartment contains 2 LR44 or SR44 batteries, easily available.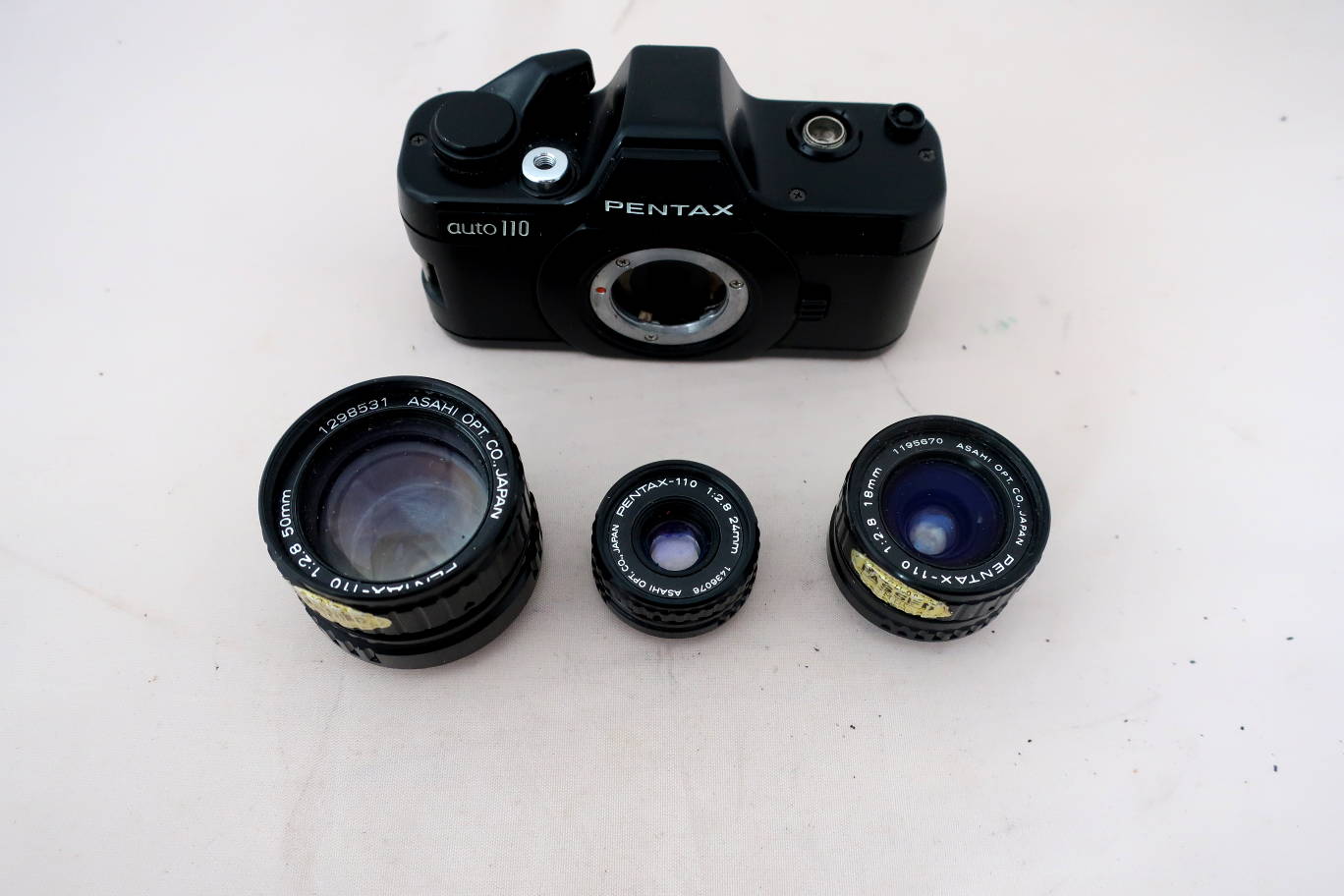 Camera body and the 3 lenses.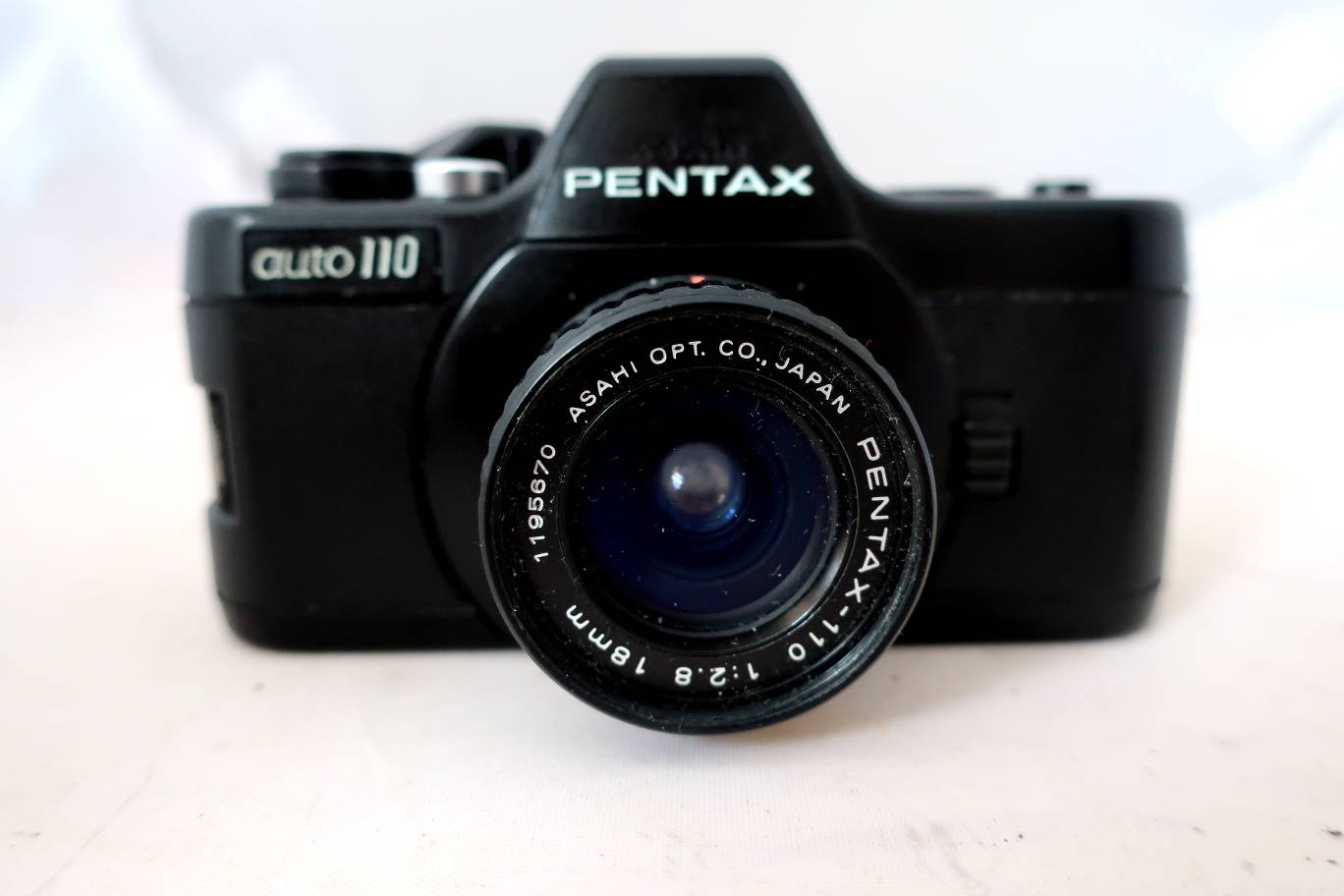 Camera with Wide-angle lens.



Camera with Tele lens. Sorry for the dust, the box is a bit crumbly.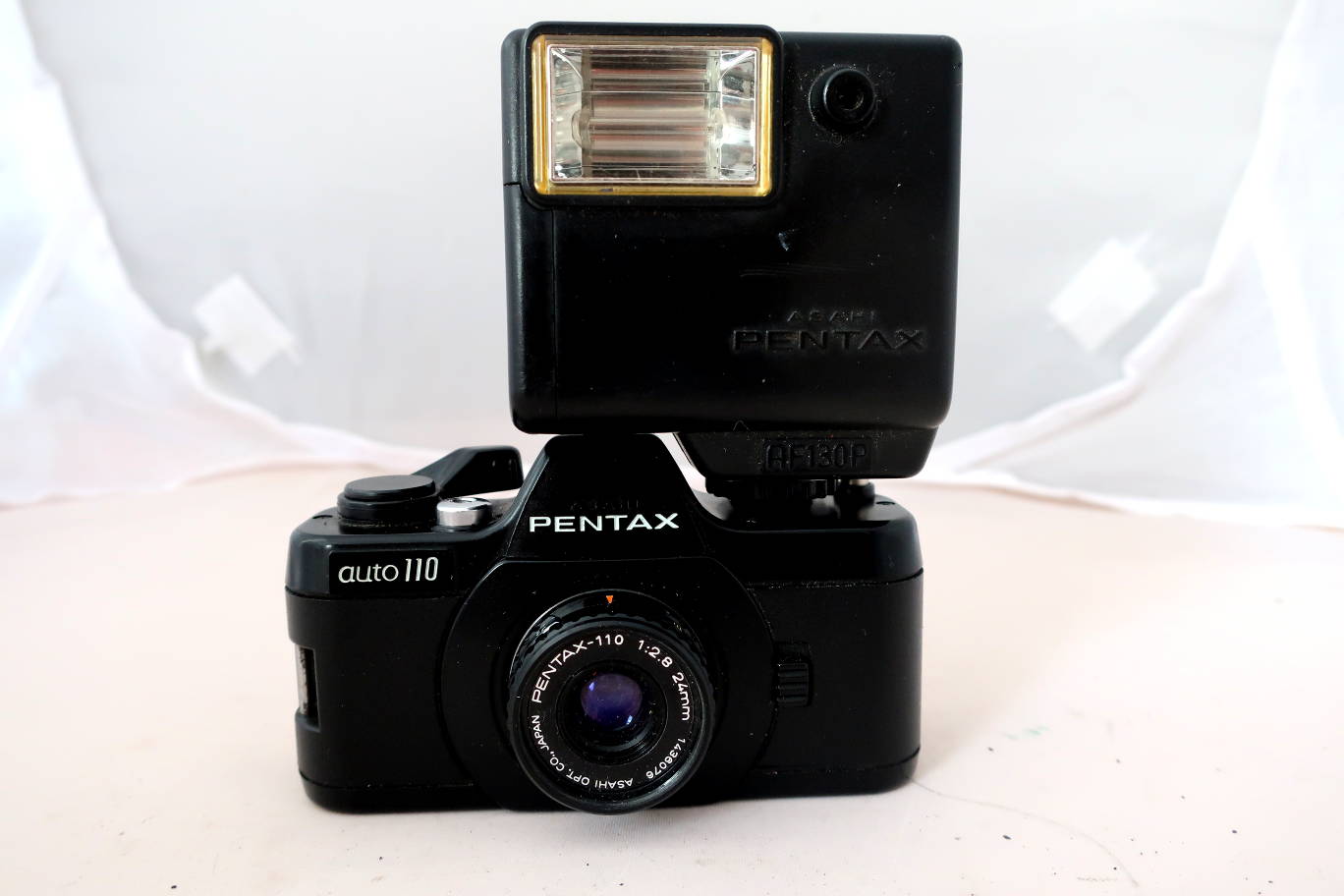 Camera and flash. It connects automatically to the camera an presets 1/30s and F2.8 with 100 ISO film, F5.6 with 400 ISO. It can only be used if the exposure warning is lit. Otherwise the result would be overexposure because of the F2.8 opening. Focussing range is from 0.8 to 4.6m (GN 13 ISO 100). Good focussing is necessary because the shallow depth of the field with F2.8. So it cannot be used as fill-in in brightly lit scenes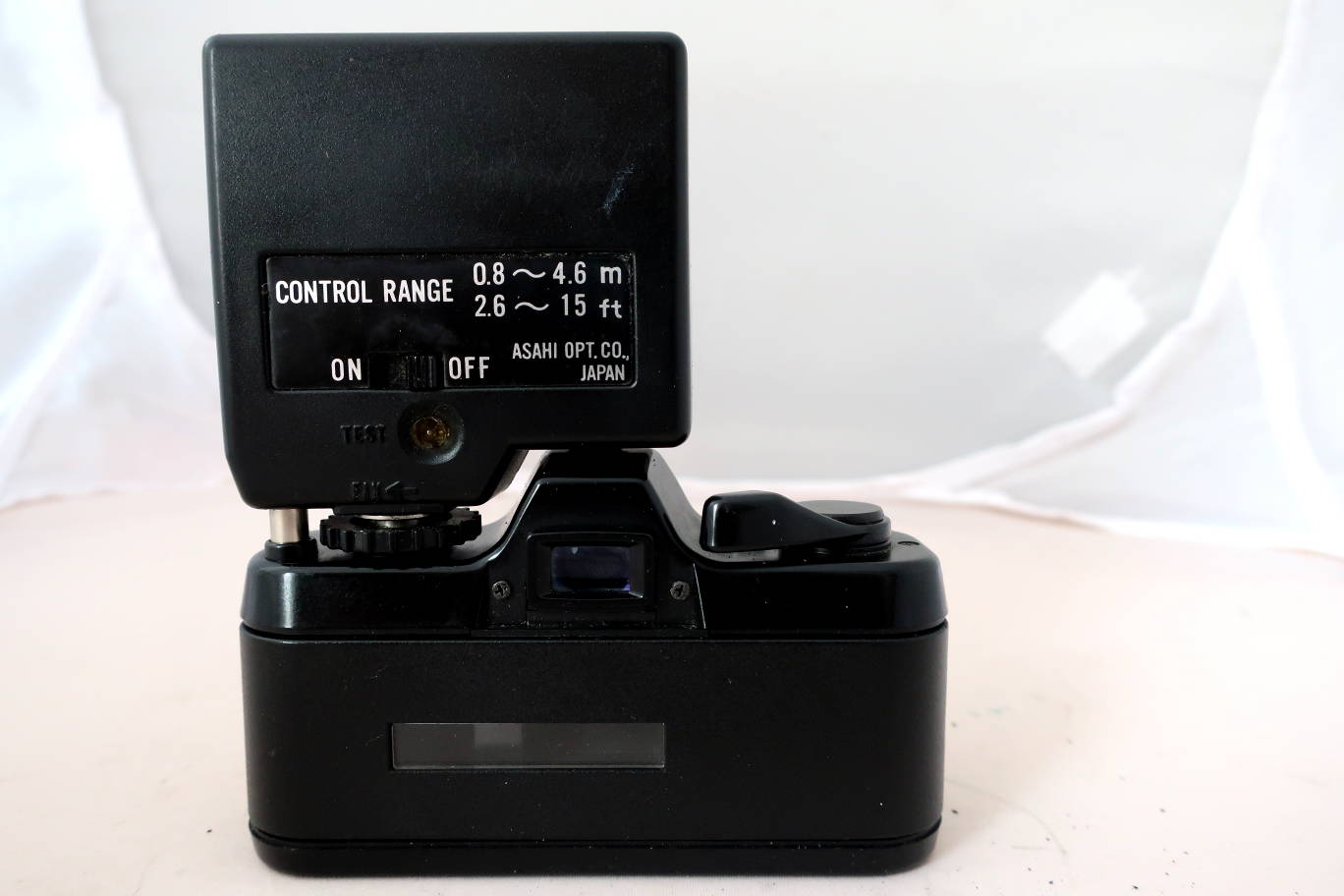 Seen from the back



With the winder added. The battery cover hinge is broken on most of the first generation winders.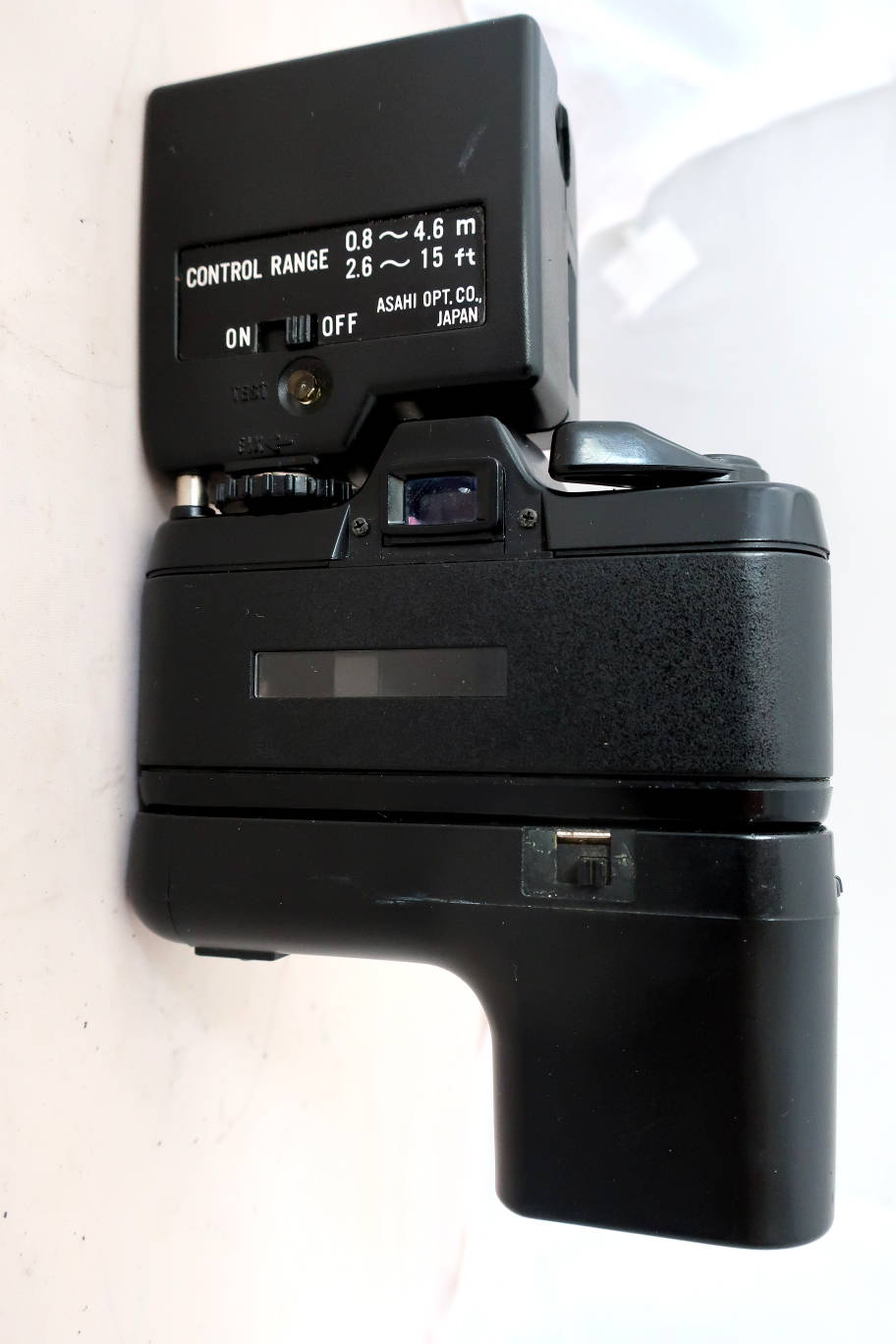 Seen from the back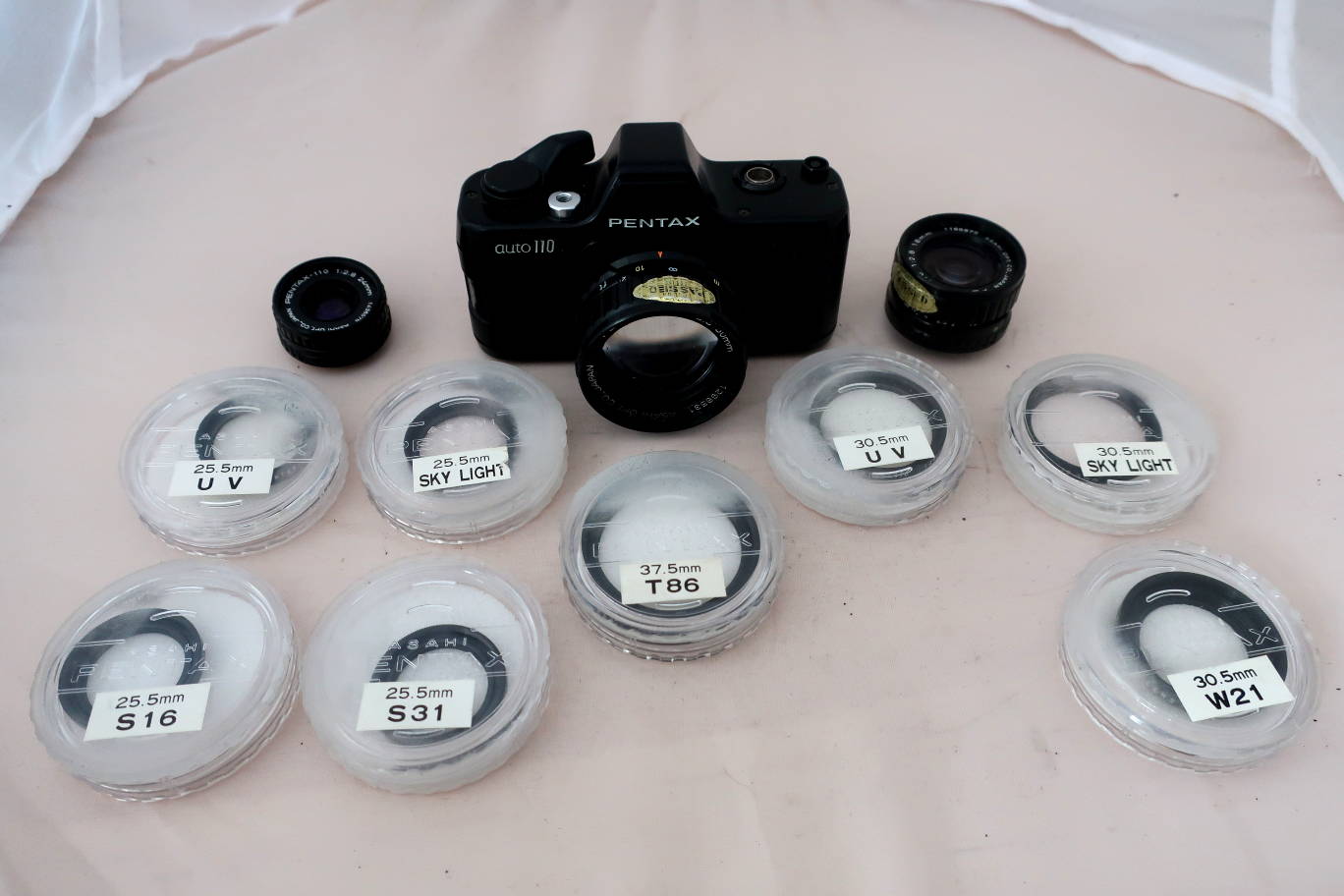 Camera and filters/close-up lenses. S for standard lens, the S16 goes as close as ~10cm, T for tele lens, there is also a T43 as close as ~35 cm, W for wide lens, there is only one. The 70mm and the zoom have standard 49mm thread, so there are only few Pentax accessories for them.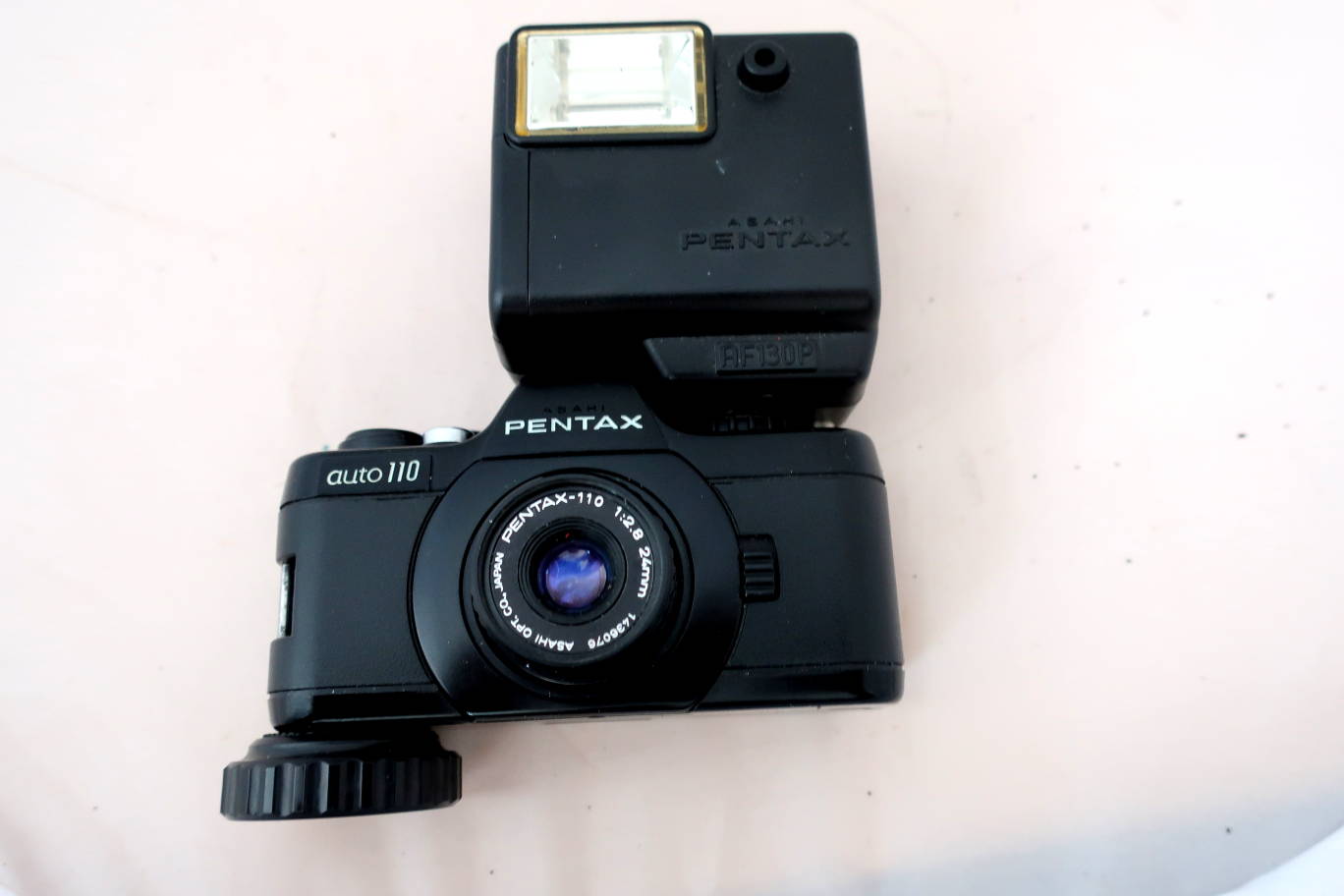 Distancer for the big lenses that would touch the plate of a tripod.

Pictures of my Super camera: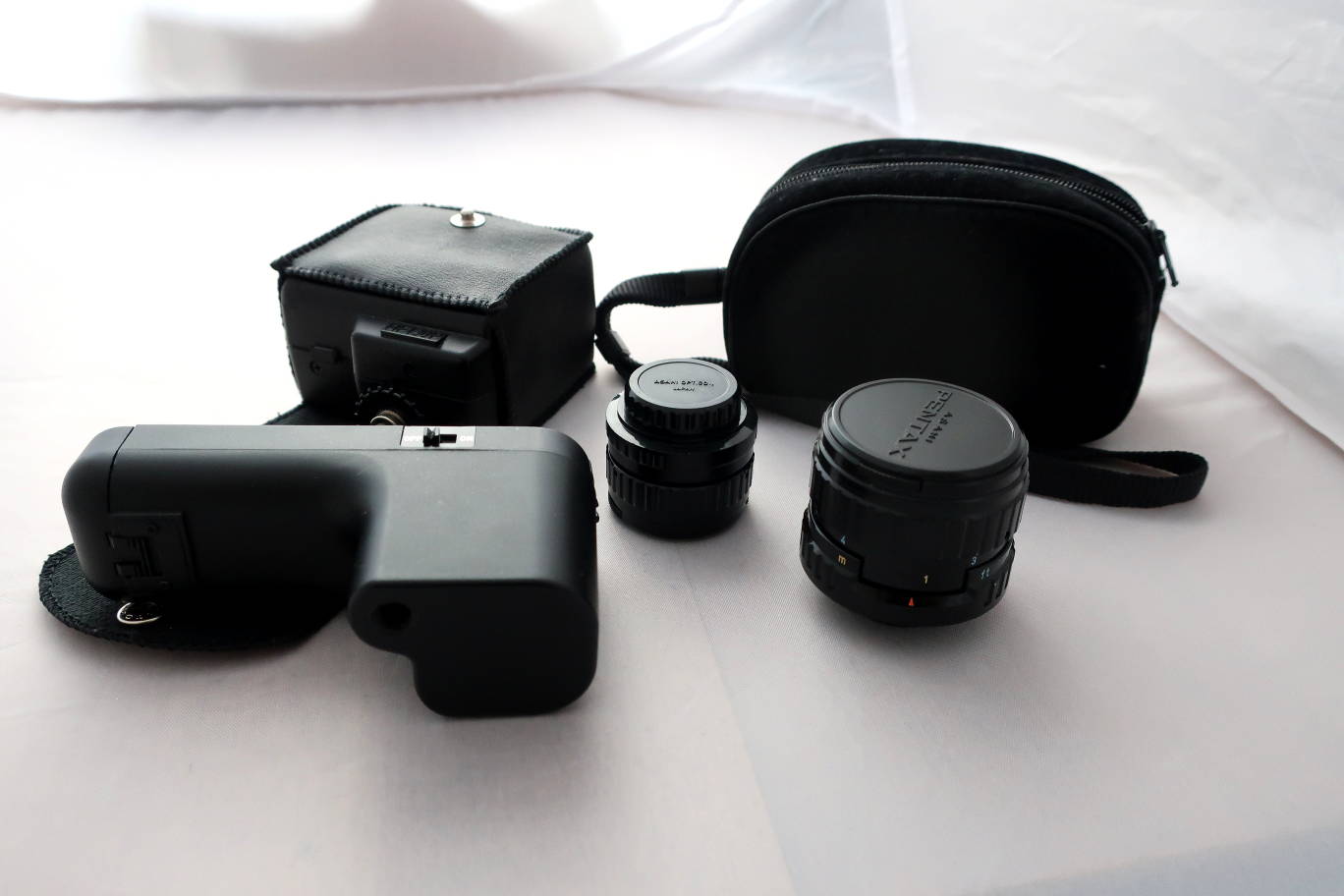 A complete set, camera now in velours pouch.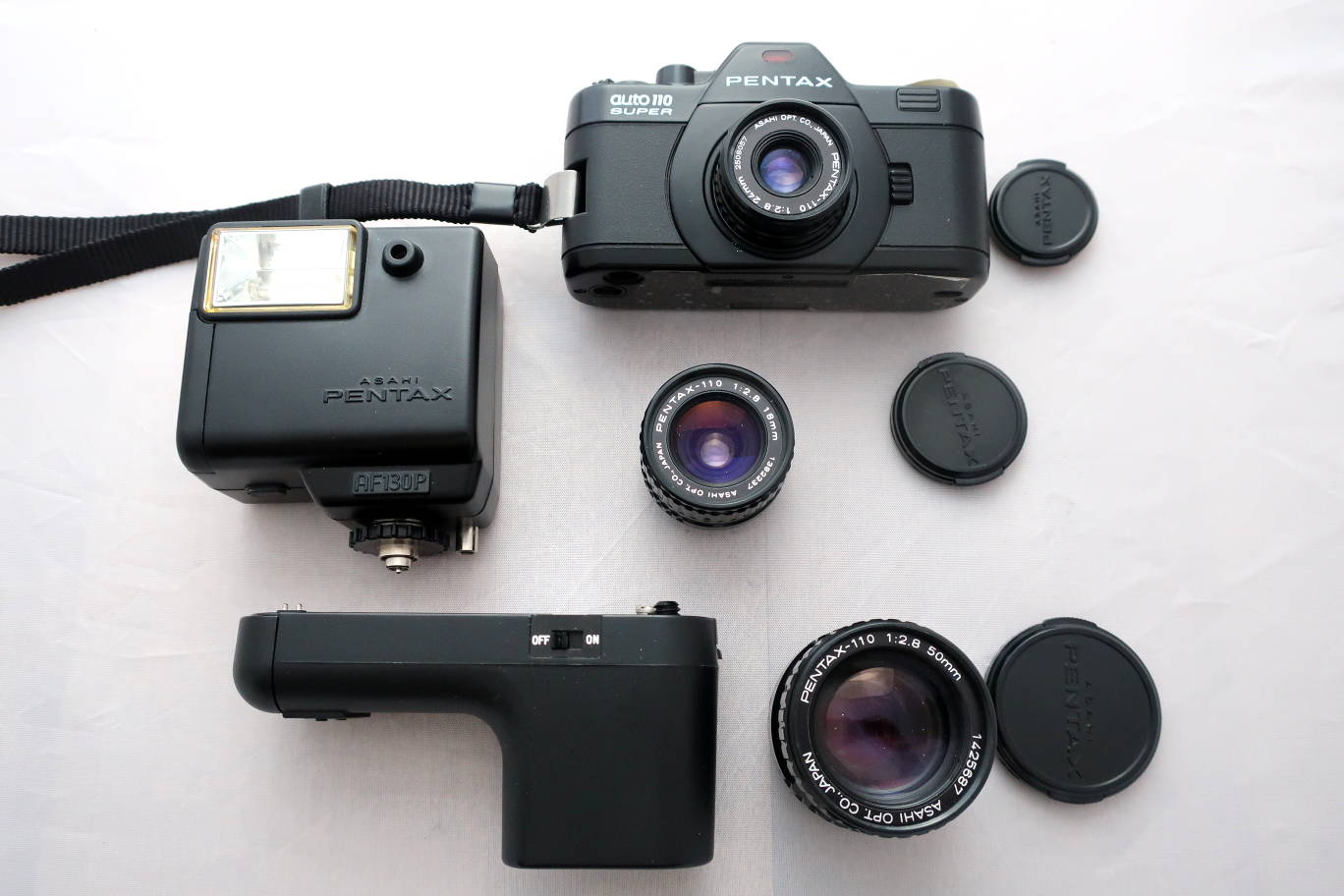 The Pentax Auto 110 Super Set.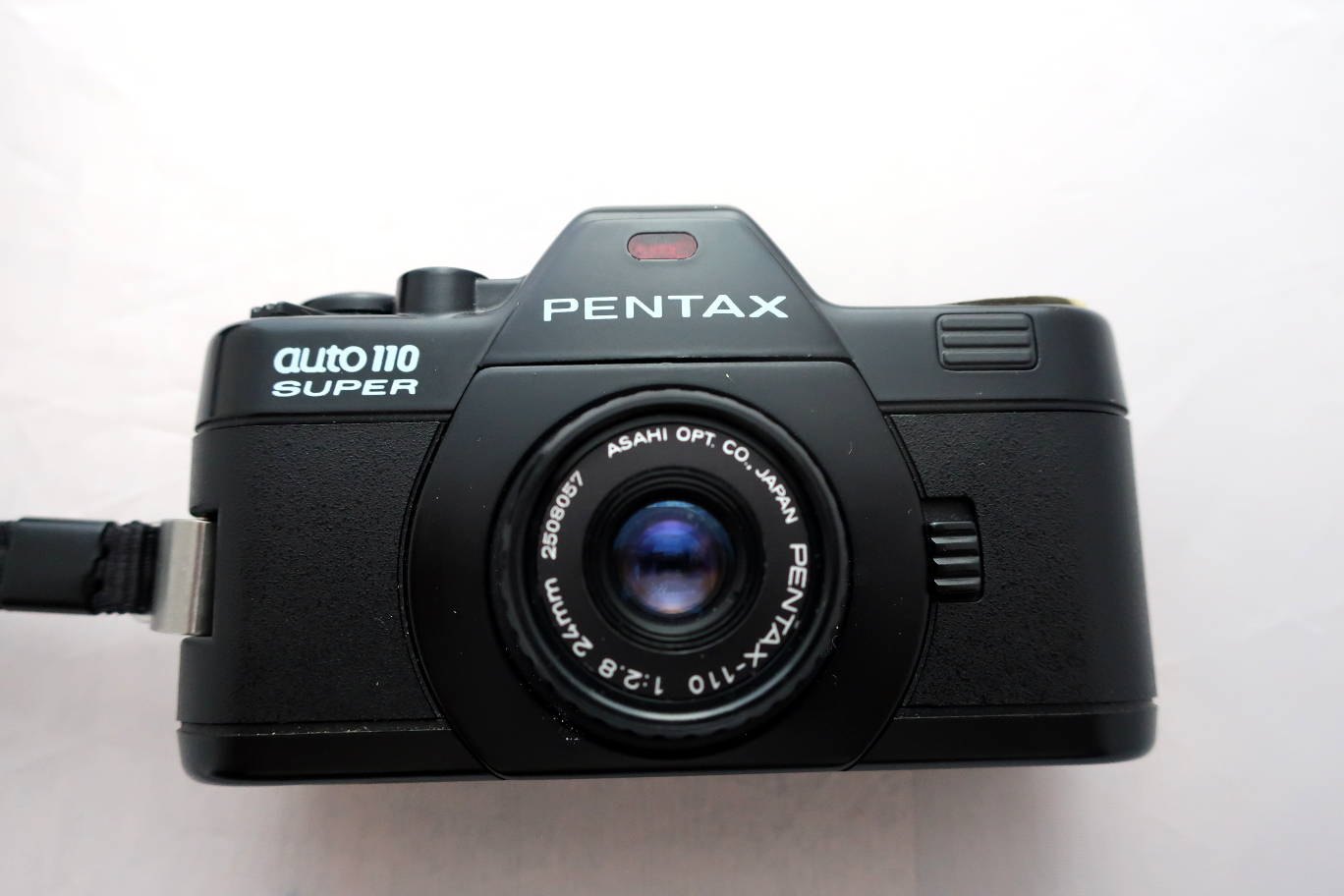 Camera and standard lens. Note the exposure compensation button on the upper part to the right and a self-timer lamp on the prism instead of the Asahi lettering.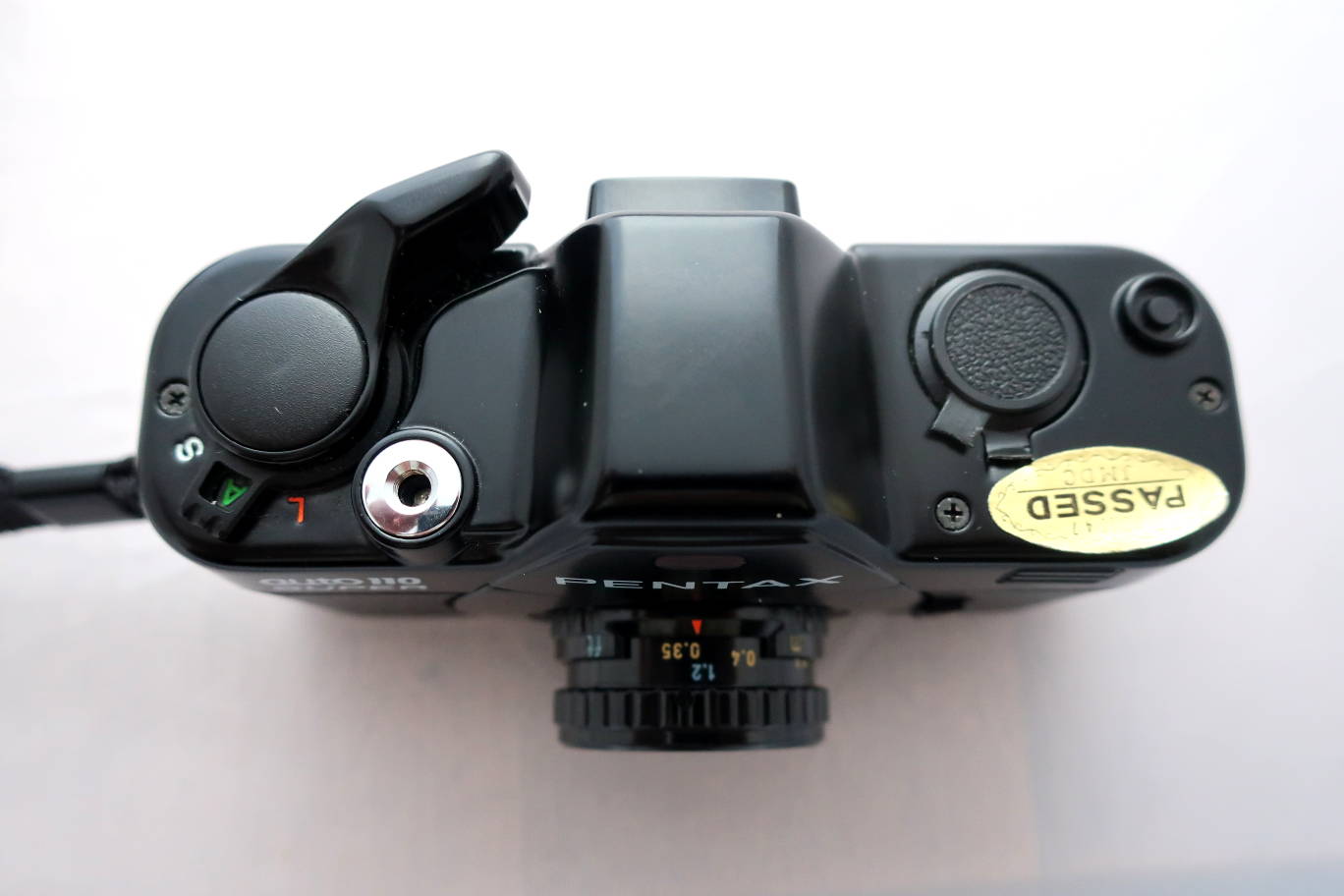 Seen from top. Note the switch for L =locked, A =automaric and S =self-timer. The shutter button has a rim and the flash connection la lid to protect it.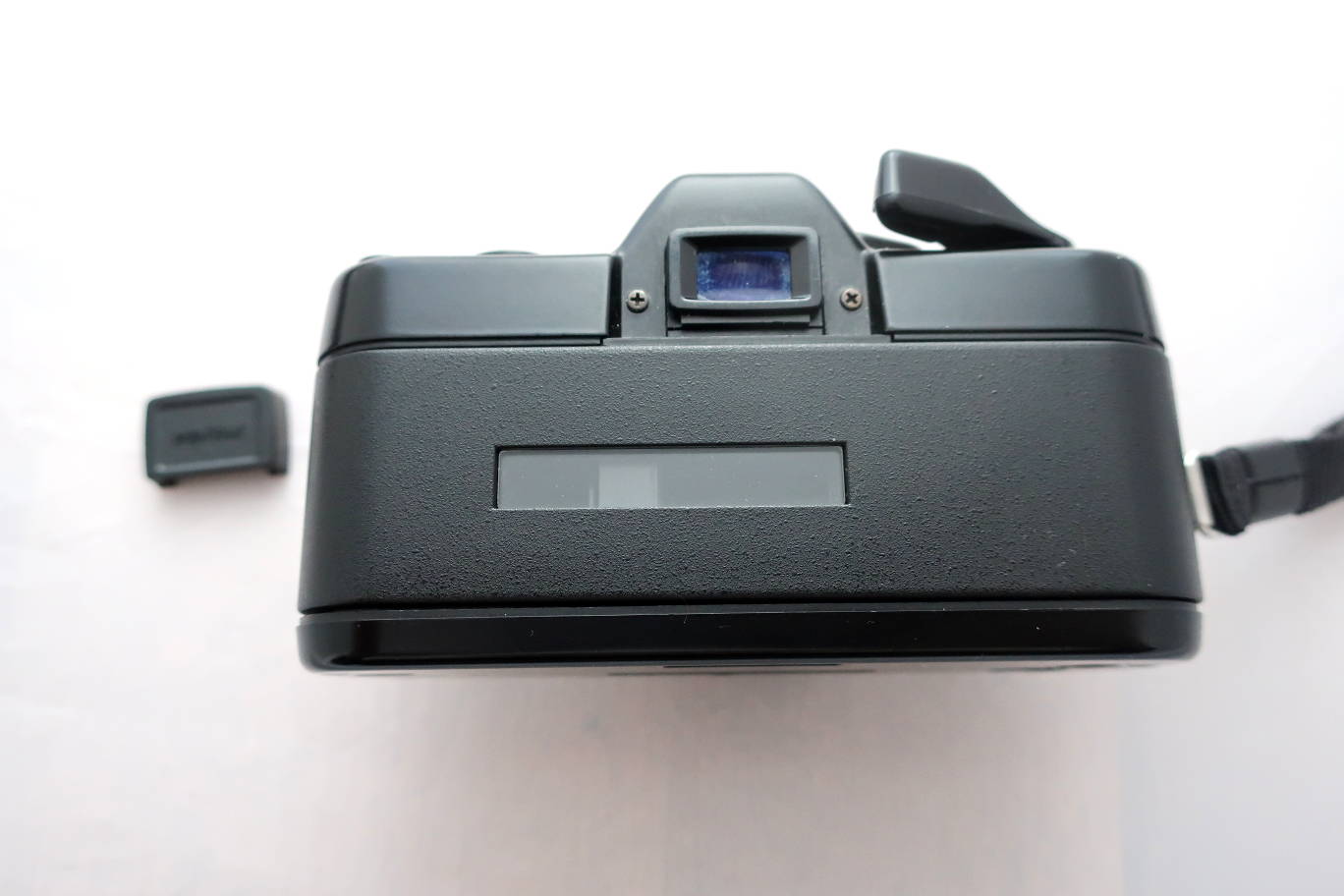 Seen from the back. There is a protection for the eyepiece.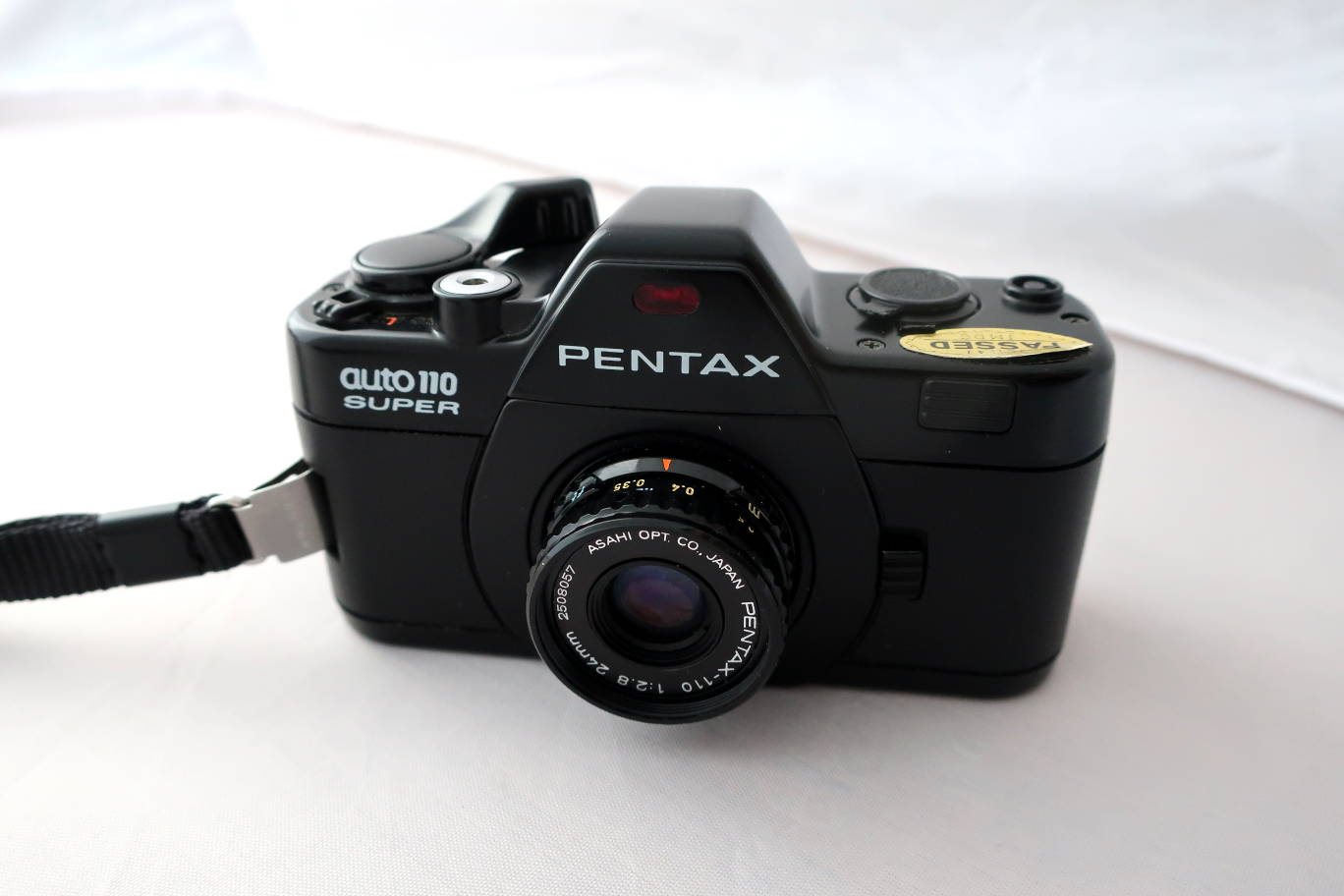 The standard lens is very tiny.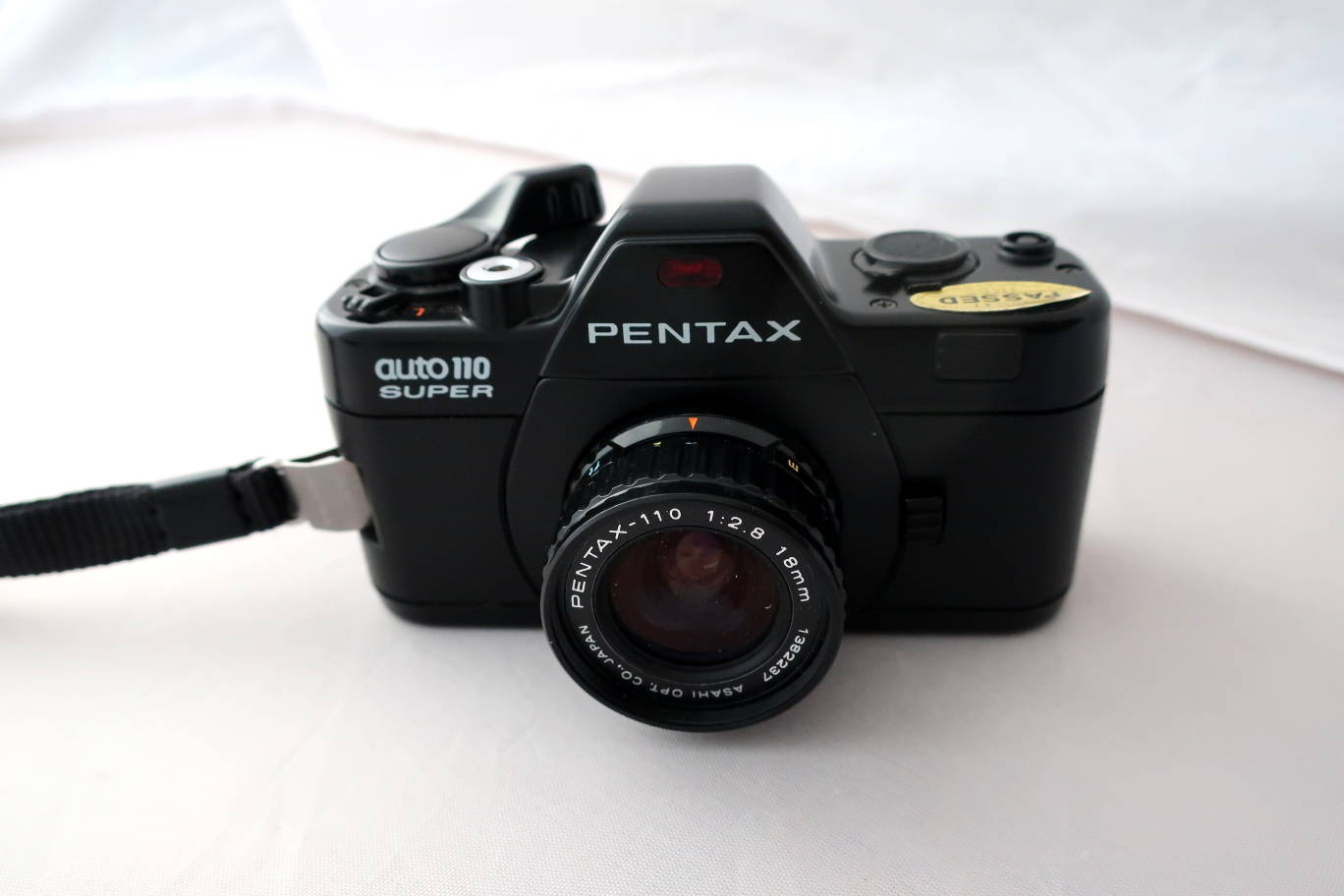 The wide-angle lens is slightly bigger.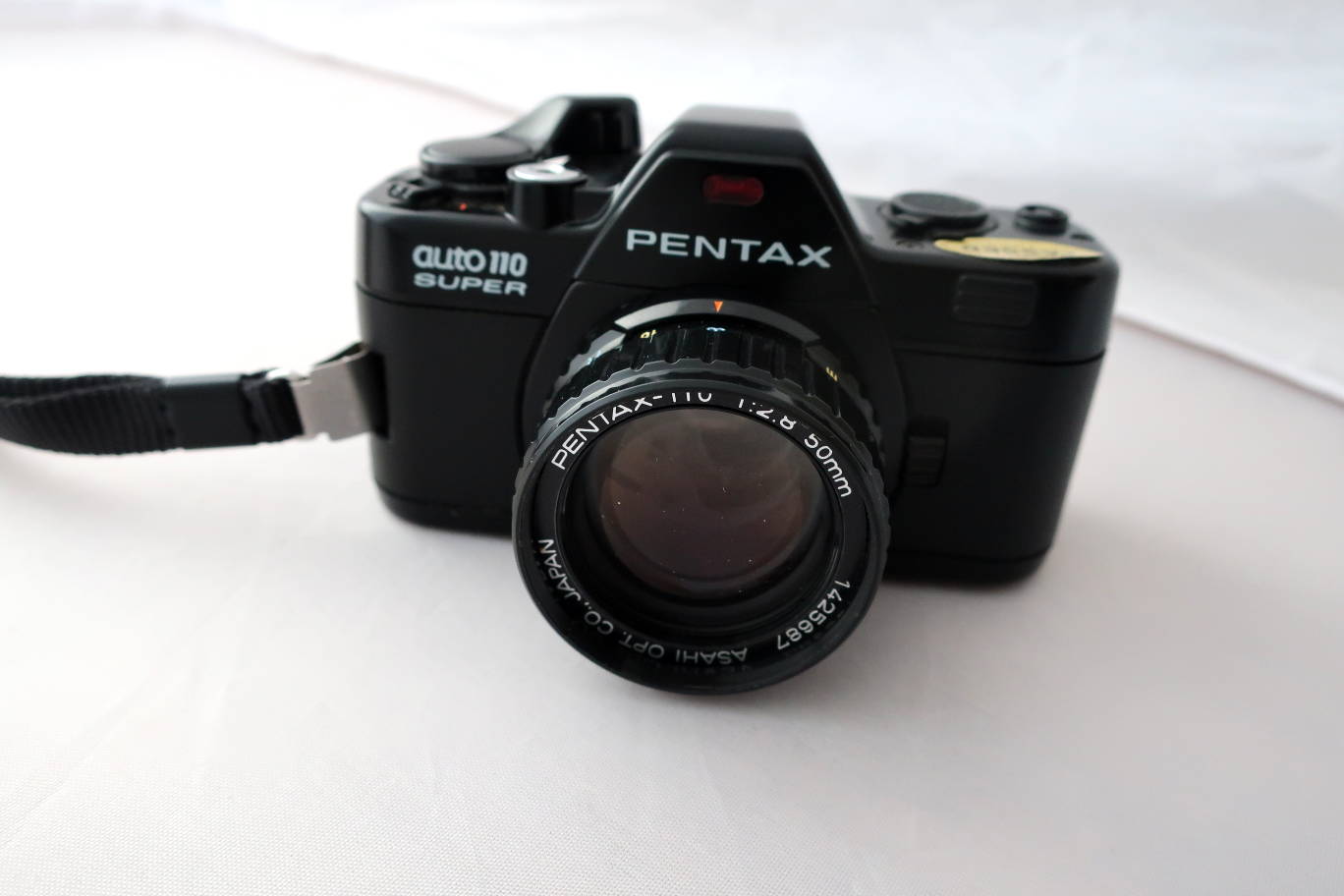 The tele lens is big because of the F 2.8 aperture.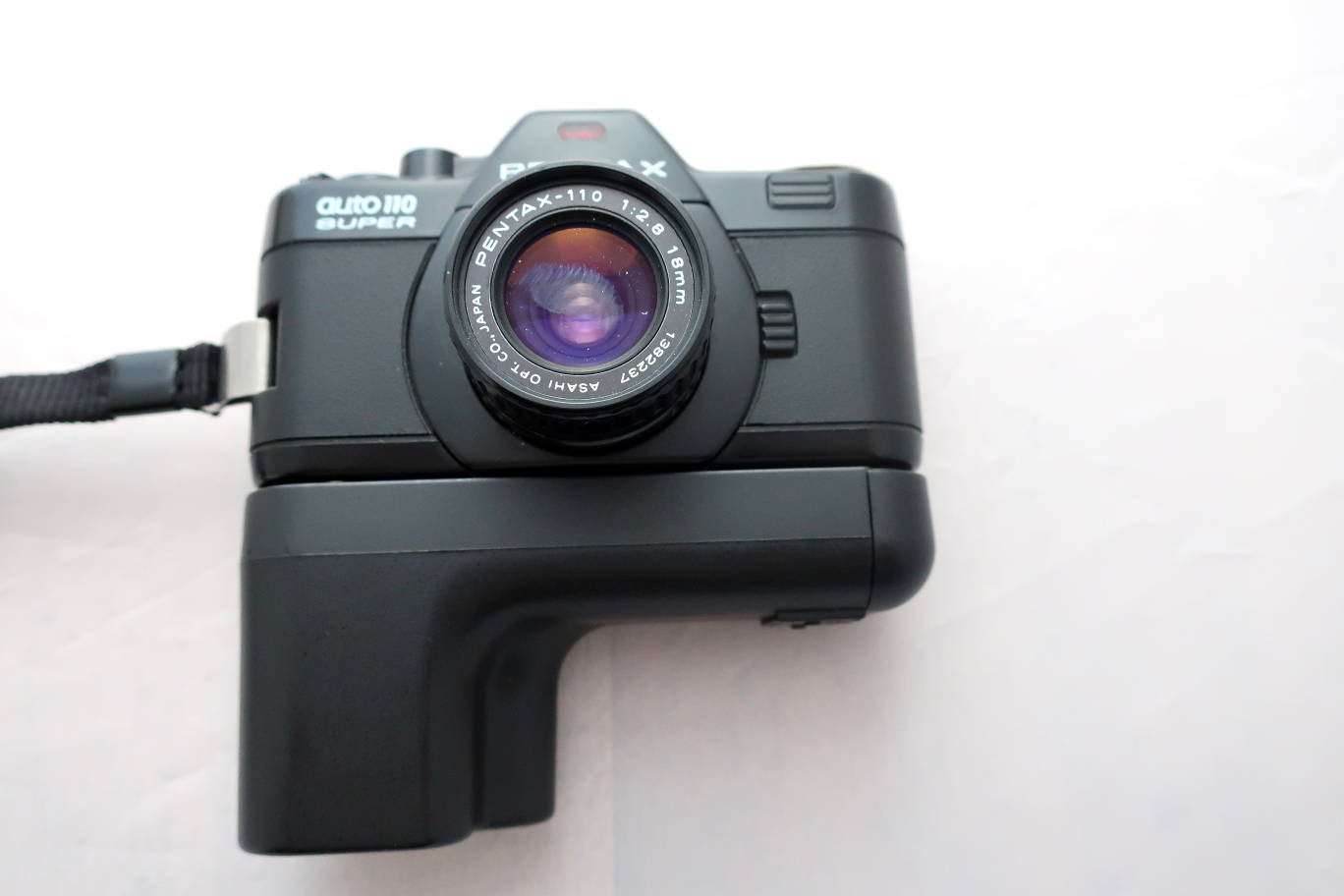 Camera and winder. This is the II version with a better battery cover and a continuous shooting mode of 1 frame per second.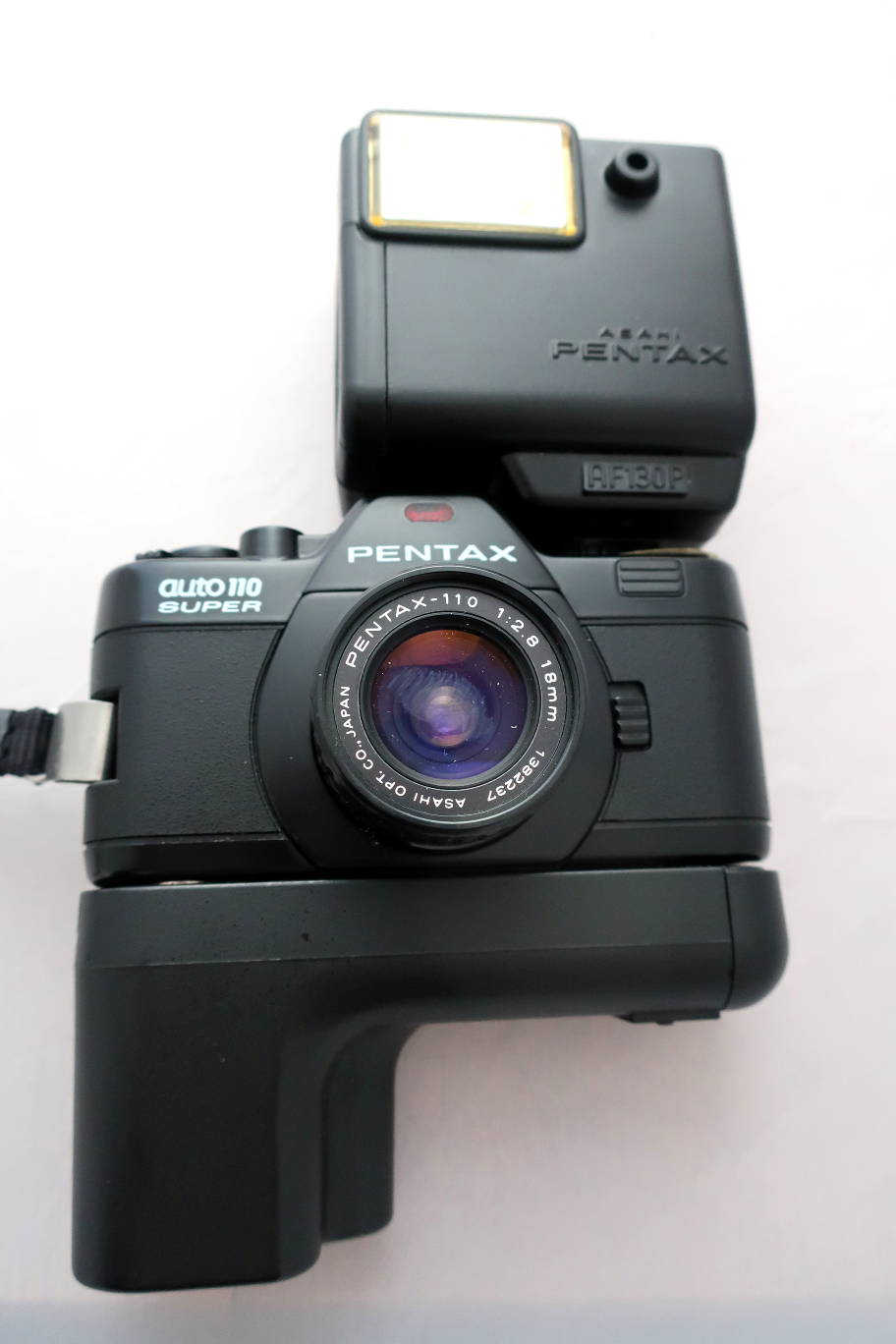 Camera with winder and flash.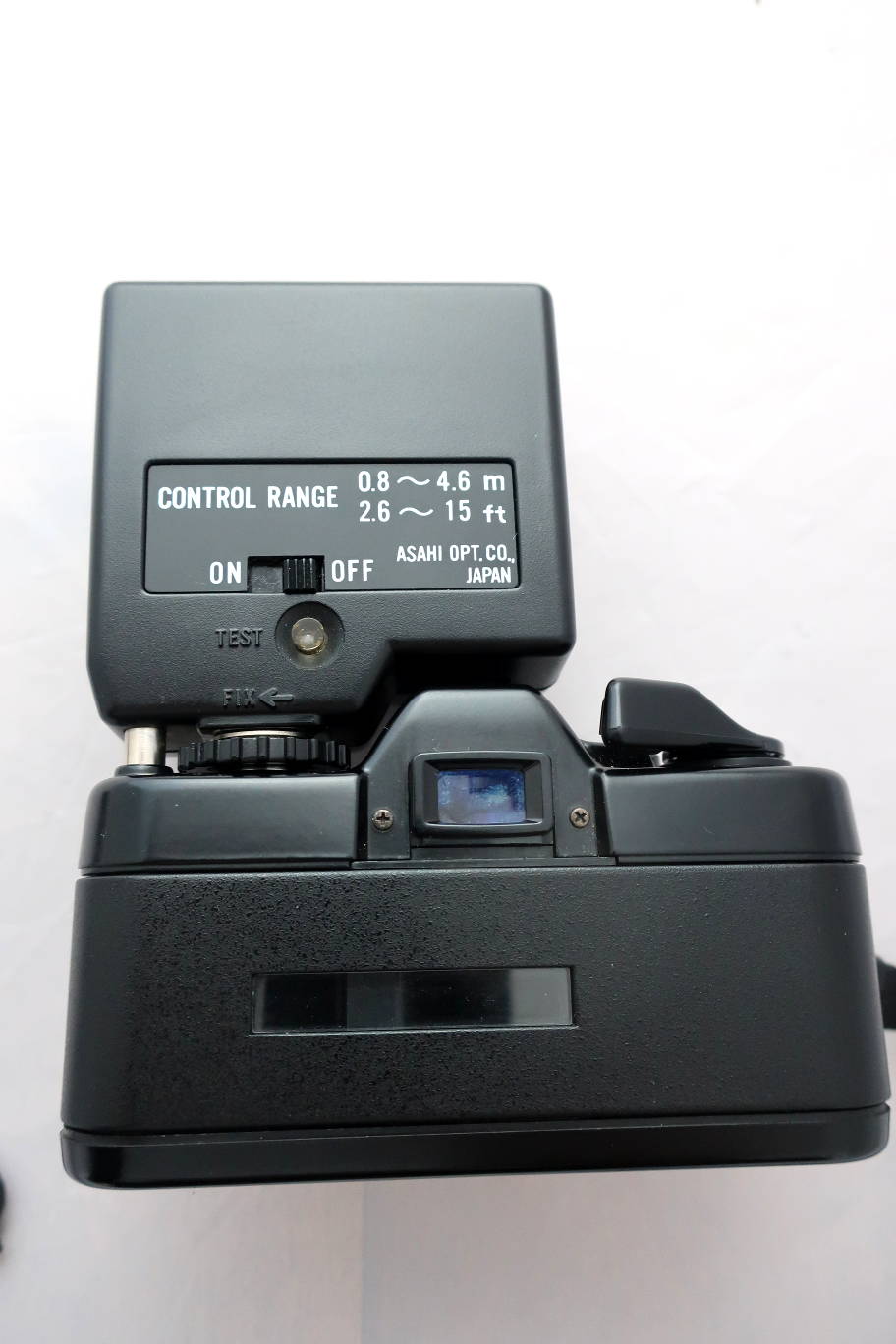 Camera and flash seen from the back.



Flash connection open.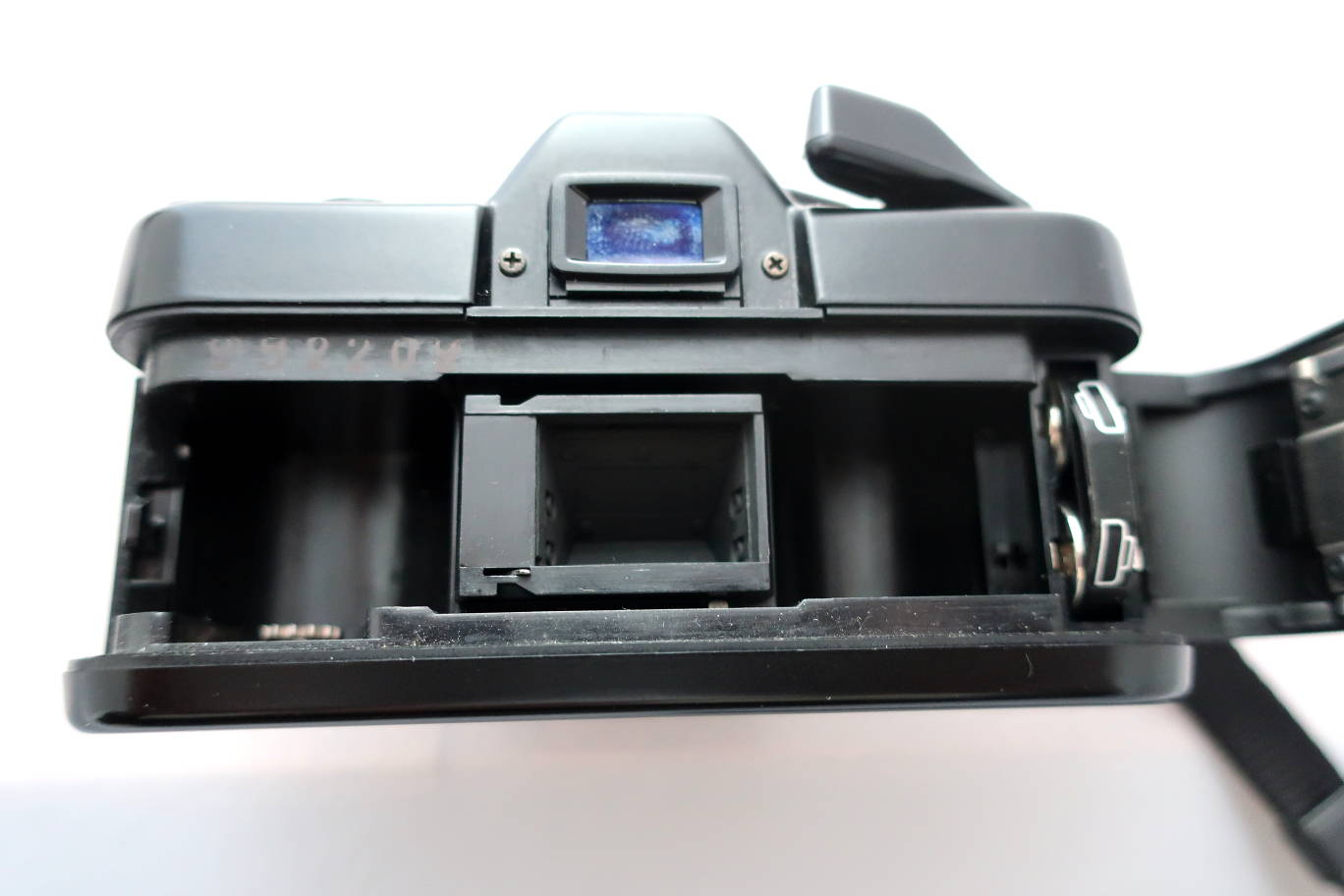 Film compartment and battery carrier.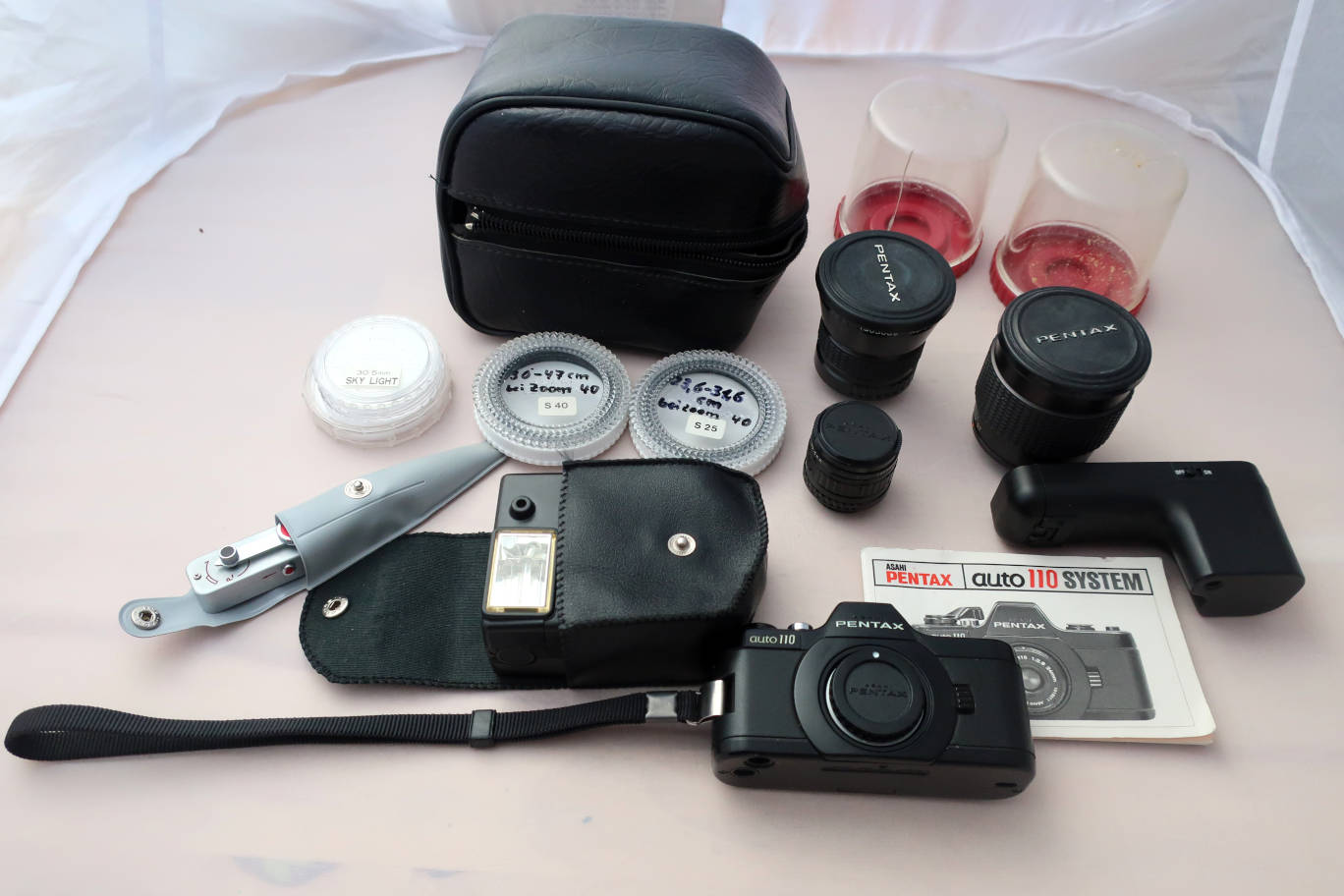 Another set with 2 of rarer lenses. Camera with original cap, instructions, flash, winder, 18mm lens, 20-40 zoom lens, 70mm lens, with their cases, close-up lenses for the zoom lens, skylight filters, pouch and a non-Pentax self-timer.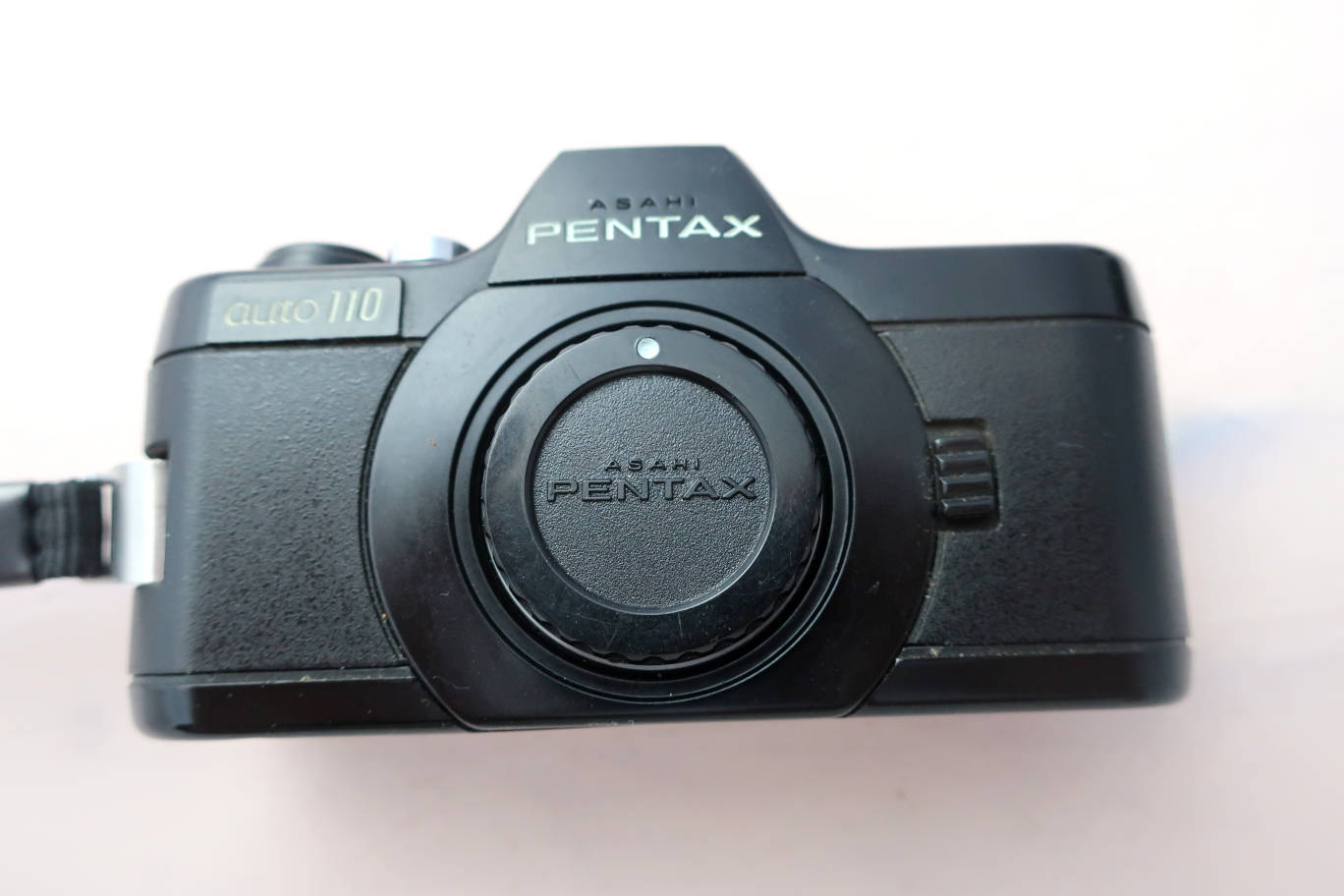 Camera body with original cap which mostly gets lost.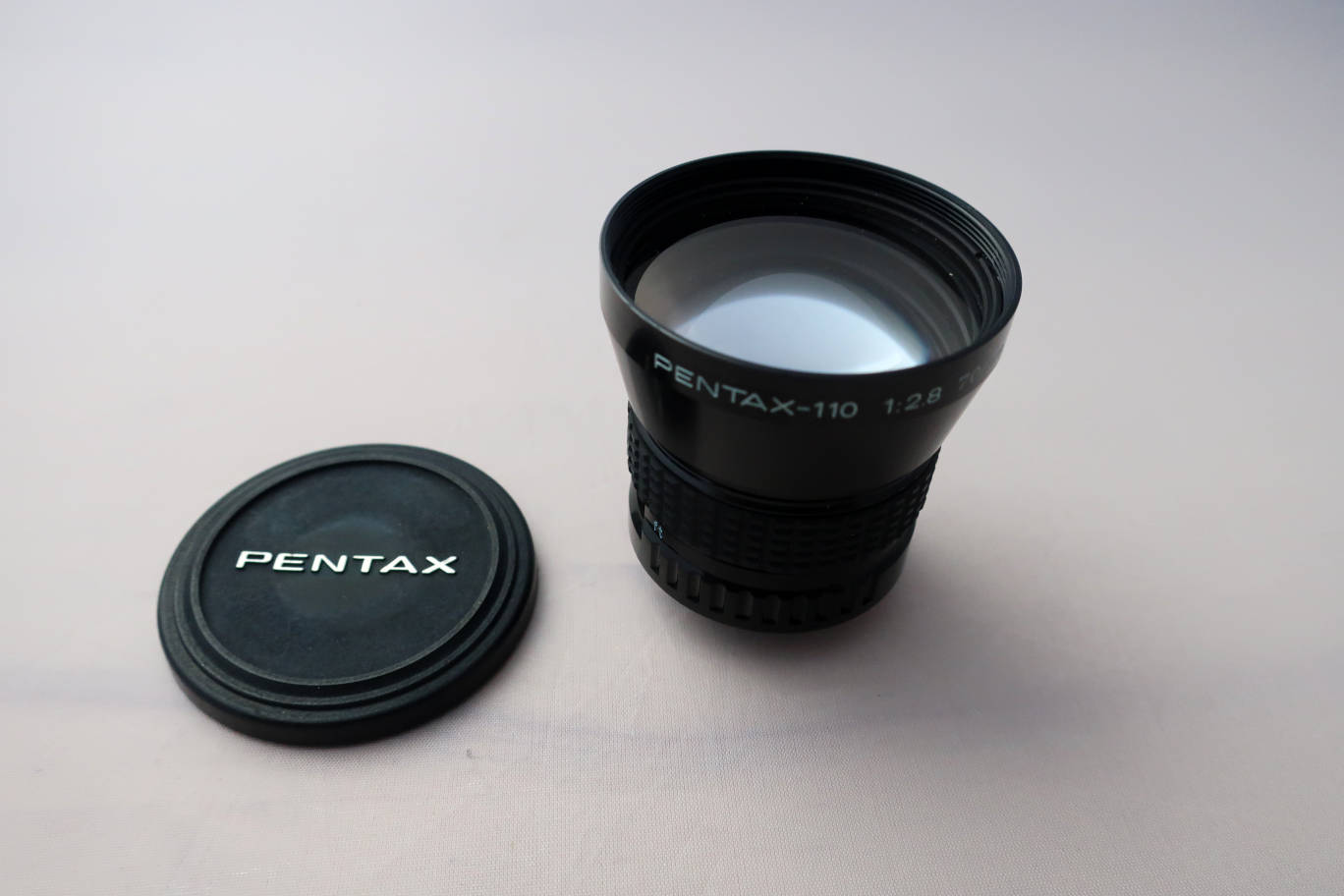 The 70mm tele lens and its cap.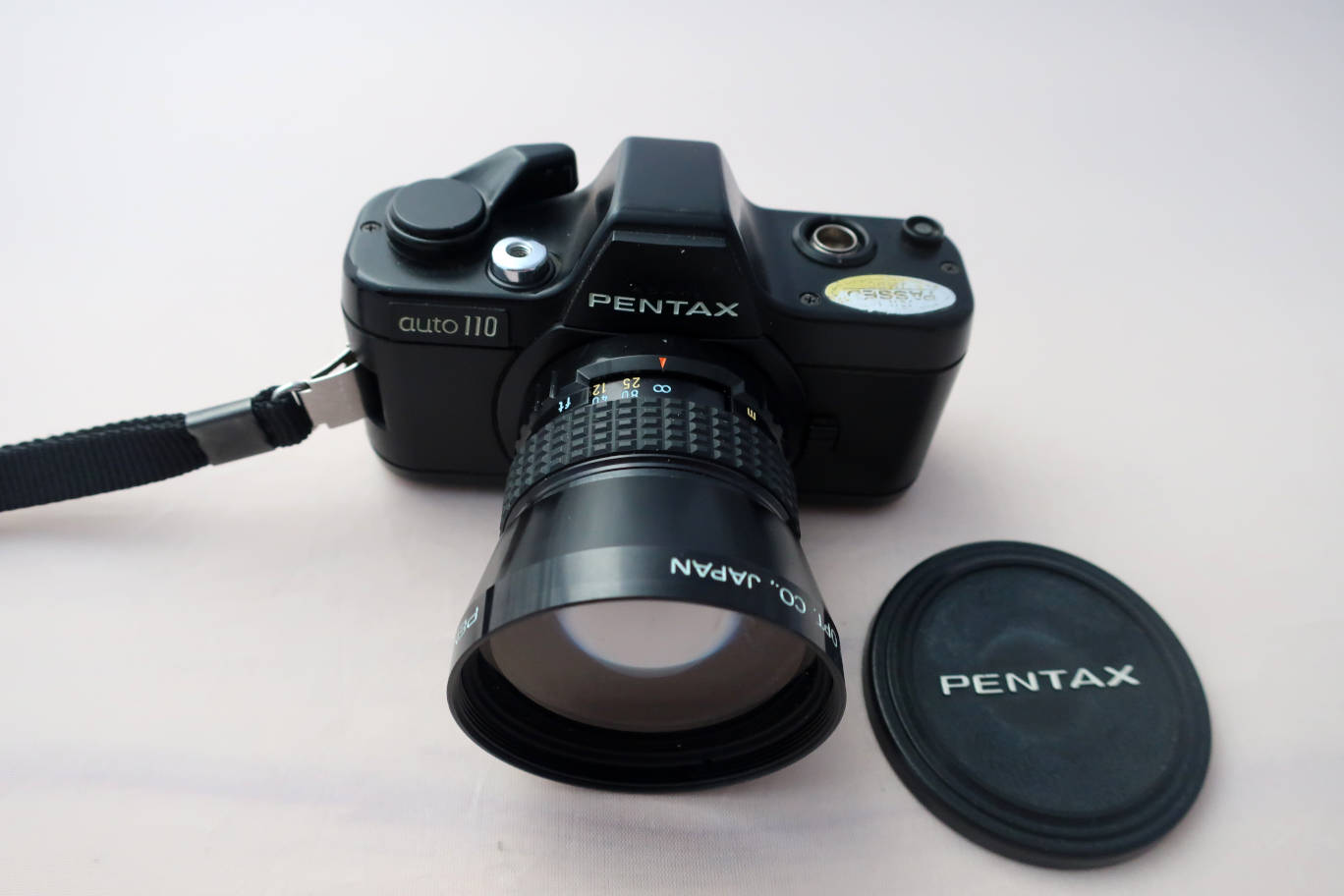 The lens is quite huge.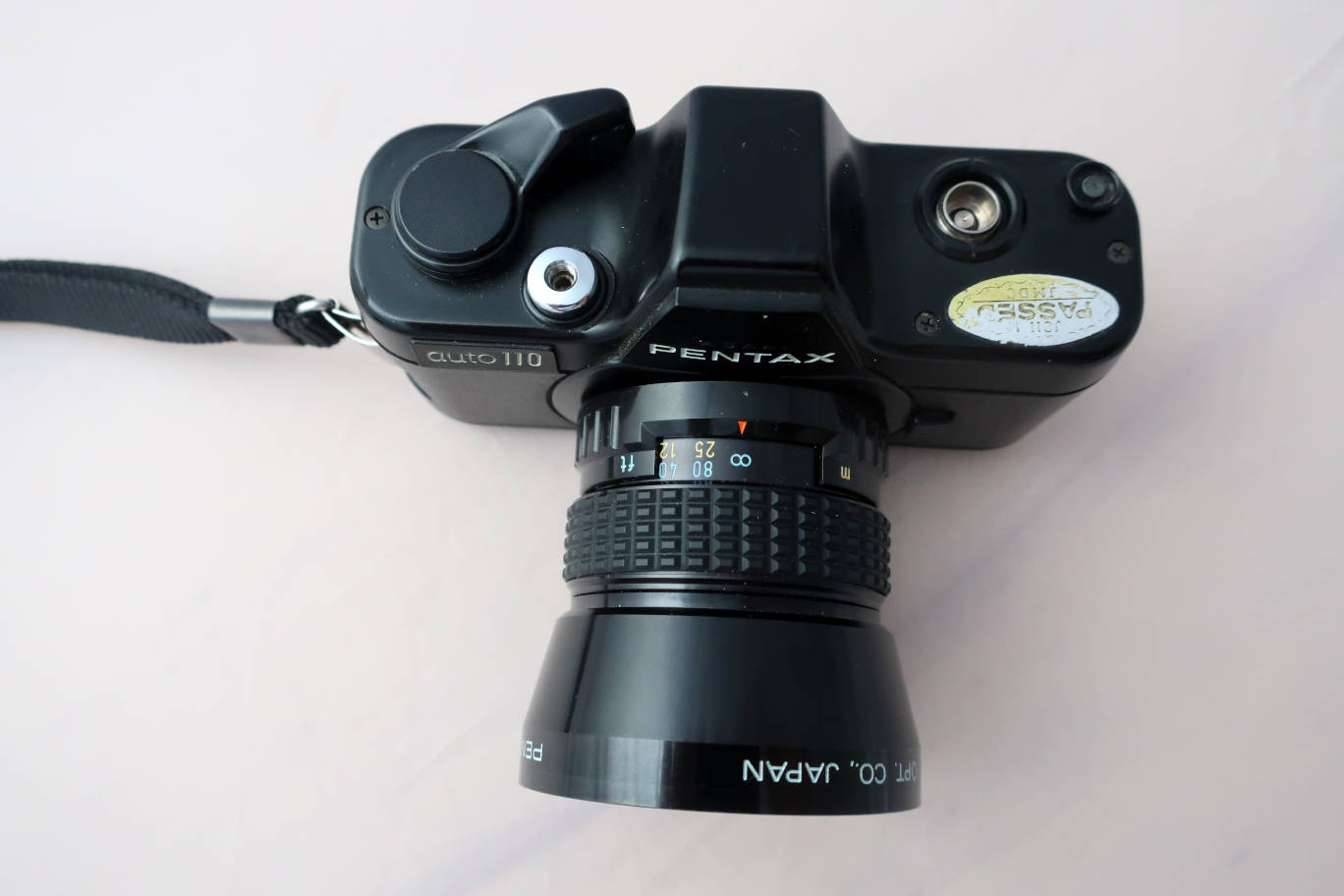 Seen from the top. You are carrying a lens with a camera attached.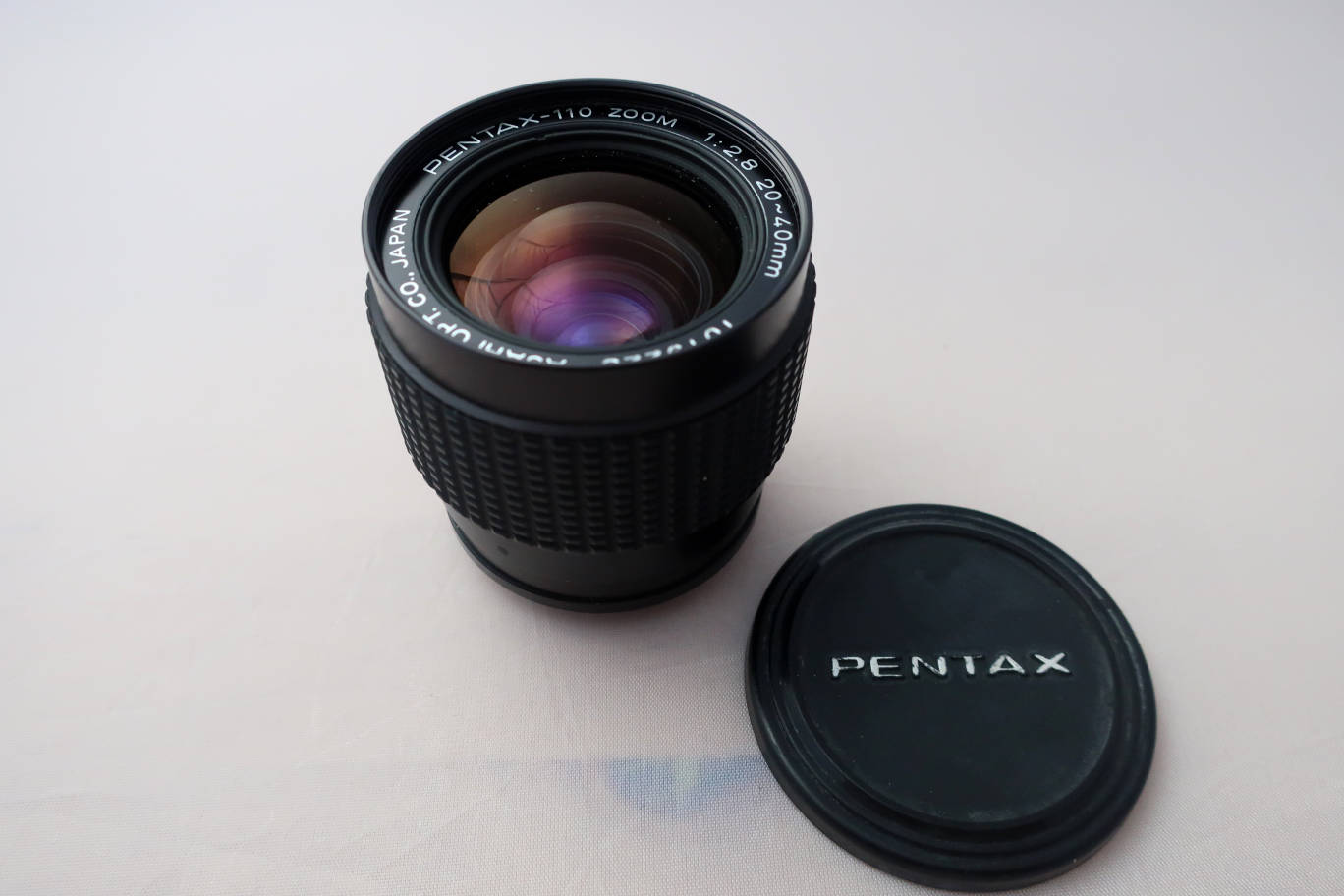 The 20-40mm zoom lens. The lenses are huge because of the F 2.8 aperture.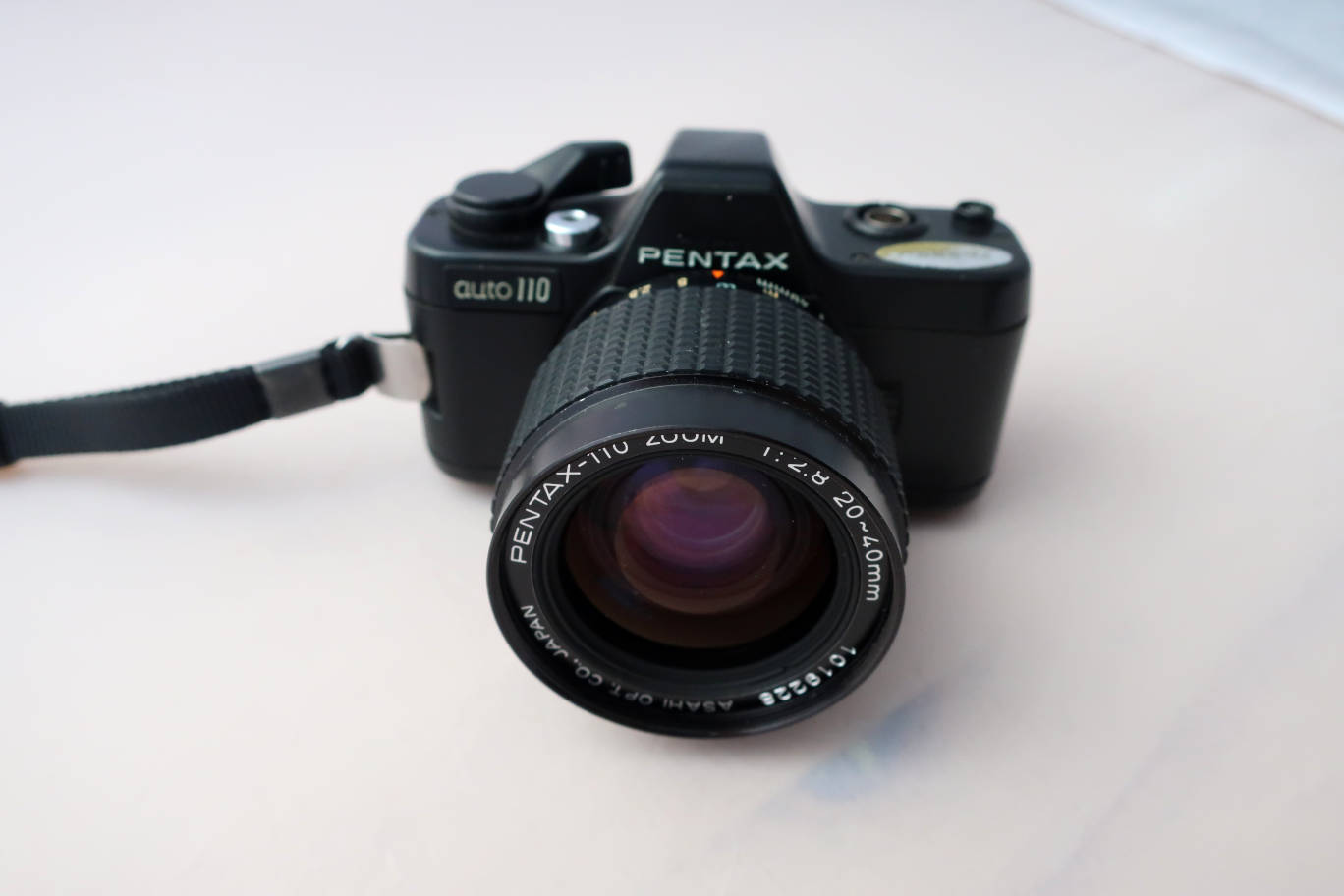 A big piece of glass.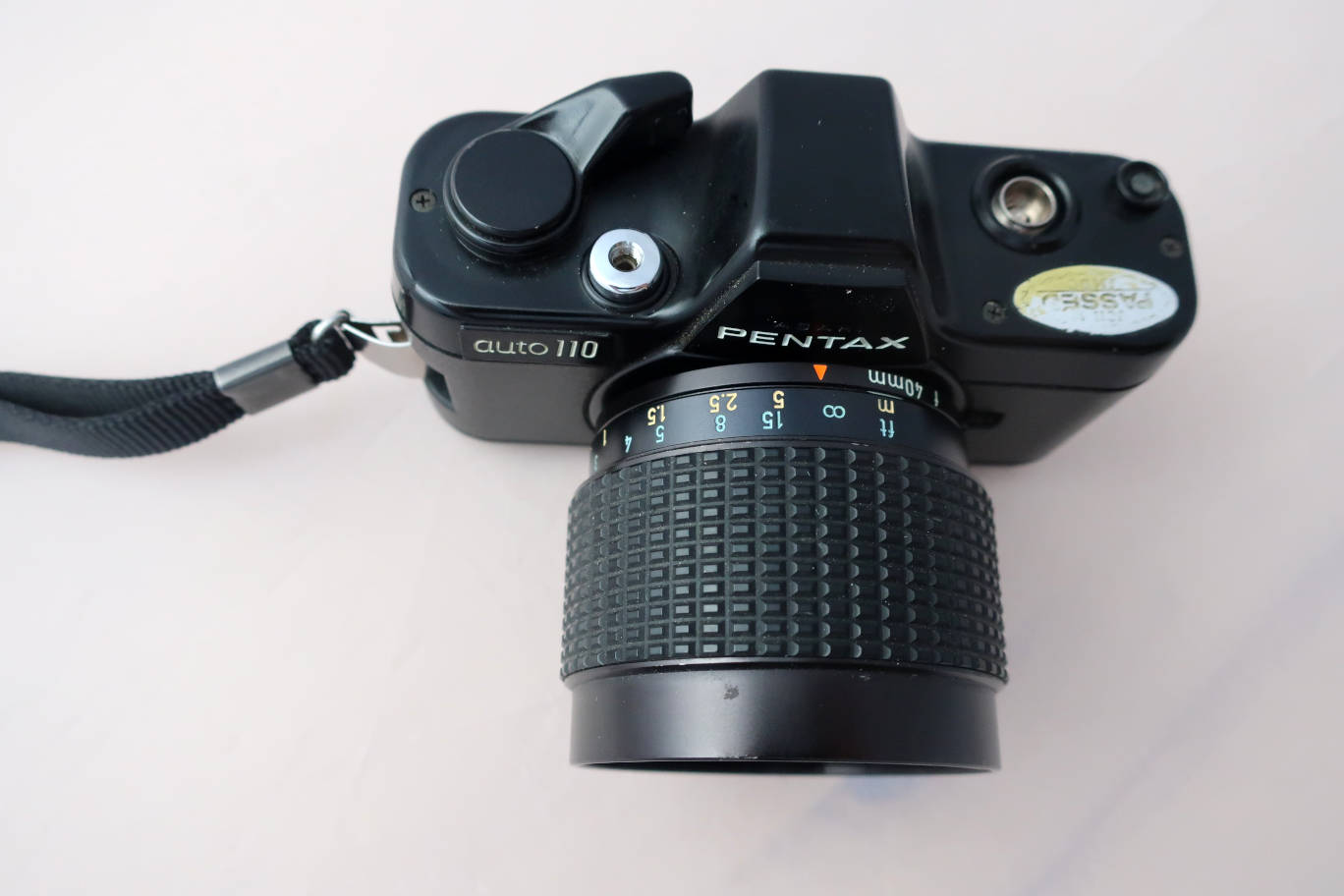 Seen from the top. The lens is heavier than the camera.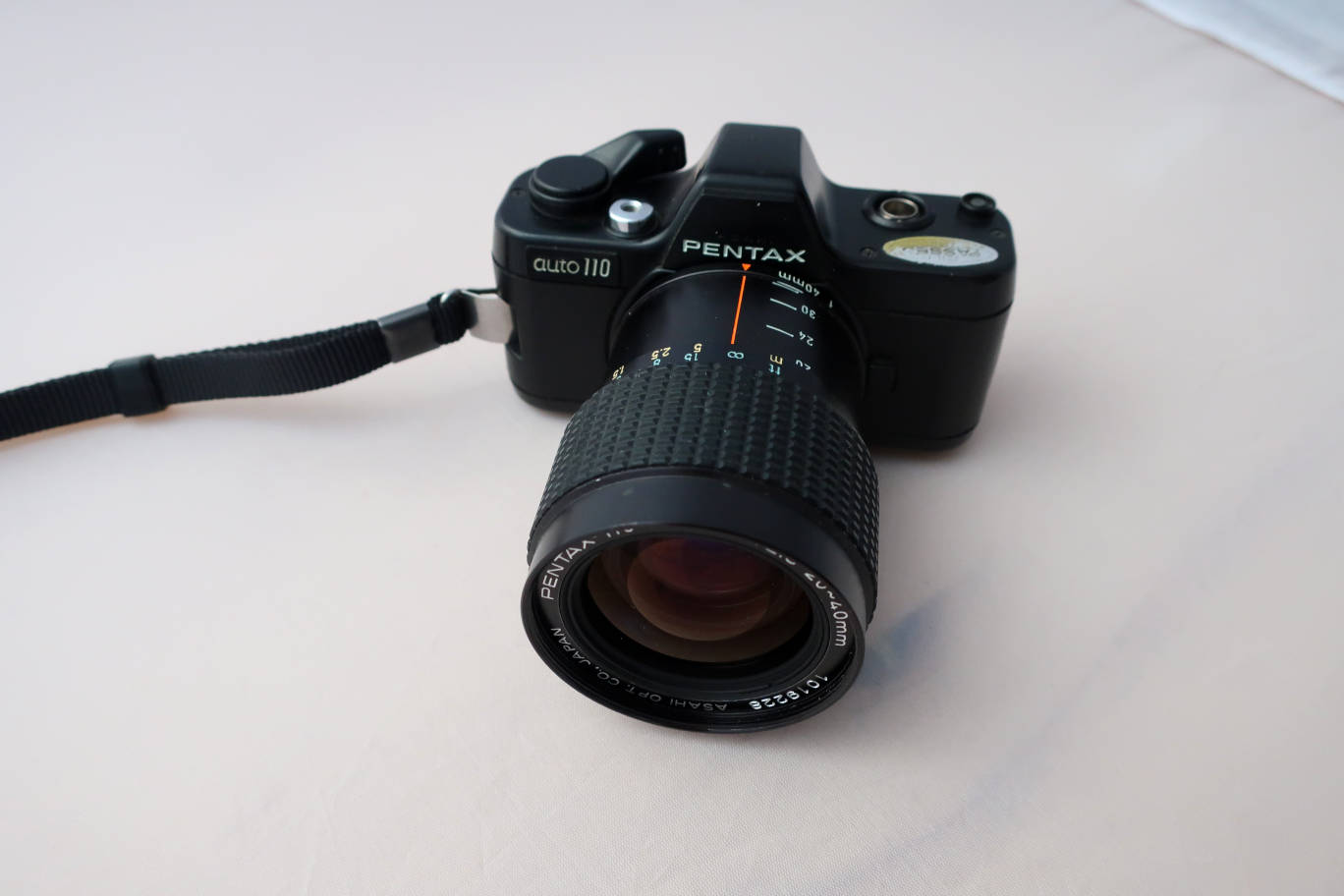 The lens extended.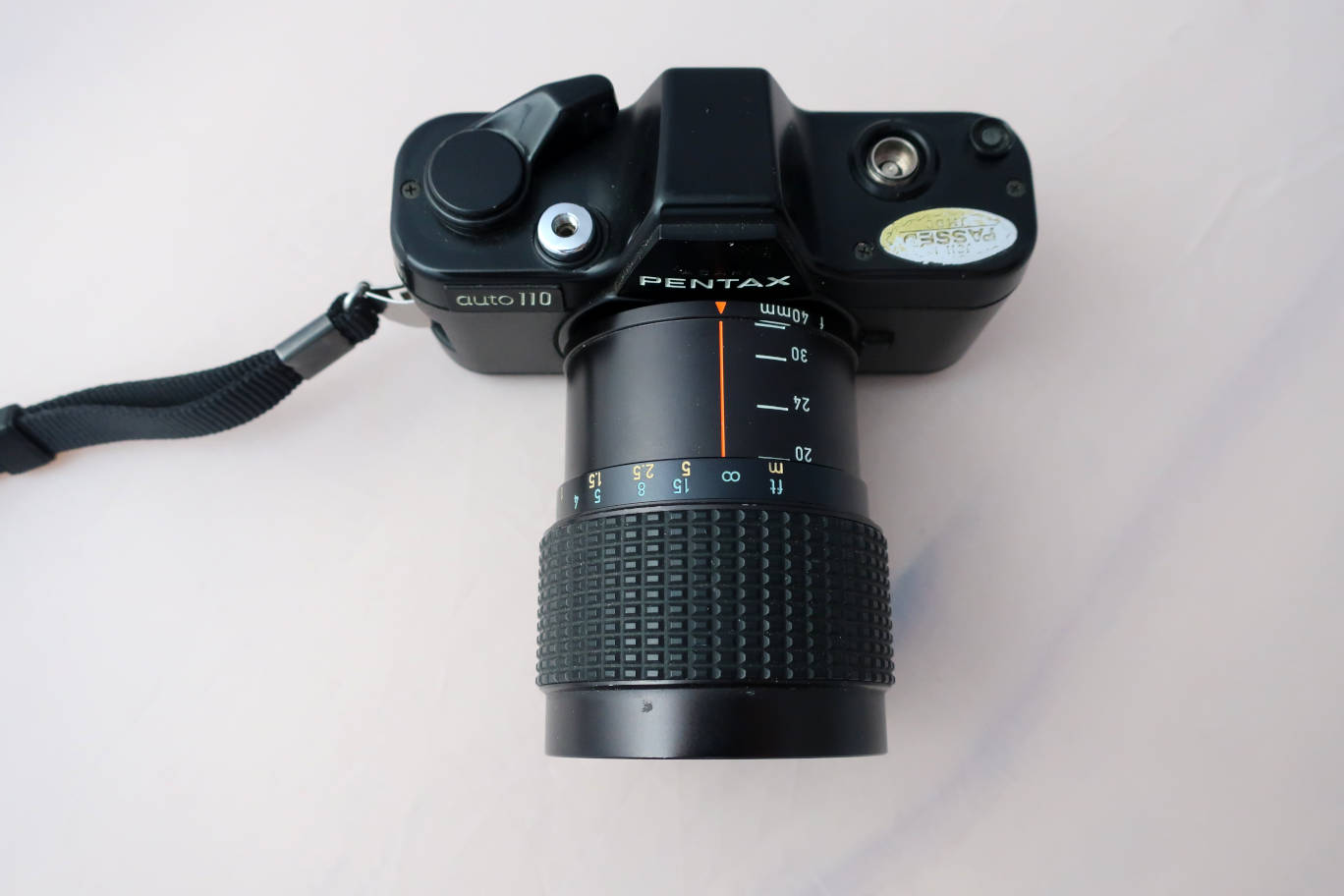 Seen from the top.



The 2 big lenses next to an 18mm wide lens which isn't even the smallest.

This camera is very easy to use. Just focus and shoot. It has no manual settings, everything is perfectly automatic. Focus is easy via the bright finder and its split screen. Half pressing the shutter lights a green or a yellow confimation lamp in the viewfinder, if it's yellow, the camera will use slow shutter speeds. After taking a picture, you have to action the advance lever twice for film advance and shutter cocking (except Super model). Putting a film is easy as well, you drop the film into the compartment, advance to the first frame and that's it.

The improvements of the Super are very well. Single stroke advance is handy, as is the microprism ring in the finder. The shutter blocking mode helps not to waste photos. Exposure compensation is a very good feature. If you use ISO 200 film on bright days, it might overexpose. You can cut out the cartridge to an ISO 400 cartridge and then use exposure compensation to get exposure spot-on.

It's a very good luxury point and shoot camera with very good picture quality, a choice of several lenses in an incredibly small and light body. As already said, the smallest SLR ever built. It's much fun to use. A must-have if you are into small cameras. Picture results were very good. Do not forget to use exposure compensation in backlight situations. With the wide angle lens it's the best 110 film camera for street photography. There is no other good wide angle for 110 format as far as I know. There is the Fujica 350 Wide, but it has only one speed. Despite being an SLR, it's very quiet. Macro capability is fine, even without the macro lenses.

Nevertheless it's just a nice toy. The small picture format is a severe limit. Compared to a simple Konica Lexio 70 135 format, you have similar focal length without changing lenses in a small body as well, but you have 4 times the picture surface.