135compact.com

110 cartridge ultra compact cameras Minolta 110 Zoom SLR Mark II




The Minolta 110 Zoom SLR was first released 1976, a high end camera for Kodak 110 pocket film*(see below). The company made quite a range of pocket cameras, including two SLR model, the first was in production until 1979 and replaced, when this Mark II successor of completely different shape was launched.

* 110 film was introduced by Kodak in 1972. The film sits in a cartridge, like Kodak's earlier 126 film, but is much smaller. A frame is 13mm × 17mm, has one perforation per image to control film advance and 24 frames per cartridge (12 were also available). The film is protected by a backing paper like 120 film. The frame number is visible through a window at the back of the cartridge. The basic film is ordinary 16mm film which was already on the market, so it could be processed in existing machines. The small picture size made very small, pocketable cameras possible.

Kodak introduced with its 110 film a line of Kodak Pocket Instamatic cameras which were followed by cameras from other manufacturers. Most cameras were cheap point-and-shoot, but very sophisticated models were also made. Small digital cameras made 110 film obsolete. Bit by bit manufacturers stopped making 110 format film (Fujifilm in 2009), but in 2012 (and 2019) Lomography made a large batch of 110 film, followed by other firms.

The Minolta 110 Zoom SLR Mark II has, as its name suggests, a real zoom and is a real SLR with a microprism and split-image spot in the viewer for easier focussig. It's an aperture priority automatic TTL system. It has advanced features, a built-in close-up lens and exposure compensation. Its main features are:

25-67mm F3.5 Rokkor zoom lens, 10 elements in 12 groups, F3.5-F16, min. focus 1m, 0.2m with built-in close-up lens
Electronic shutter, B, 1/4 - 1/1000, 1/125 for flash, B
Size 105x102x75, Weight 485 gr.
100 and 400 ISO, automatic setting, aperture priority automatic TTL exposure with exposure indications in the finder, SLR with microprism and split-image spot, built-in close-up lens, exposure compensation, hot shoe, self timer, eye-piece correction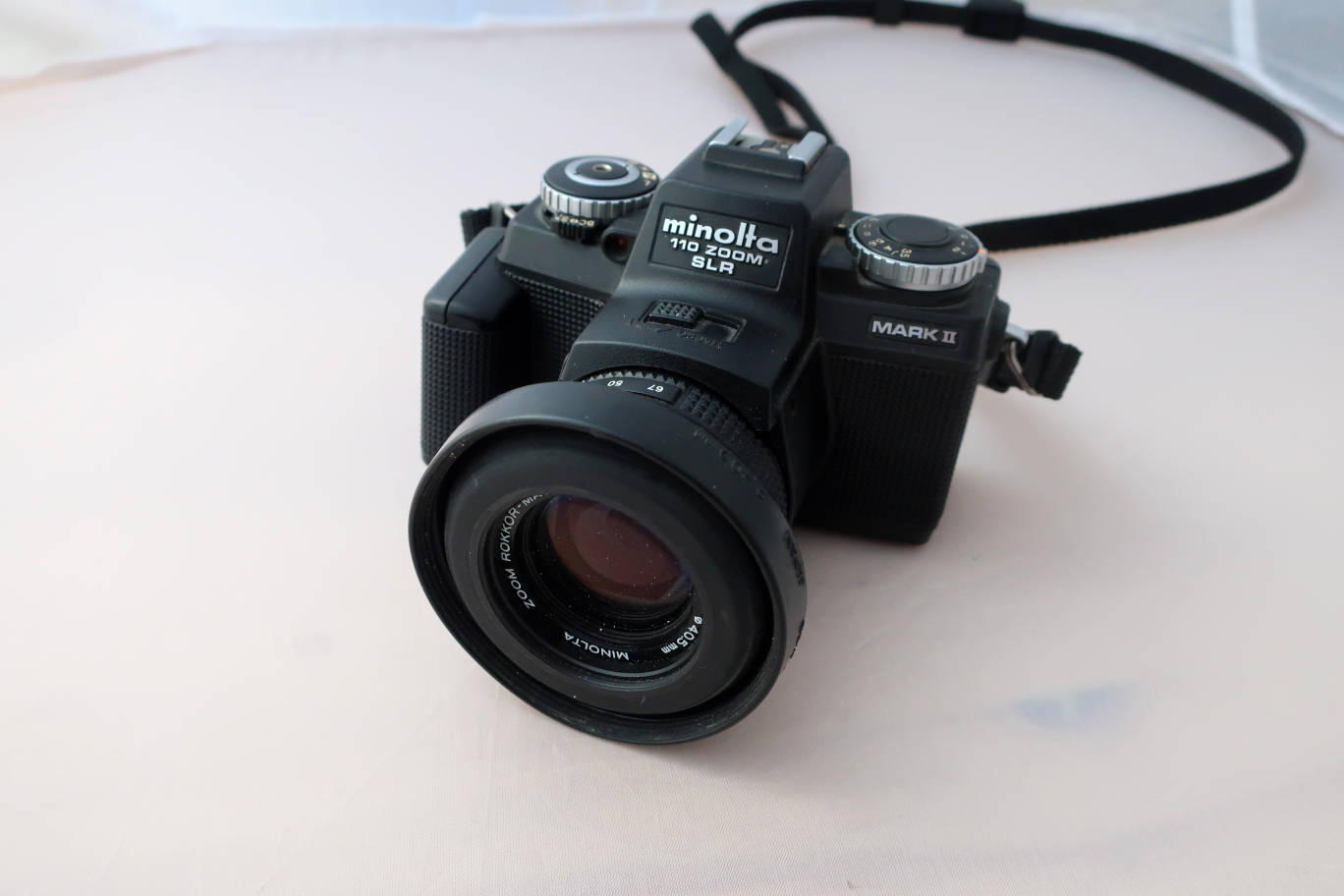 Camera, shade folded
.



Camera, shade extended.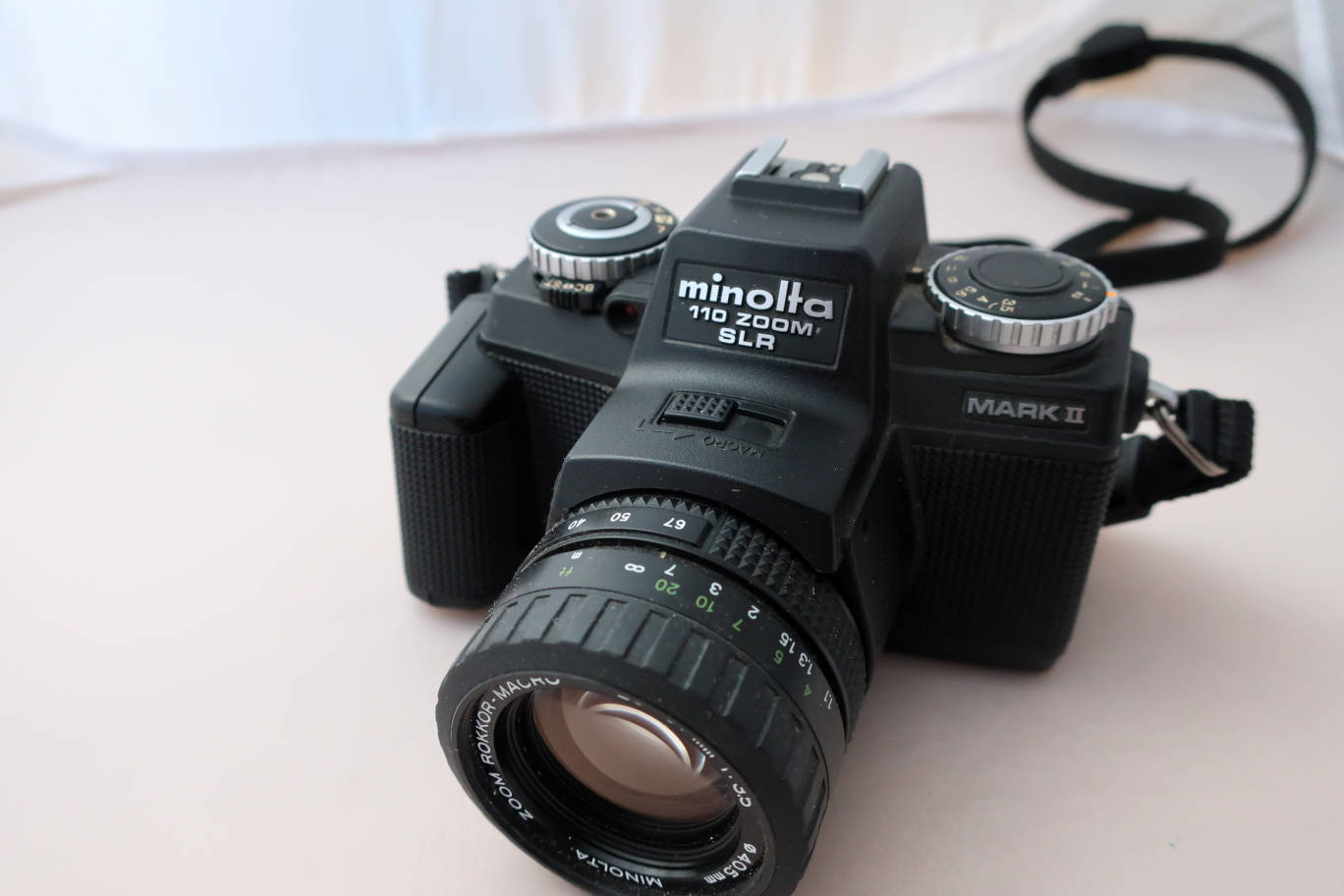 Shade off.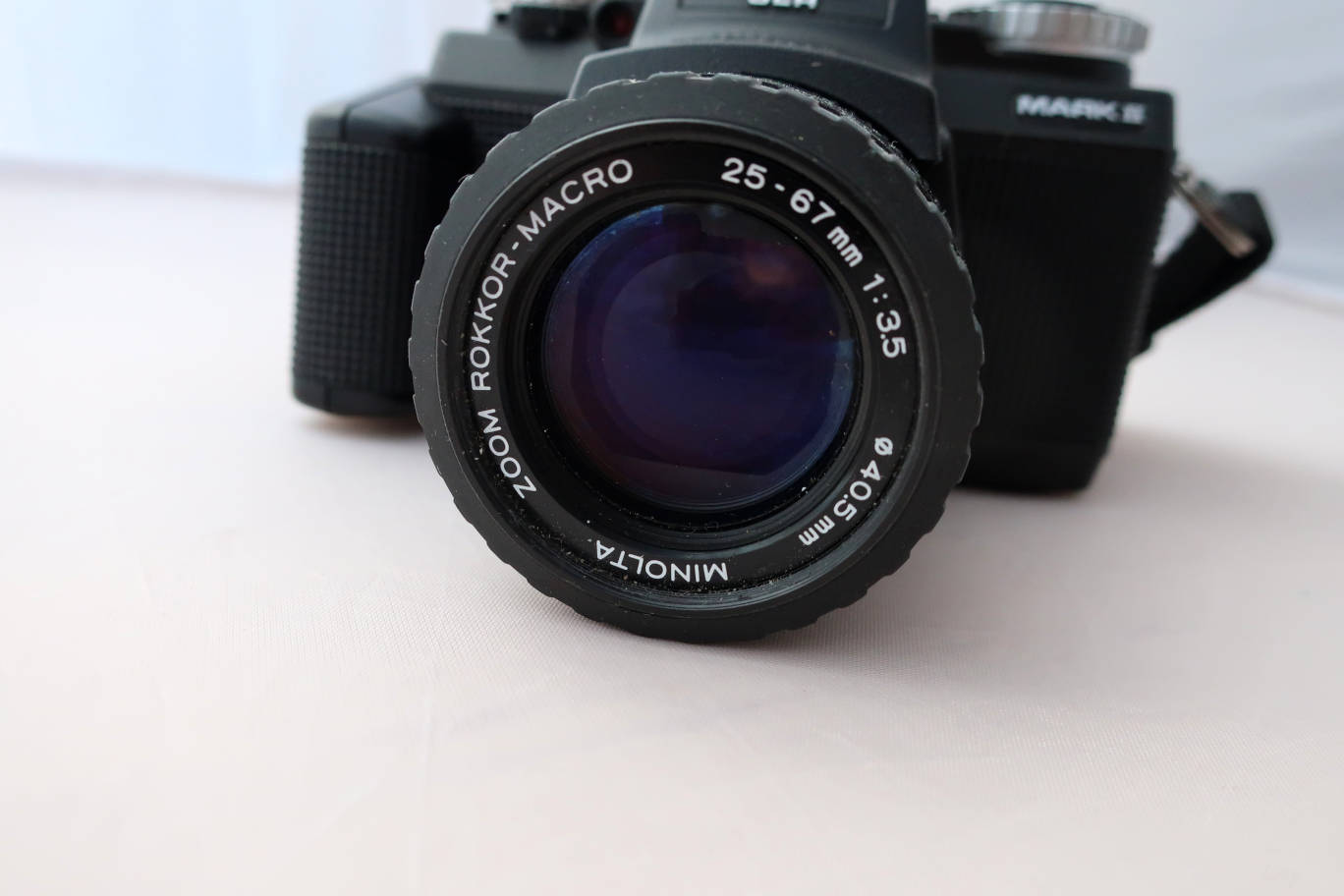 The zoom lens.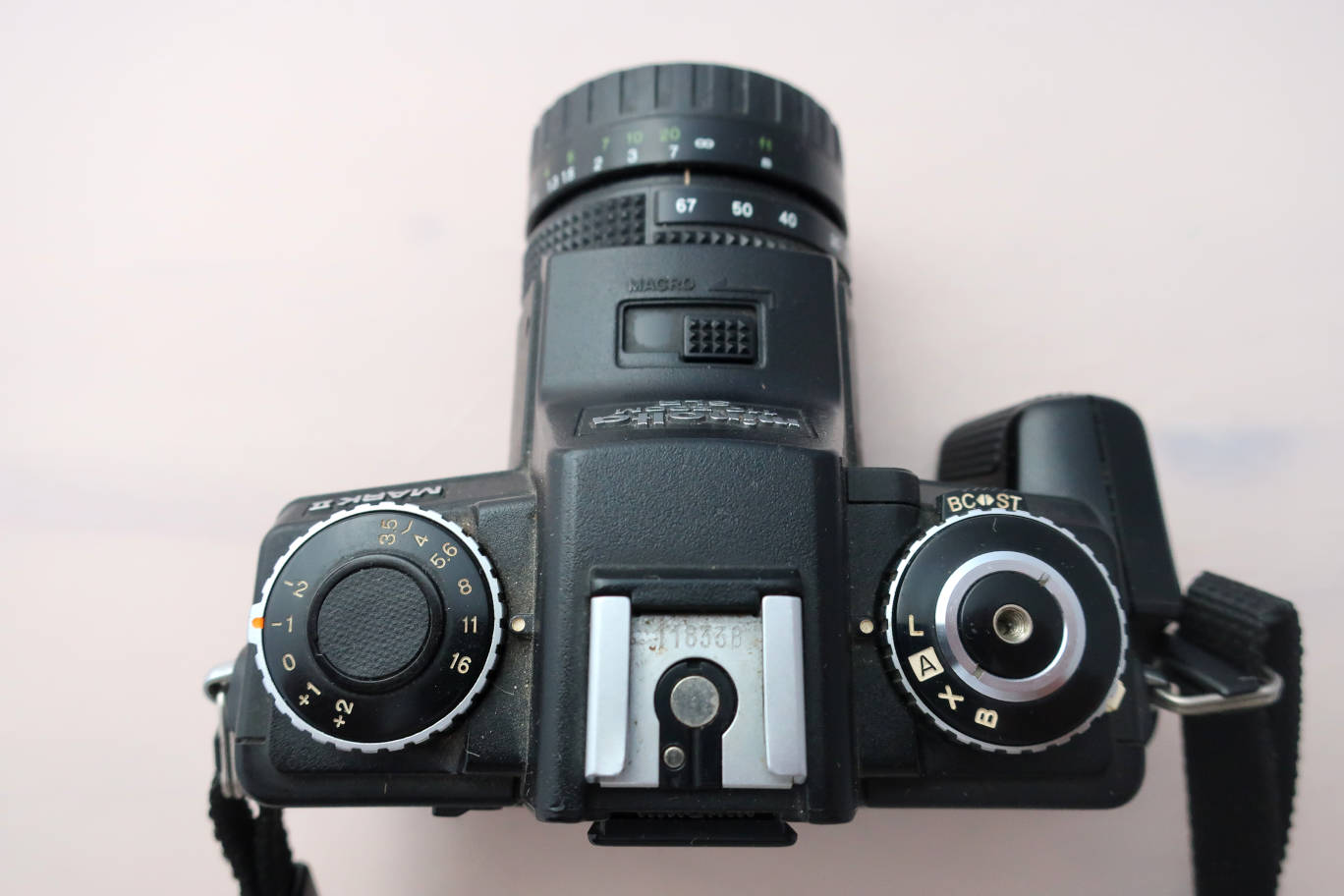 Seen from above. On the lens barrel:
Distance setting, zoom setting. If you push the macro lever towards the front and the left, a makro lens is inserted. Left wheel: aperture setting, exposure compensation (lift ring and move the orange mark).
Hot shoe.
Mode wheel: L=locked and off, A=automatic shutter, X=flash setting (1/125s) and B setting. You have to push in the white tab to unlock.
Shutter button with cable release thread. Towards the front: slider for battery control and self timer. The battery control/self timer LED is near the slider, shows towards the front.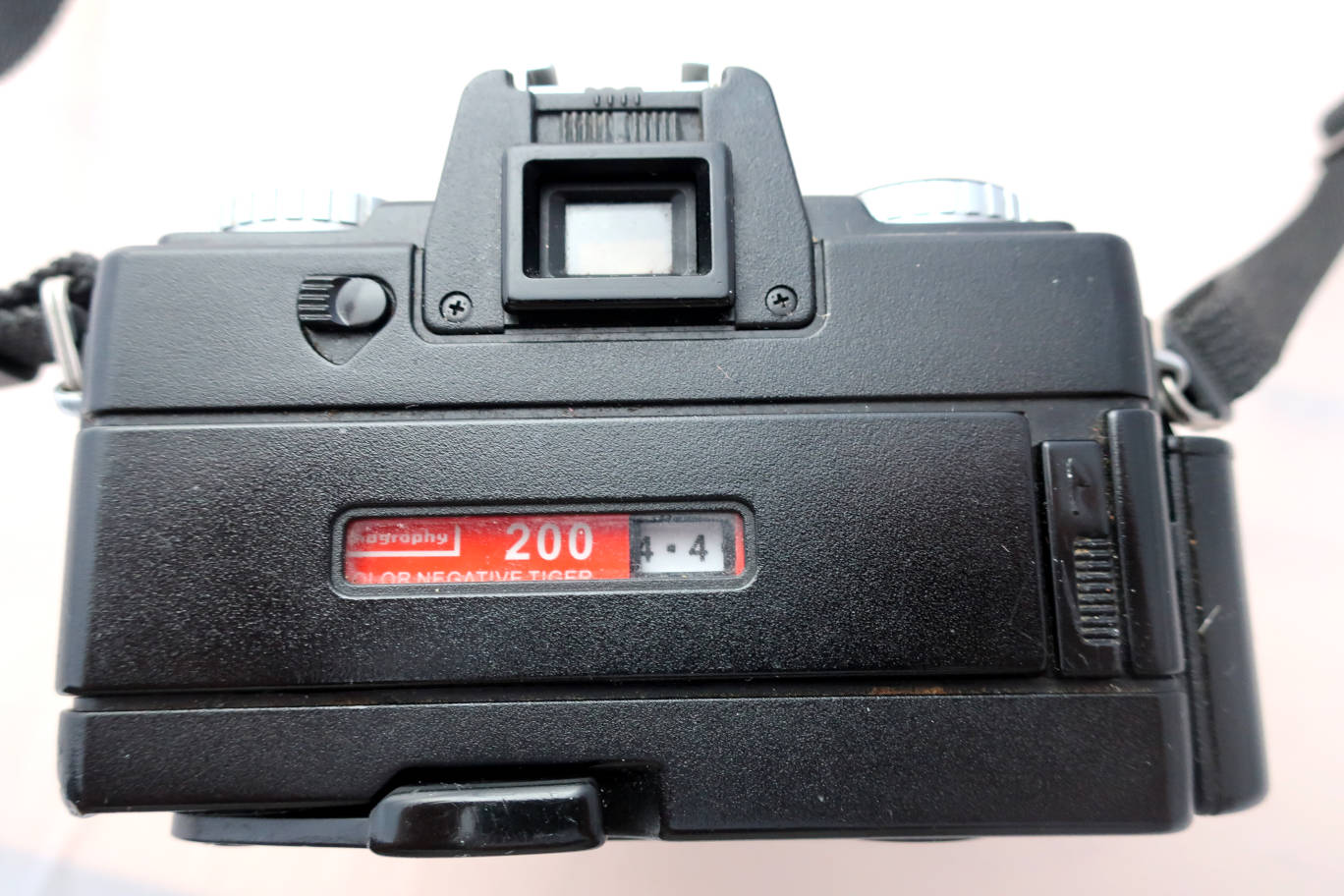 Back view.
The window shows the film type and the frame number. Finder and eye-piece correction. Lever to shut the eye-piece. Back opening button.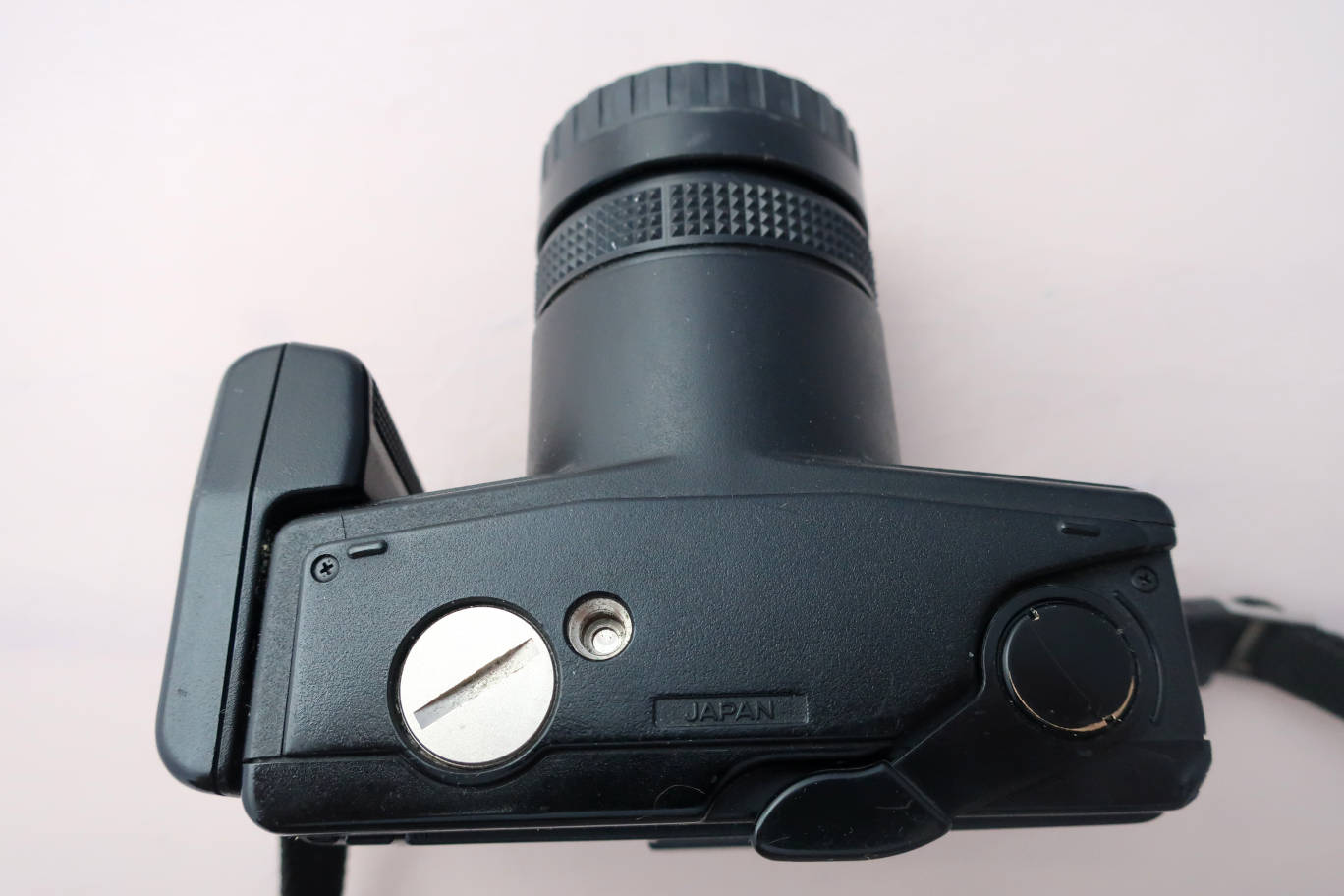 Seen from below. Battery compertment. Takes 2 LR/SR44 batteries. Tripod socket. Film advance.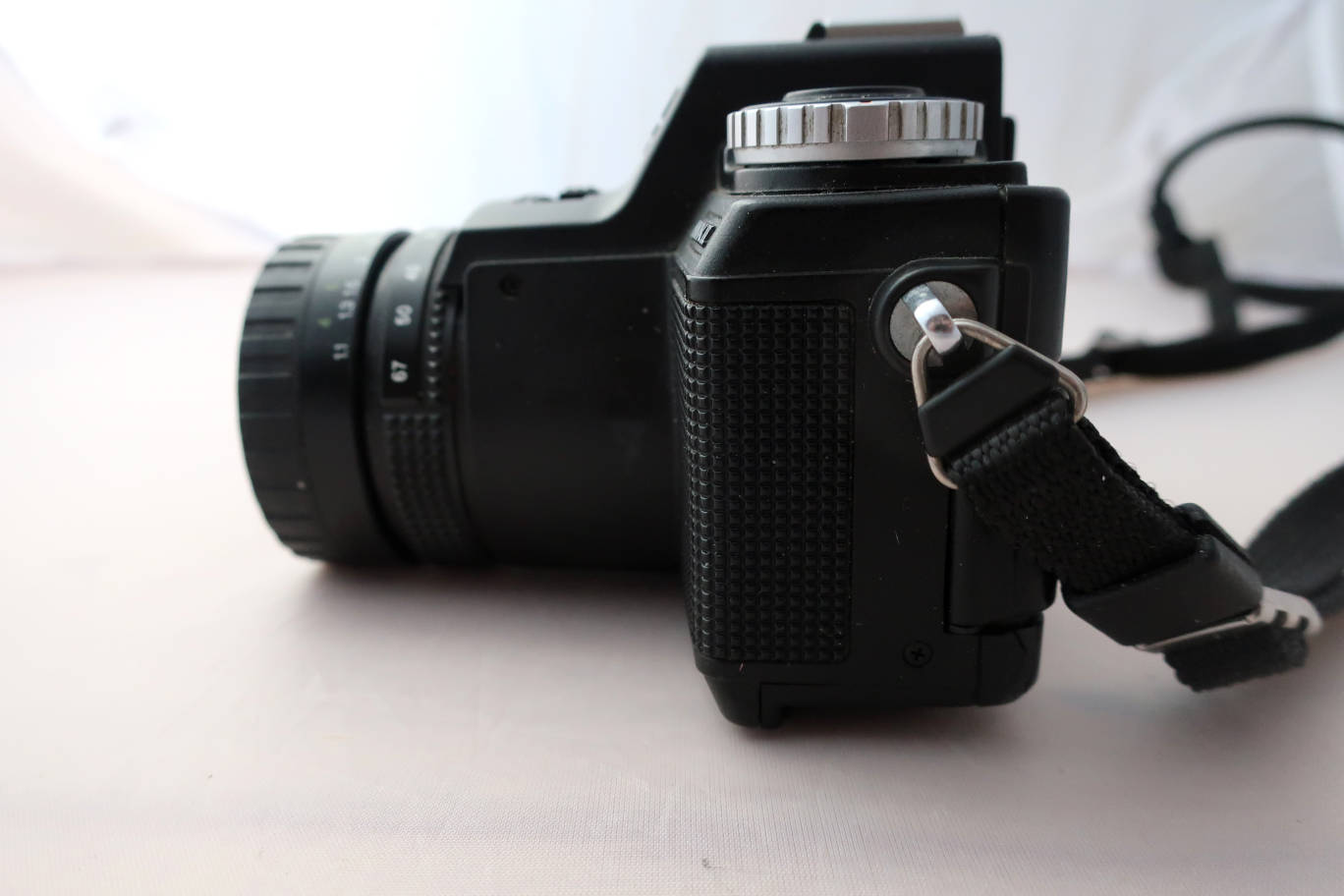 Right side. Strap lug.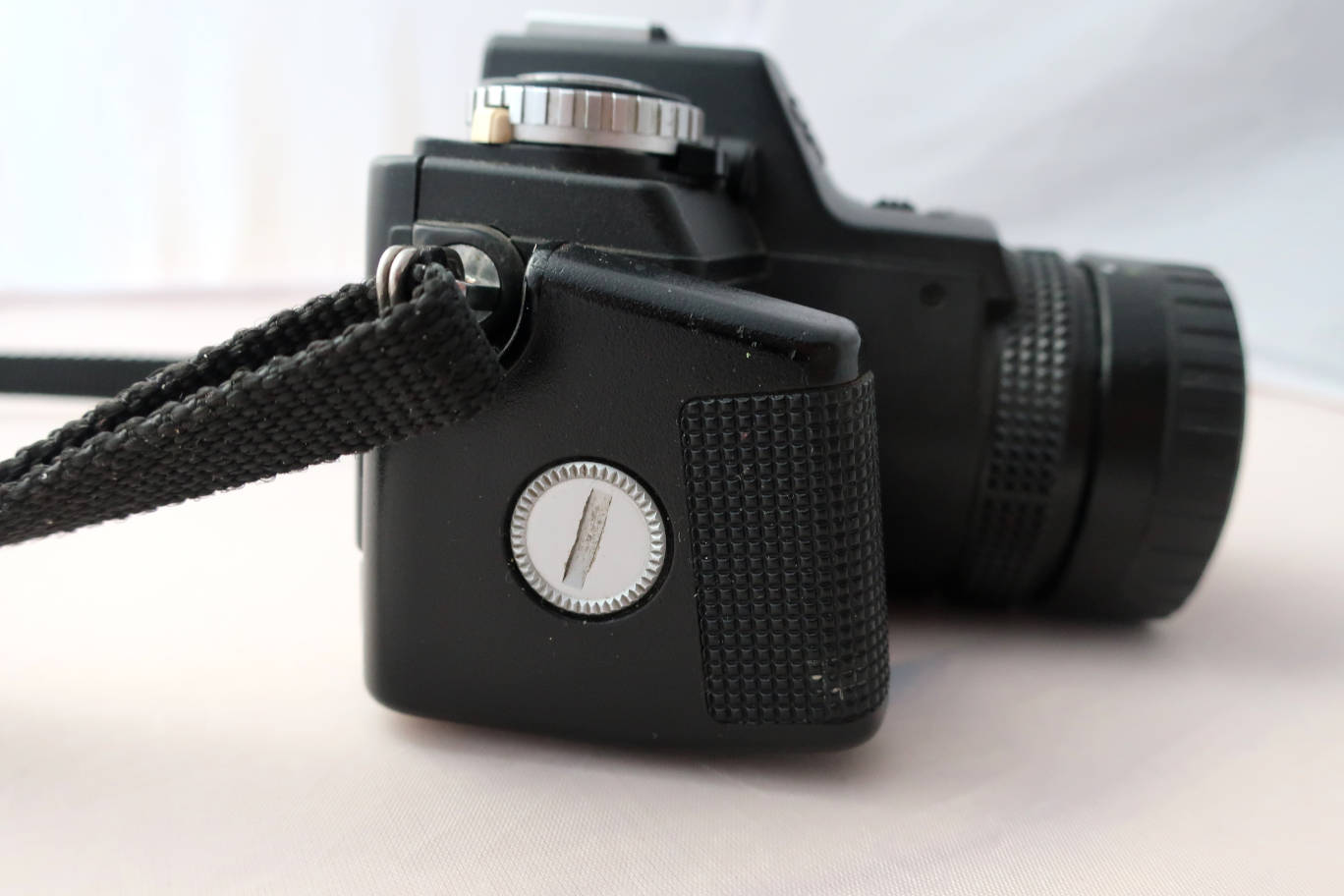 Left side. Strap lug and detachable grip.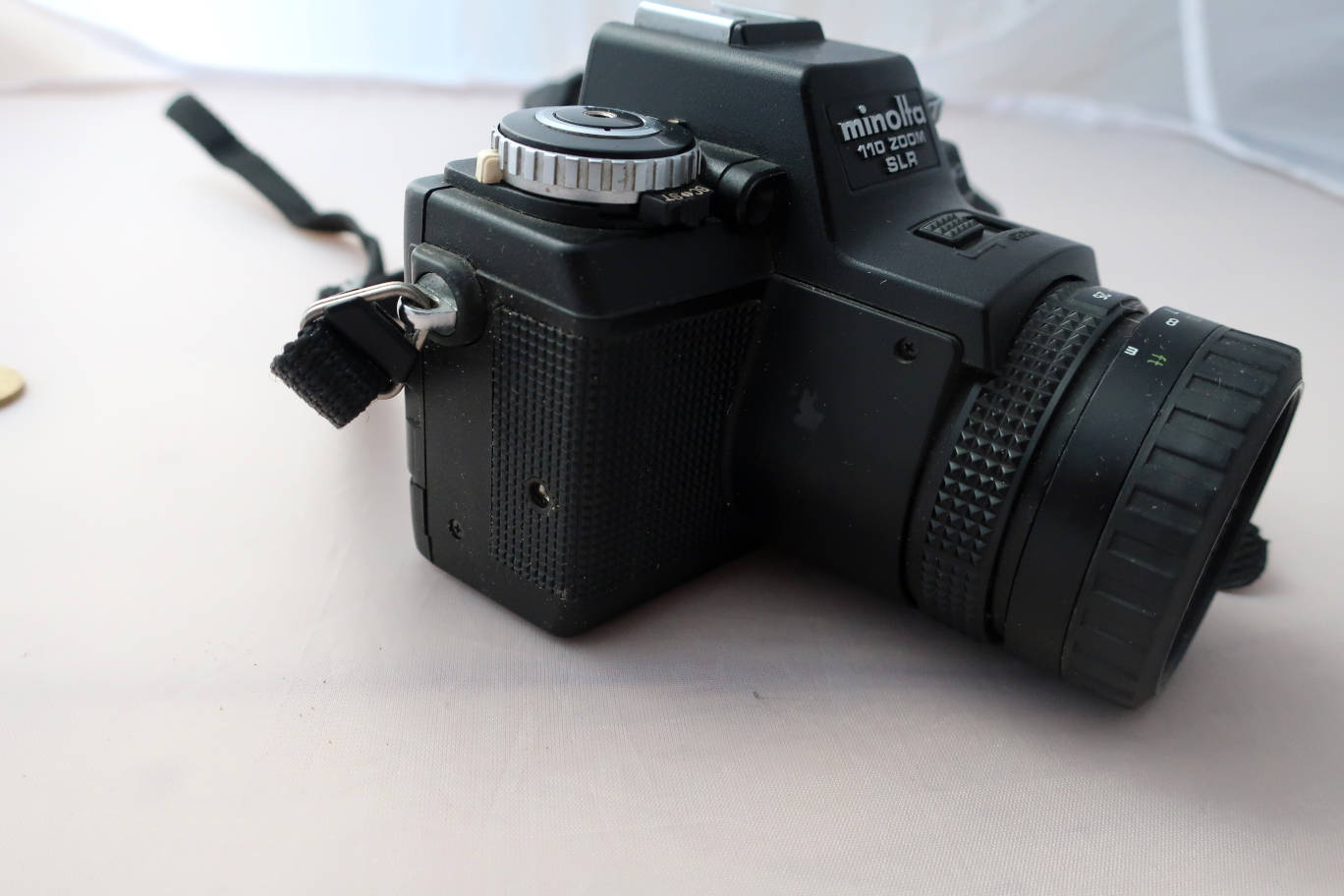 Grip taken off.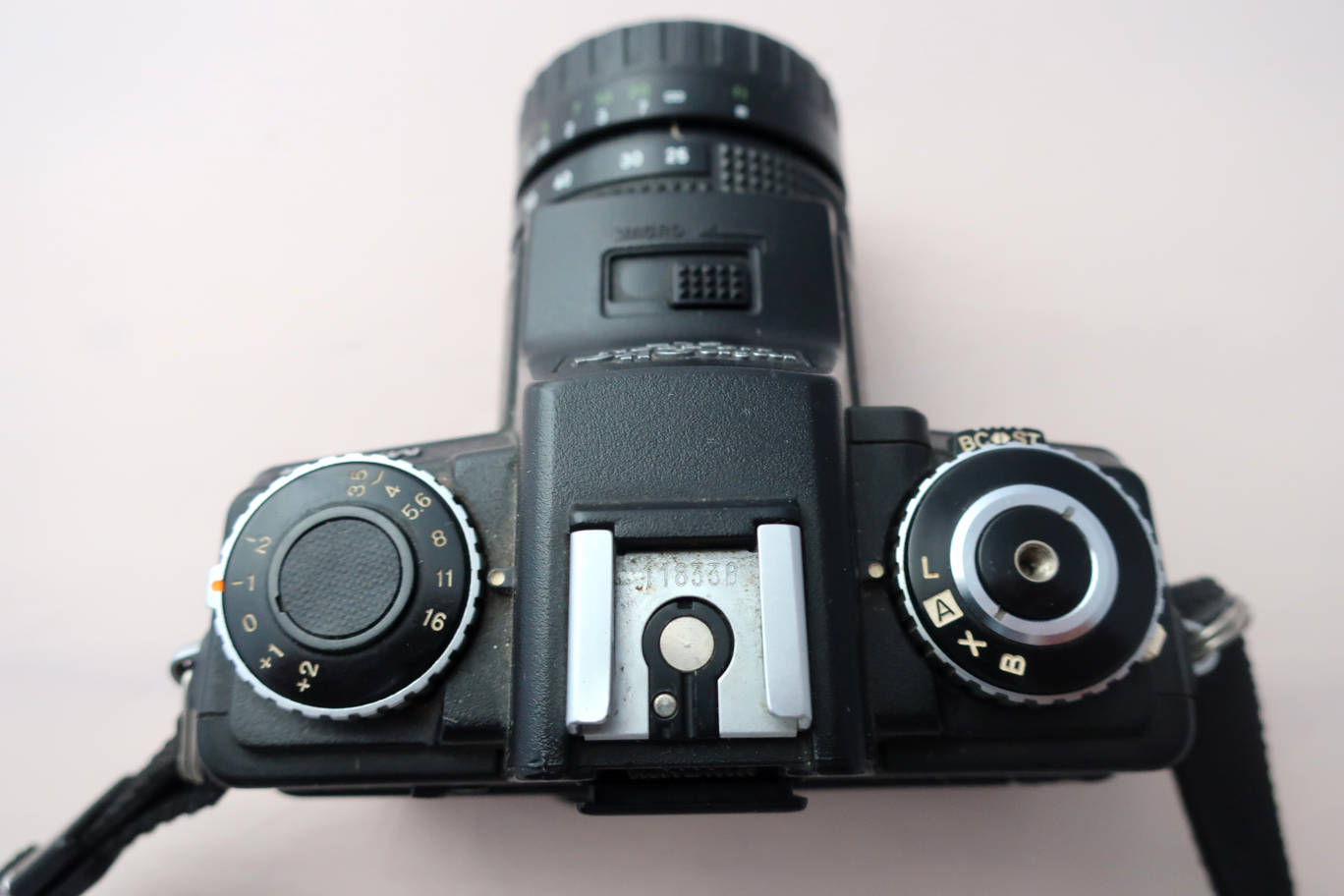 Without grip, seen from above.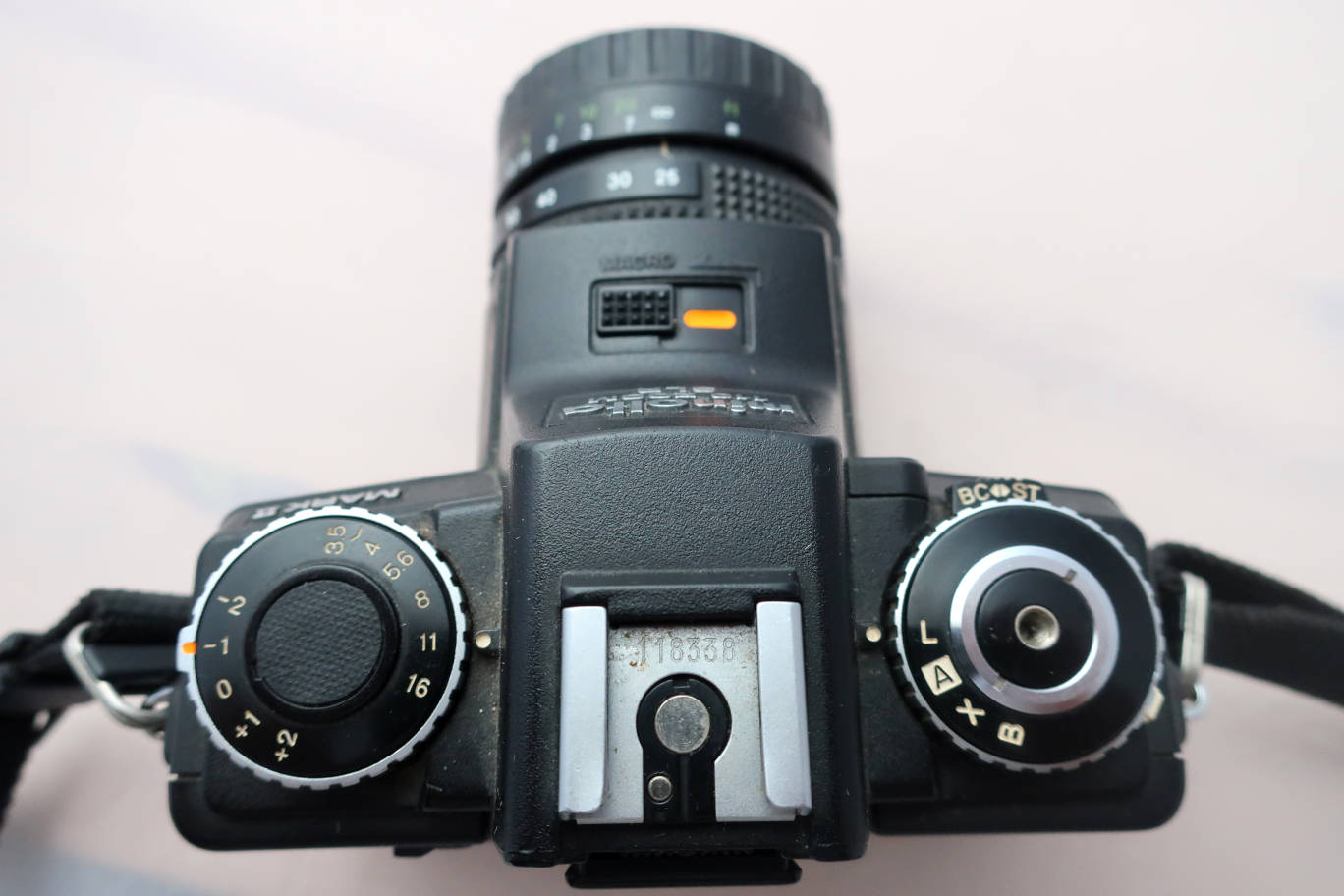 Makro setting.


Coming soon: Camera film compartment open.

Comparison between the 2 models: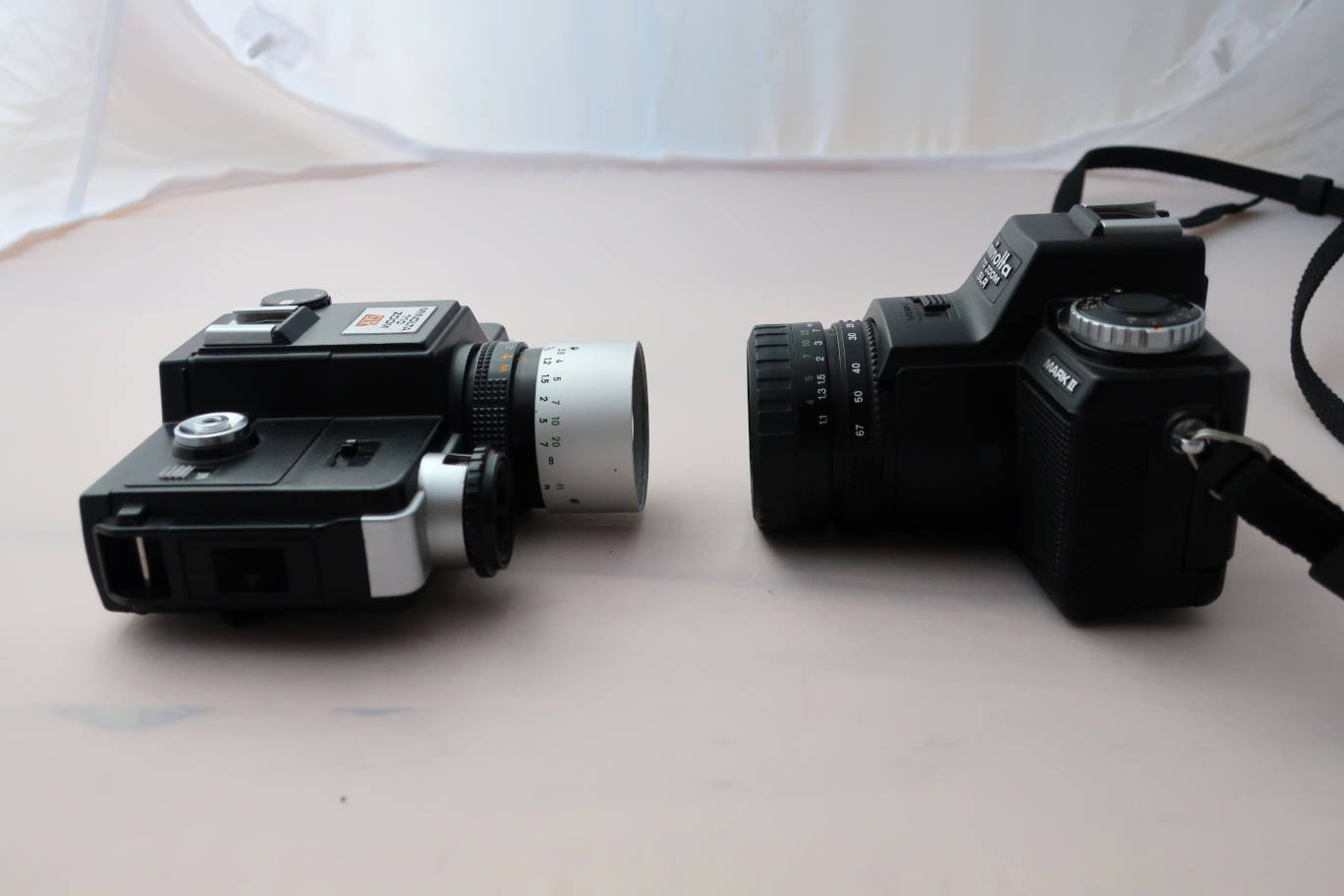 Both cameras are big and heavy for a 110 film camera. But both are real SLR cameras and both have a zoom lens. Film plane to front of the lens size is nearly the same.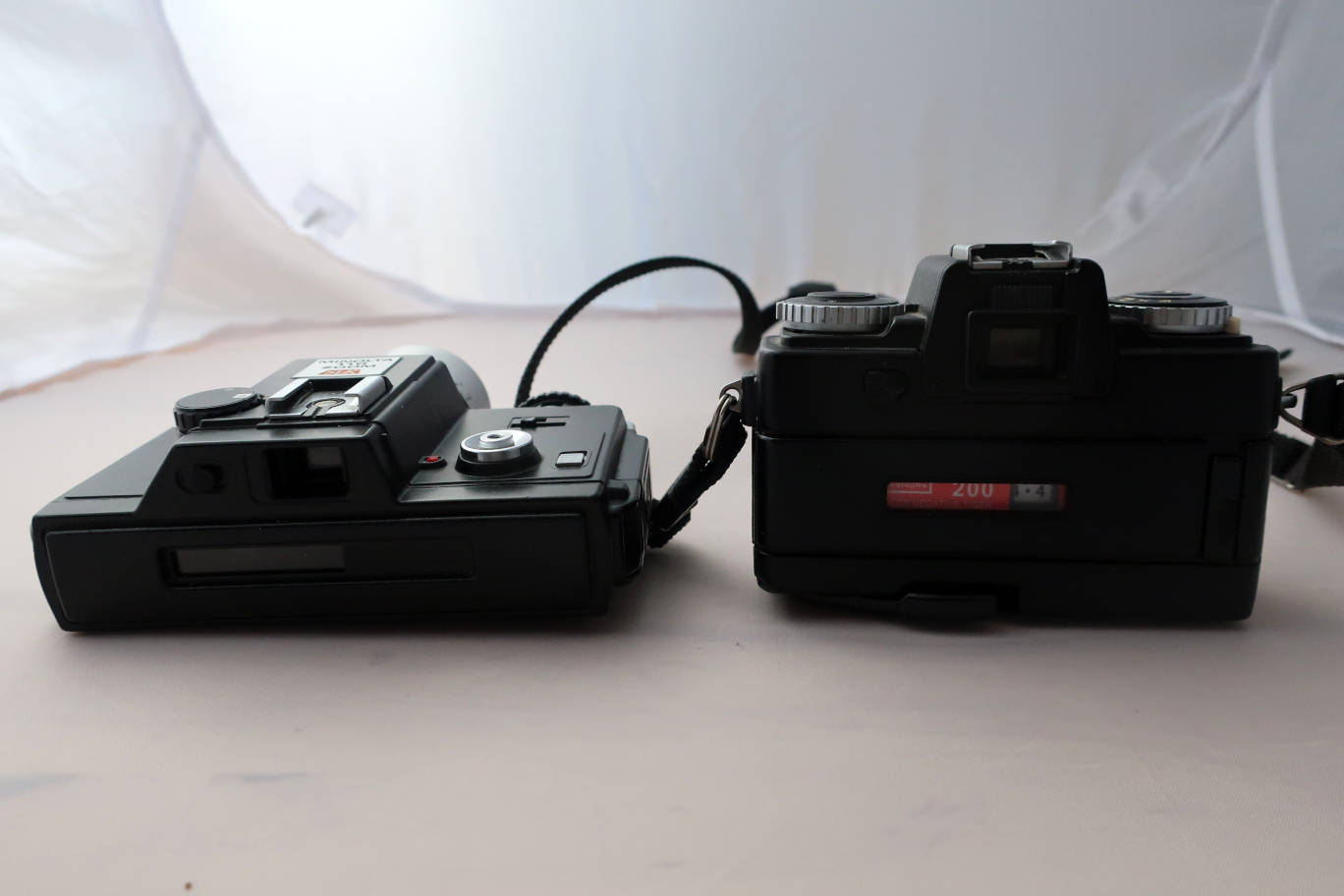 Height is quite different. The Mark II has TTL metering wheras the first series has a seperate meter.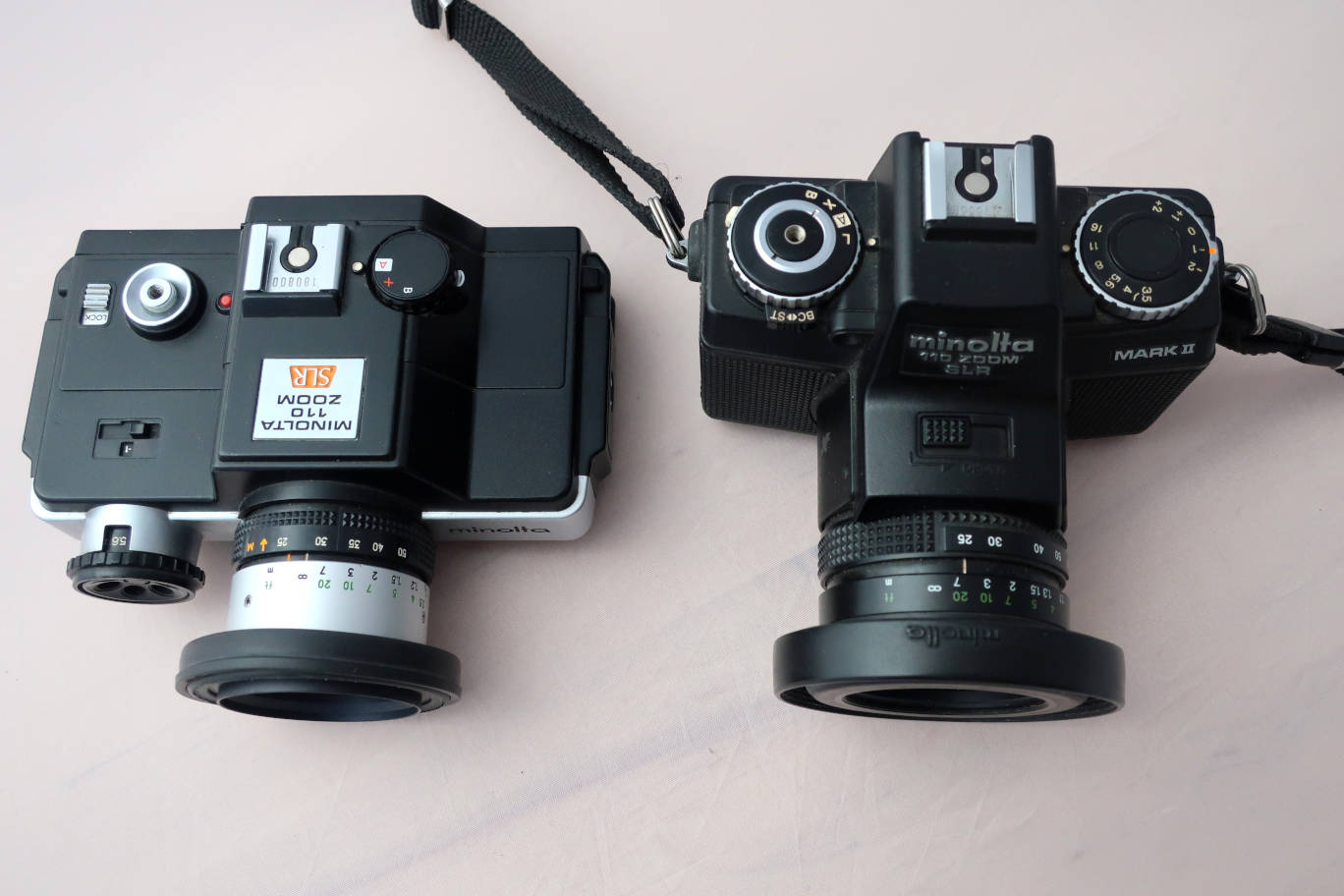 The mark II looks more like an ordinary SLR camera. It's less arkward to hold. Grip or not is a question of taste.

The Mark II clearly has a better lens. Longer range (67 vs. 50mm) and better luminosity (F3.5 vs. F 4.5) without being much bigger are an advance. It also has a better finder, a bit less dim and with a split-image spot for easier focussing. TTL metering is also an advantage. A real exposure times indication plus exposure warning is better as well than only exposure warning. The Mark II feels and handles like an ordinary SLR camera. The Mark II lacks the slow speeds (1/4 vs. 2s). It's a bit heavier (485 vs. 430gr.). The body size is similar, but the body is higher.

This camera is very easy to use, switch it on and it's ready. It has manual aperture setting, the shutter is automatic. It has exposure indication in the viewer, including under- and over-exposure. You have only to focus and frame, which is easy via the SLR finder. There is a hot shoe for electronic flash, but the camera deals well with available light within the 1/4s limit. After taking a picture, you have to advance film and cock shutter via the single-stroke lever under the camera. Putting a film is easy as well, you drop the film into the compartment, advance to the first frame and that's it.

For today's standards the finder is a bit dim, but perfectly usable. The zoom lens makes it big and heavy compared to other 110 cameras. But there is not much choice in 110 SLR cameras.

It's a very good camera with very good picture quality, good quality finish in a big and heavy body. It's fun to use. However the Pentax Auto 110 SLR is half the weight with 2 lenses. So it's a choice to make.