135compact.com

16mm film ultra compact cameras Mec 16 SB

The Mec 16 was first released 1958, the model presented, a Mec 16 SB, was launched in 1960, a top range camera for perforated 16mm film* (see below). It was made by Feinwerktechnik GmbH of Lahr in the Schwarzwald, Germany. It has a built-in Gossen selenium lightmeter and it is the world's first camera with through-the-lens metering. The camera has an extremely luminous and top quality 22 mm F/2 Rodenstock Heligon lens. So this was a very advanced camera by its time.

* 16mm film is a movie film format, as was 35mm film. In the early days it was cut from 35mm film and thus had perforations on one side (single perforation). Please note, that the perfs and their area of 35mm are bigger than those of modern 16mm film. As soon as 1923 Kodak introduced a set with camera, projector, tripod, screen and splicer (or was it a slitter?) aiming at amateurs. The new format was rapidly adopted by still camera producers to build smaller devices. The film usualy sits in a cartridge, but no standard has been established, many have 2 cassettes, one feeding and one taking. So every maker made his own system. Some, like Minolta, even sold a choice of readily available film cassettes. If you want to use your camera, you should at least have one (pair of) cassette(s).

16mm film is still made. There is double perf, single perf and unperforated film. Check, which one suits your camera. Some need perfs to advance. Smaller picture formats can use double perf film, bigger ones would have the perfs (or sprockets) visible in the picture area. There is 10mm of usable space between the perfs of double perf film, 12.5mm to the side of single perf film. Film can also be s(p)lit from other formats like 120.

The camera's main features are:

22mm F2 Rodenstoch lens, 6 elements, F2-F16, min. focus 0.3m(!!)
Focal plane shutter speeds: B, 1/30 - 1/1000, flash synchro 1/30 bulb, 1/60 electronic
10x14mm picture format, can use only single or double perf 16mm film
Size 106x58x36, Weight 268 gr.
6 - 100 ISO, viewfinder, only parallax compensation marks, matched needle TTL lightmeter, PC flash socket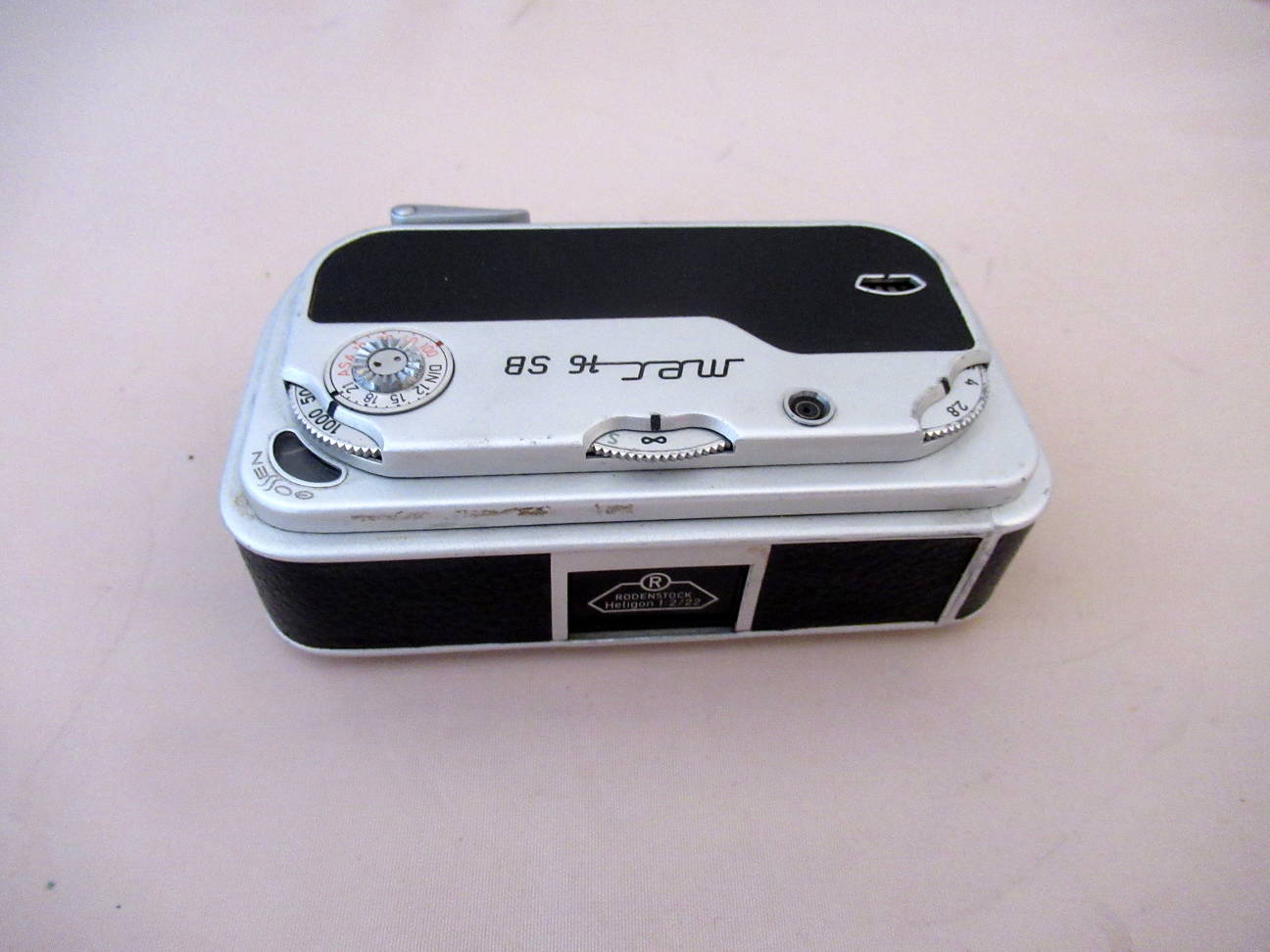 Camera closed, it looks a little like a sardine can.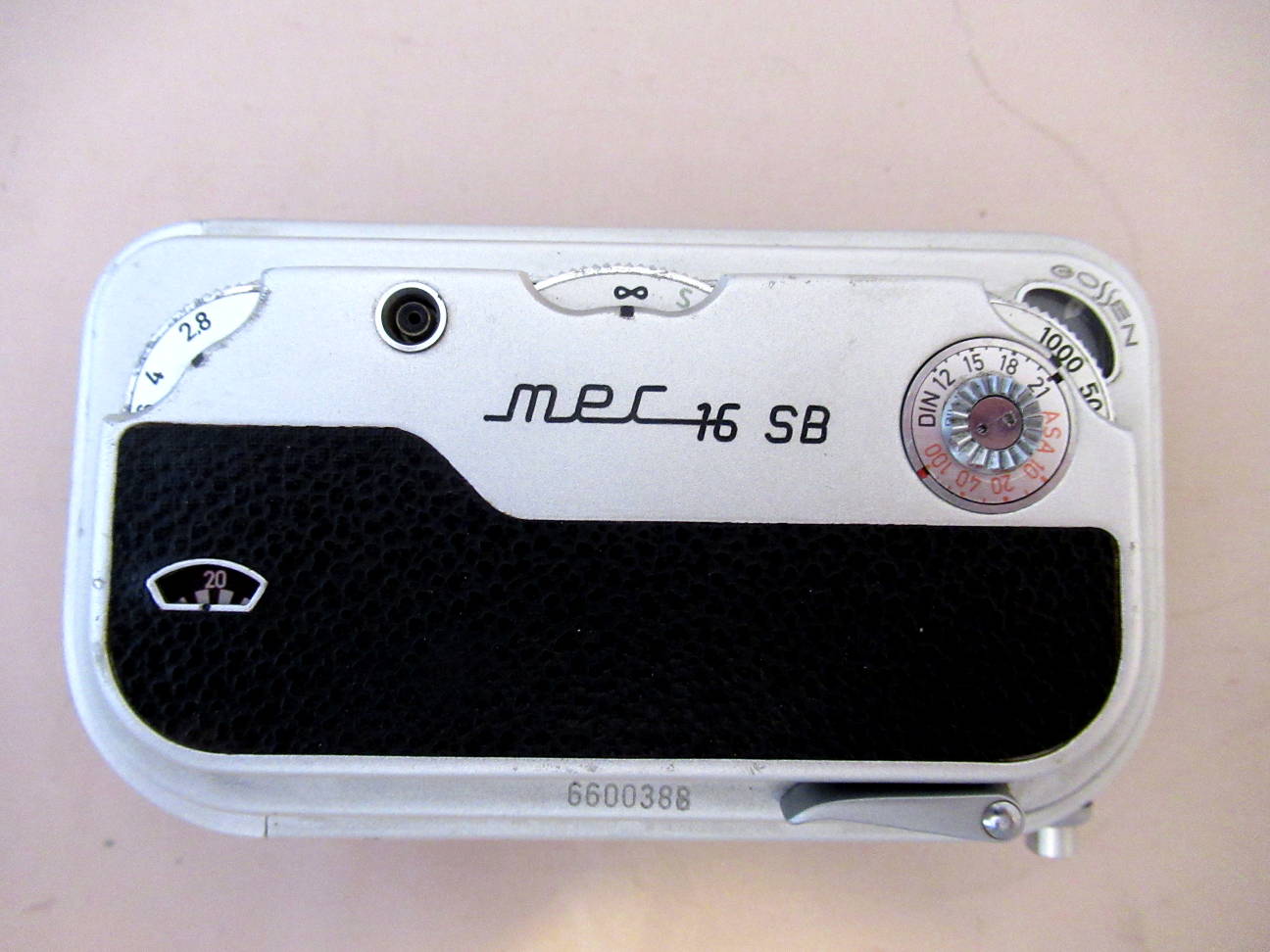 Camera closed, seen from above.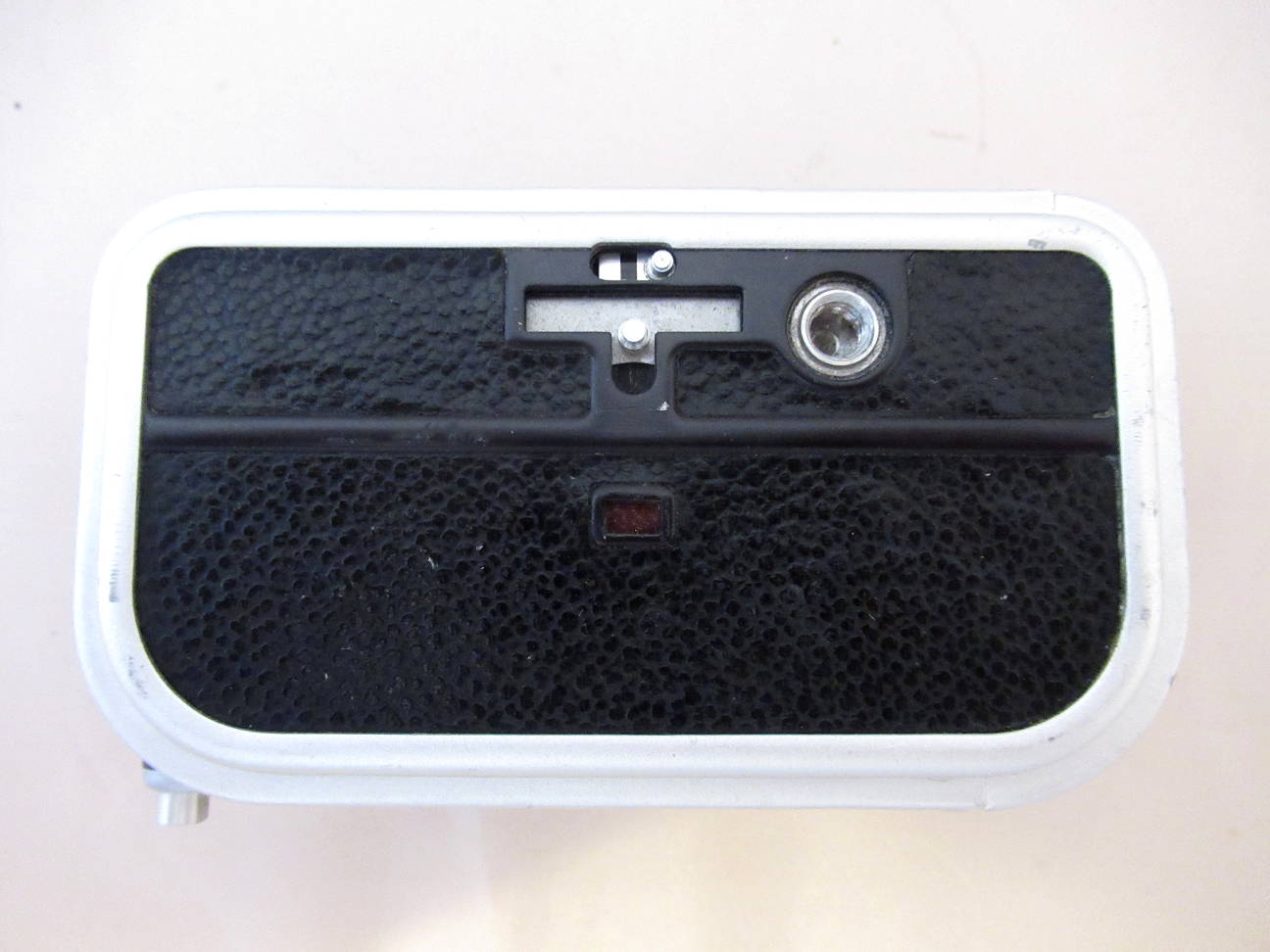 Camera closed, seen from below. Film type reminder, slot for filter, tripod socket and film presence indicator.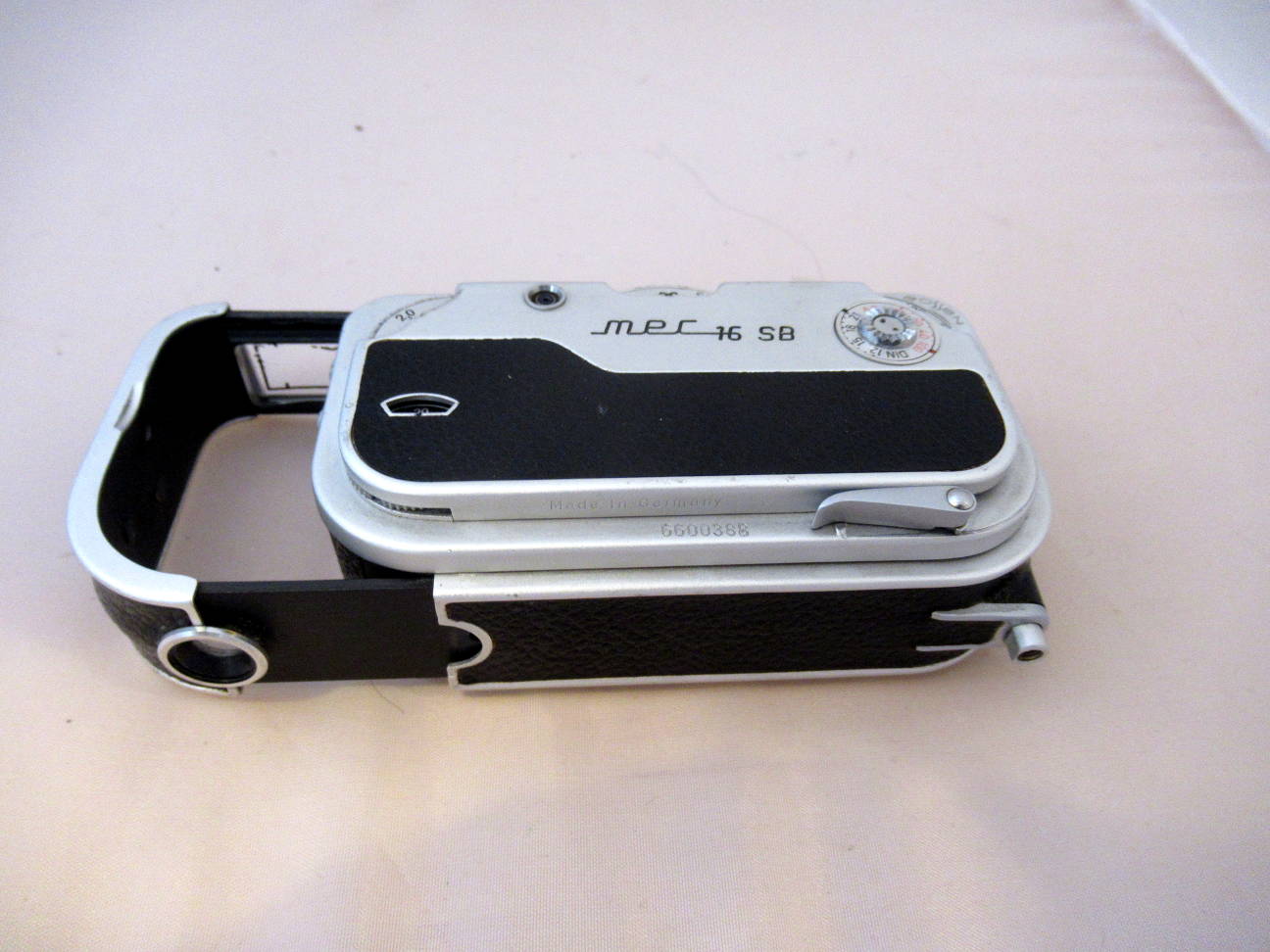 Camera open.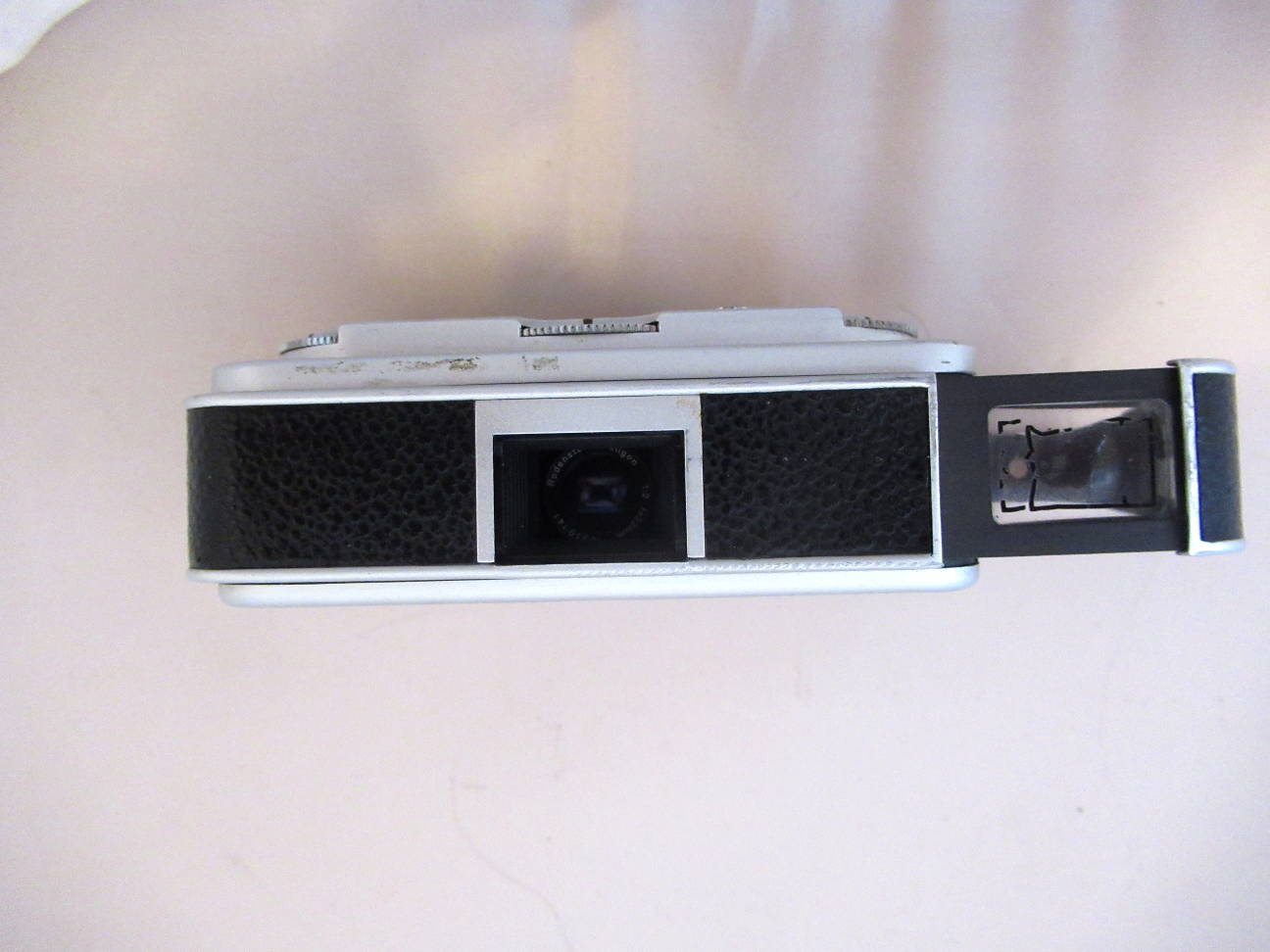 Camera open, front.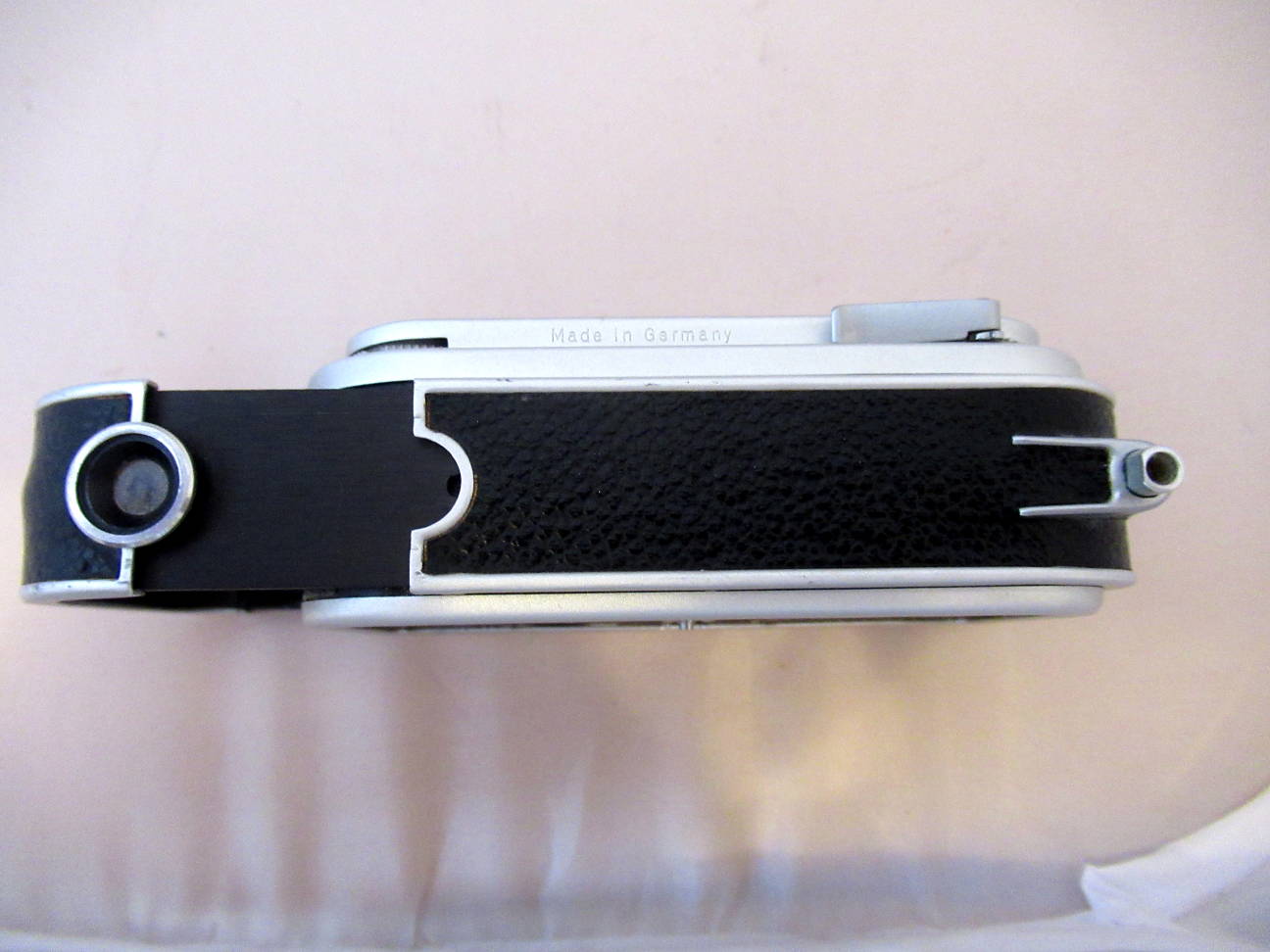 Back view. Finder and shutter release with cable release socket.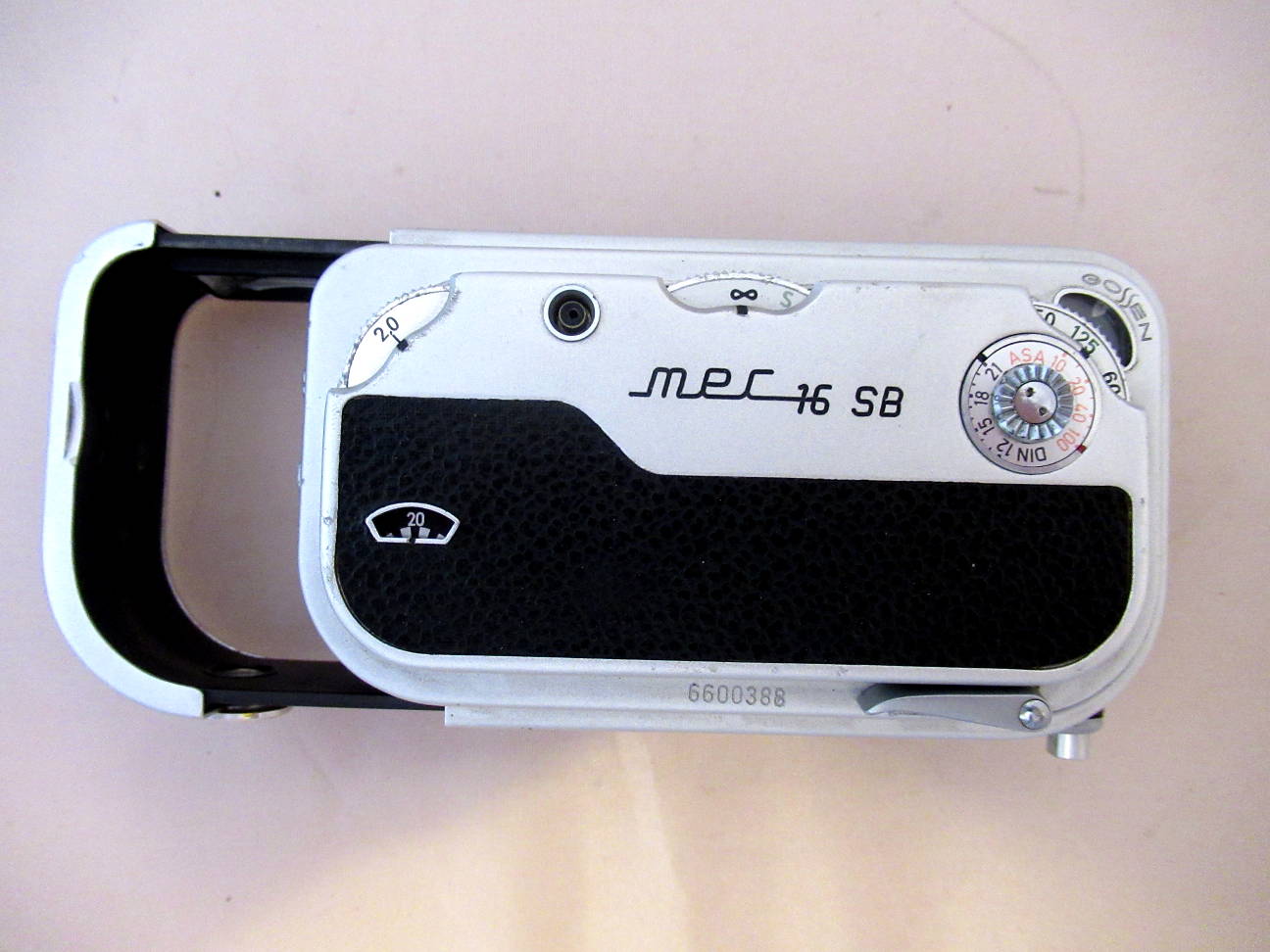 Seen from the top. Aperture control. PC flash socket.
Distance setting.
Coupled matched needle selenium meter. Shutter setting and ISO control. Film counter. Counts backwards from 24. The film advance is blocked when it shows "0". You must reset it to push the last to images into the cartridge before opening the film compartment. Film advance lever, single stroke.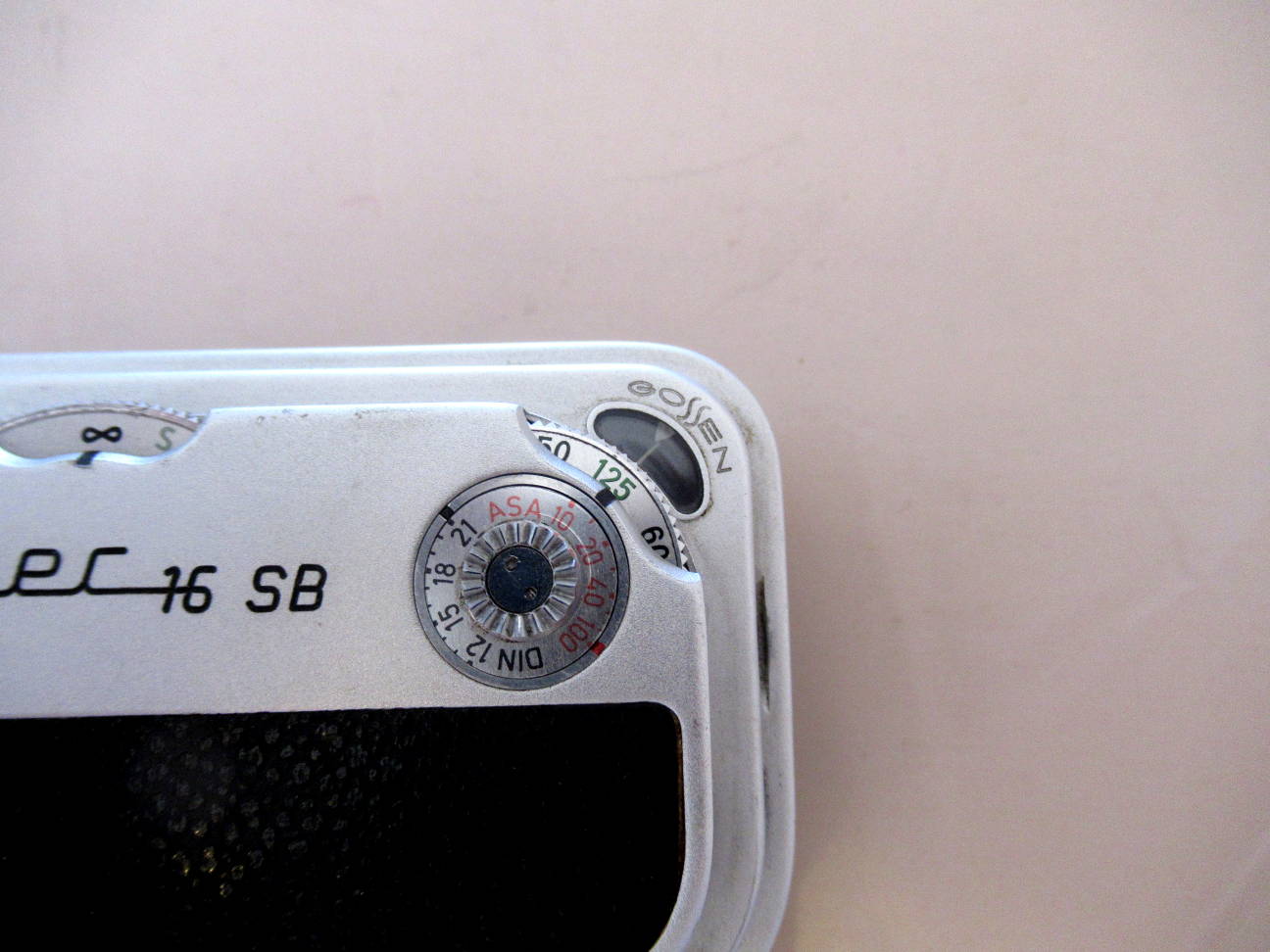 Working meter. You have to match the needle with the pointer quite precisely, 1mm is 1 aperture. The whole unit is moved depending on aperture. So the needle shows at F2 at 1/3 even if the meter doesn`t work.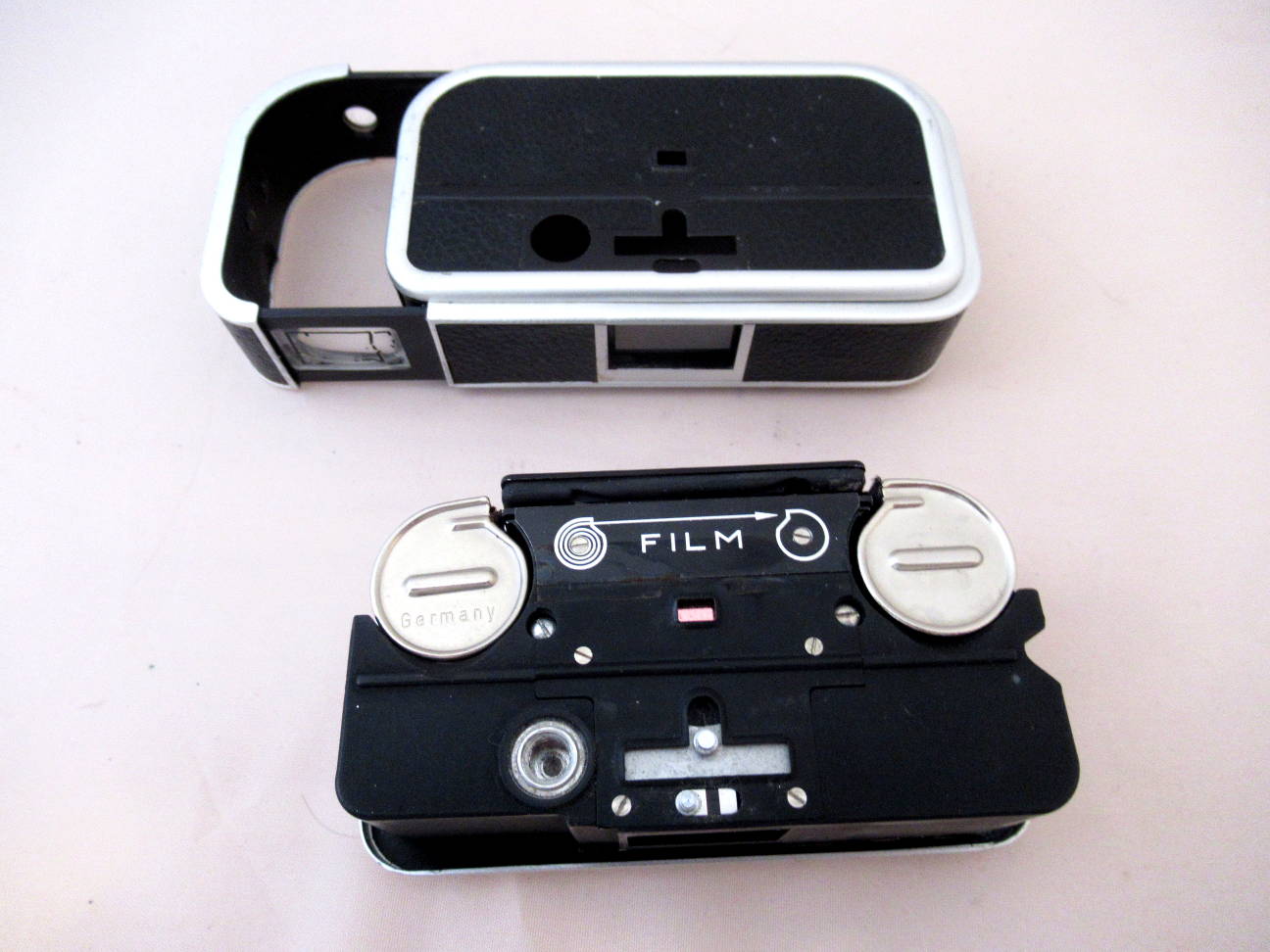 Camera film compartment open. The releas is only accessible, if the camera is extended to open.
Mec sold its own film in those cartridges, which are reloadable. The camera needs perforations for film advance. You can use single perf film if the perfs are towards the bottom of the camera, the camera opens from the bottom and lies on its top in the picture above.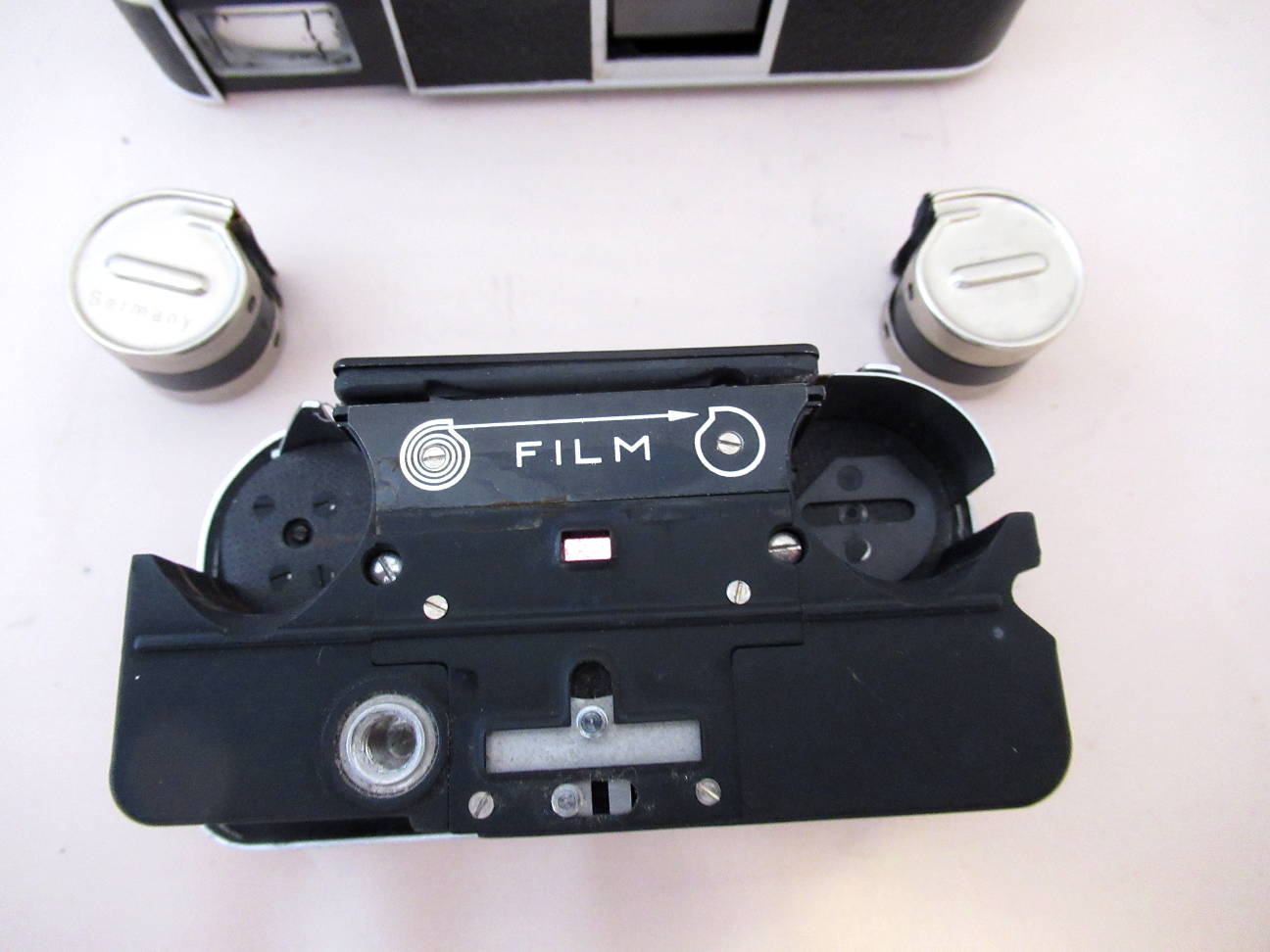 You can easily load and unload the cartridges in the dark or a changing bag. Please consult

this page

. As the film is pushed into the receiving cartridge, not pulled, advance cautiously not to jam the film.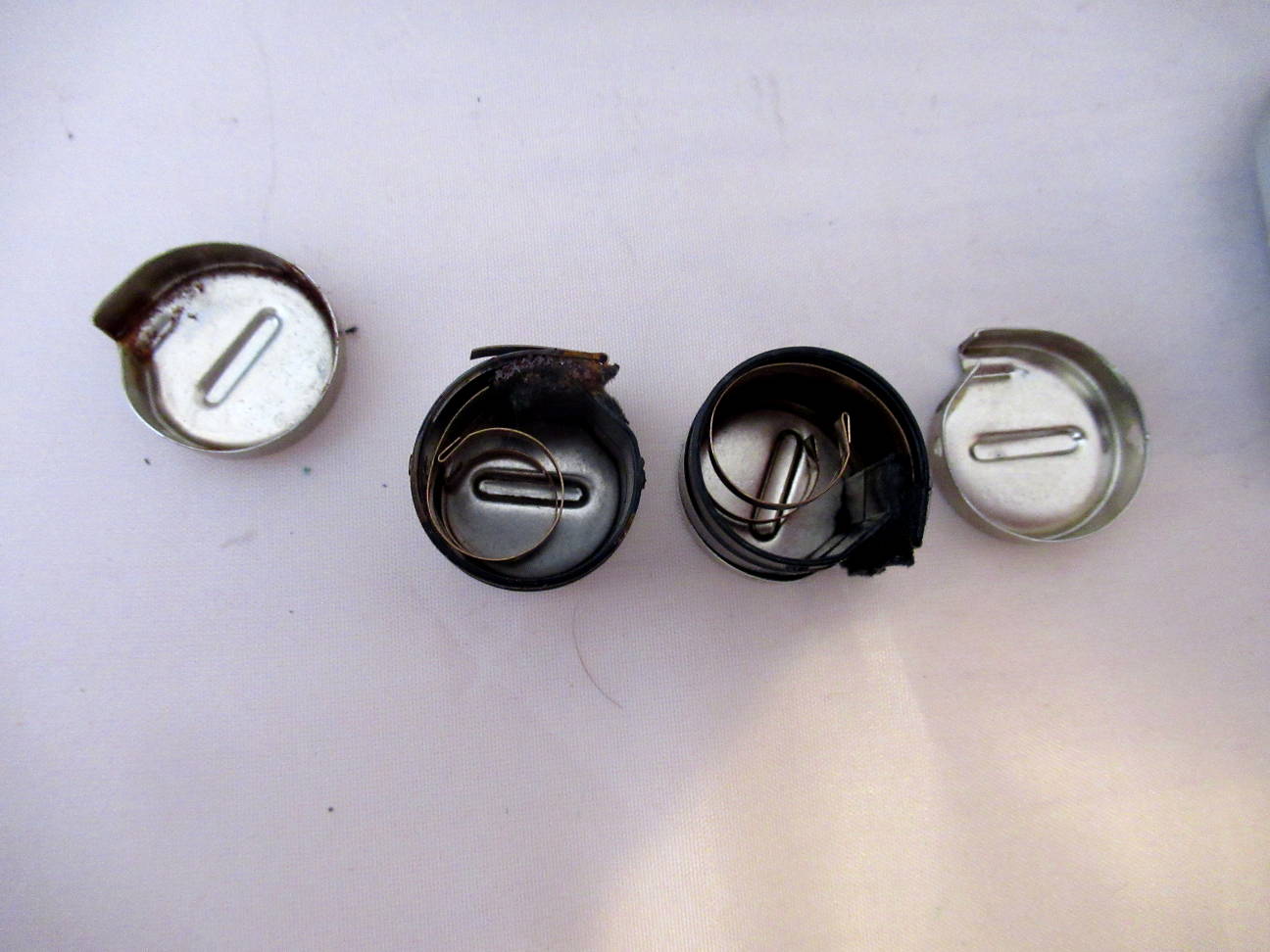 Cartridges open.

This camera is very easy to use, pull it open and it's ready. You only have to match the needle with the pointer, focus and frame which is easy via the big viewfinder. After taking a picture, you have to action the advance lever for film advance and shutter cocking. Putting a film is easy, just pull the film across the film plane into the winding spool, shut the camera, advance to the first frame and that's it.

It's a very good point and shoot camera with one of the best lenses ever built for 16mm, superb picture quality, good quality finish in a pocketable body. When it came out, it was the most advaned 16mm camera of all. This camera feels solid. It has an extremely luminous lens. Picture results were good. It has 2 rare features: focussing down to 30cm without extra lenses and a B and 1/1000s shutter.