The Minolta 16 P was first released 1960, a low to mid range camera for 16mm Minolta cartridge film* (see below). It has a decent, yet fixed focus lens and a choice of apertures.

* 16mm film is a movie film format, as was 35mm film. In the early days it was cut from 35mm film and thus had perforations on one side (single perforation). Please note, that the perfs and their area of 35mm are bigger than those of modern 16mm film. As soon as 1923 Kodak introduced a set with camera, projector, tripod, screen and splicer (or was it a slitter?) aiming at amateurs. The new format was rapidly adopted by still camera producers to build smaller devices. The film usualy sits in a cartridge, but no standard has been established, many have 2 cassettes, one feeding and one taking. So every maker made his own system. Some, like Minolta, even sold a choice of readily available film cassettes. If you want to use your camera, you should at least have one (pair of) cassette(s).

16mm film is still made. There is double perf, single perf and unperforated film. Check, which one suits your camera. Some need perfs to advance. Smaller picture formats can use double perf film, bigger ones would have the perfs (or sprockets) visible in the picture area. There is 10mm of usable space between the perfs of double perf film, 12.5mm to the side of single perf film. Film can also be s(p)lit from other formats like 120.

The camera's main features are:

25mm F3.5 Rokkor lens, 3 elements, F3.5-F16, min. focus ~2.5(!)m, 1.4m at F16, close-up lenses down to 0.6m available
Fixed shutter speed, 1/100,
10x14mm picture format, Minolta cartridge, can use any 16mm film
Size 103x42x27, Weight 120 gr.
12 - 100 ISO, viewfinder, only parallax compensation marks, flash socket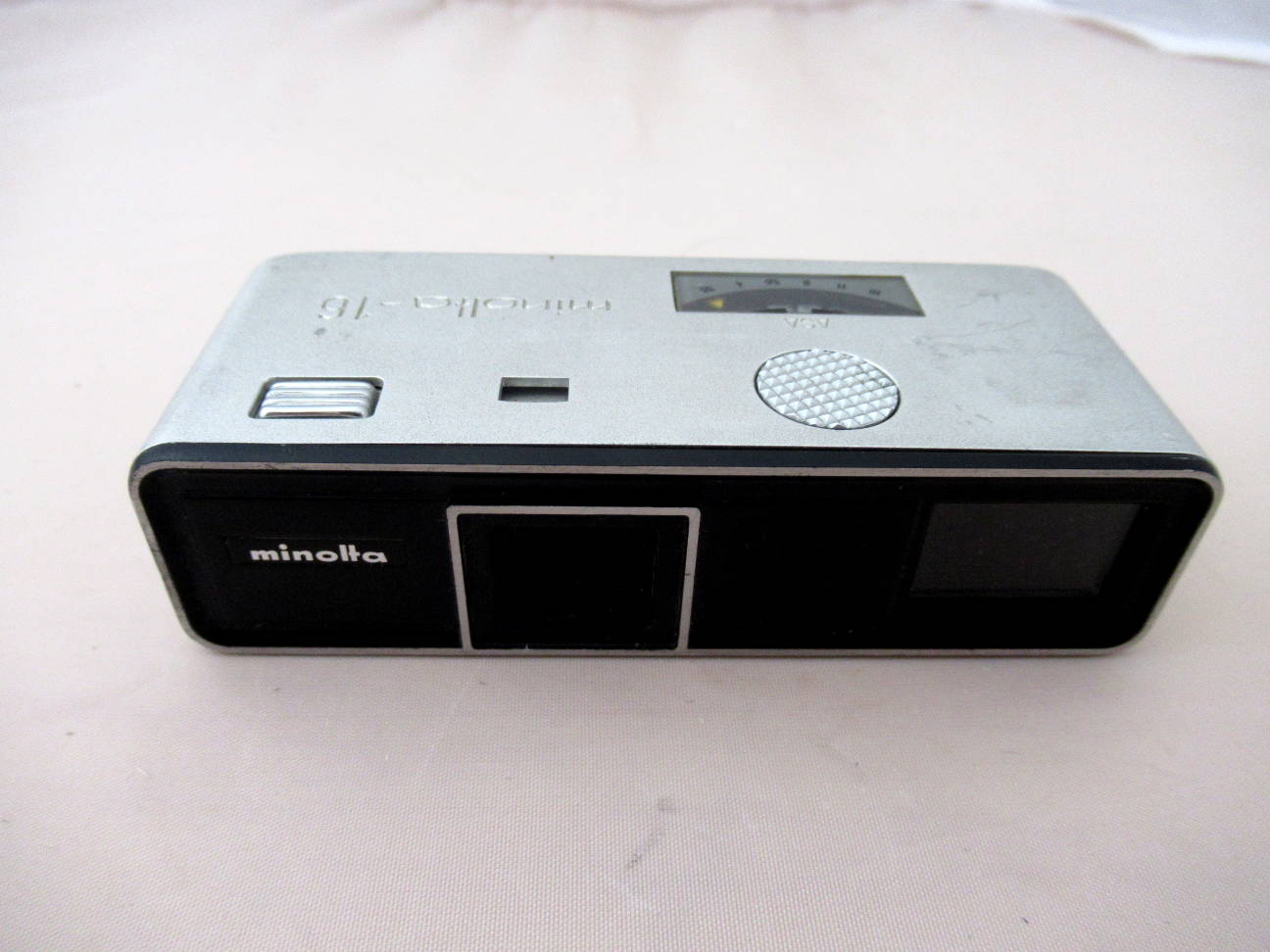 The camera is small and has no cover to open.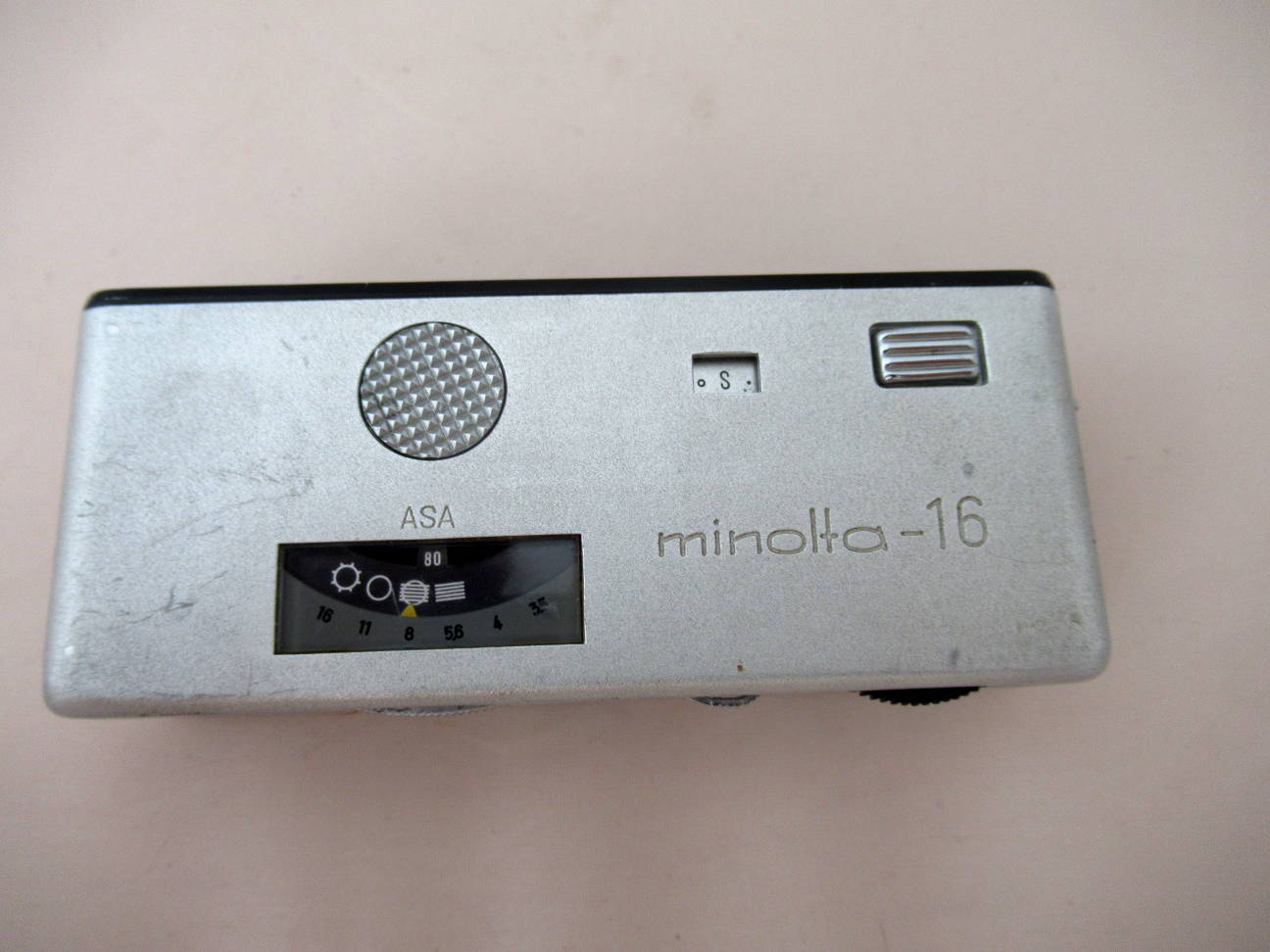 Camera top. Indicator window for aperture with weather sybols as guideline, ISO setting and setting dial, film counter and shutter button.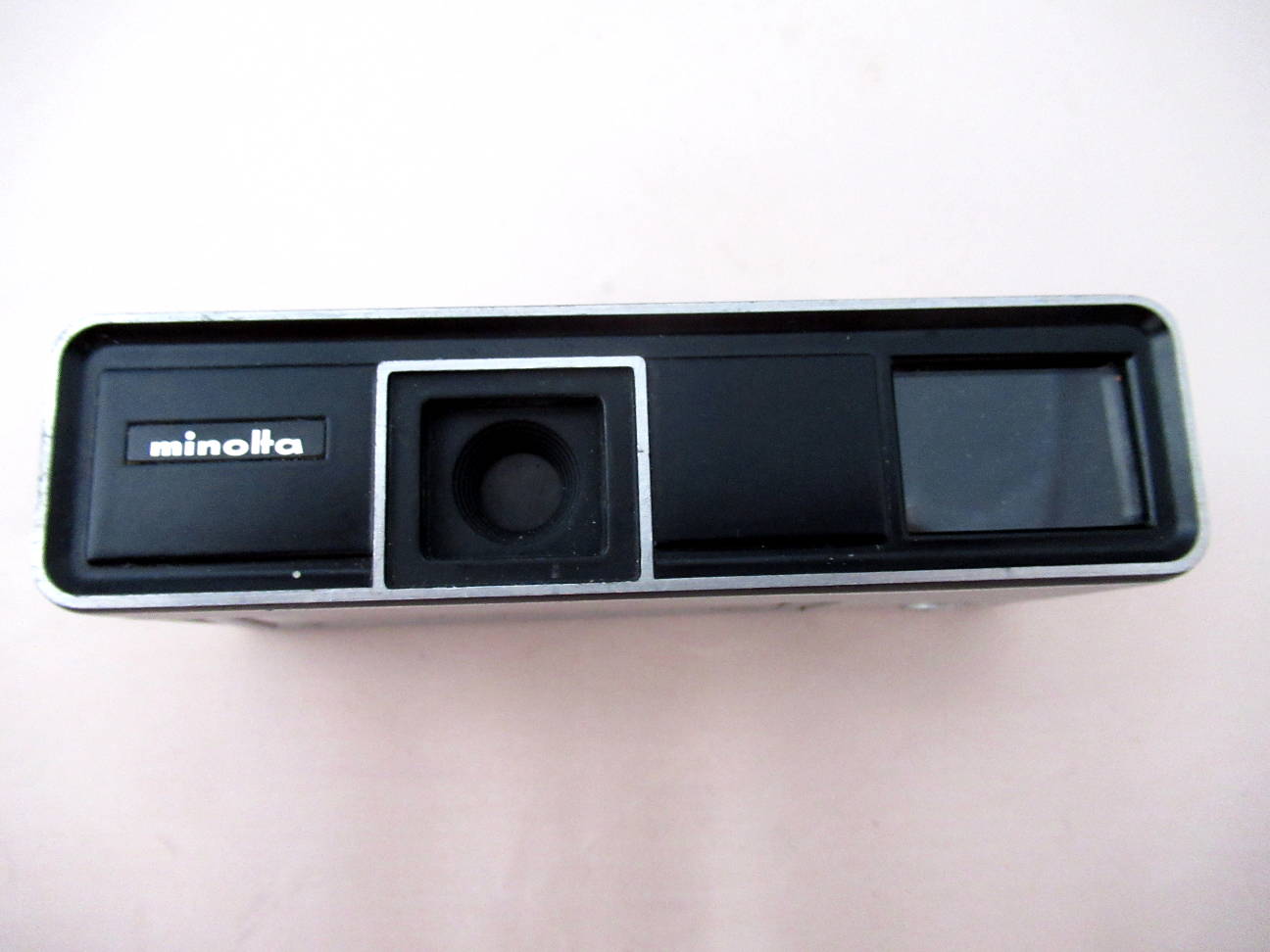 Camera front.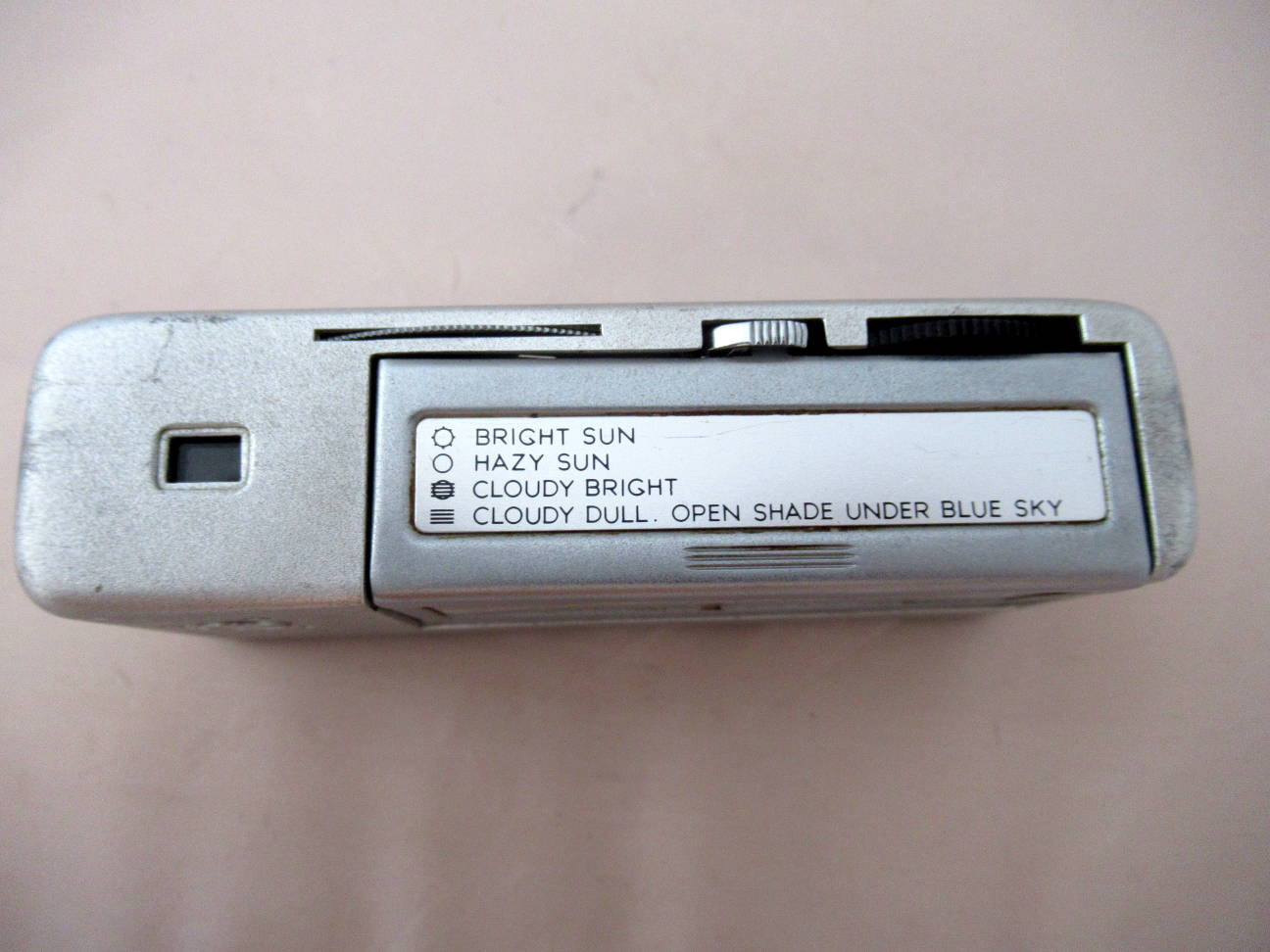 Back view.
The finder only shows parrallax marks. Aperture setting dial, back opening button and film advance dial.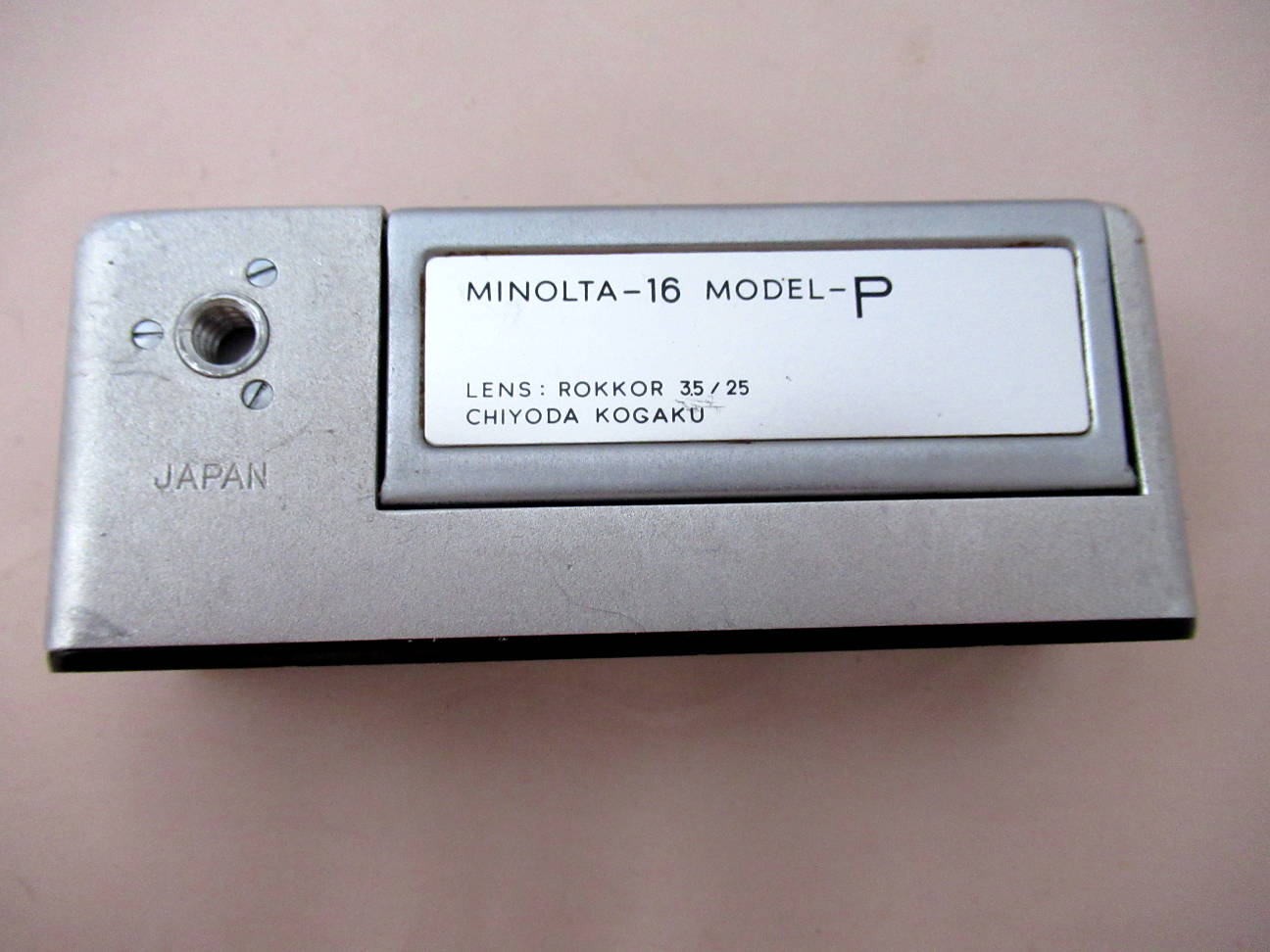 Seen from below. Tripod socket.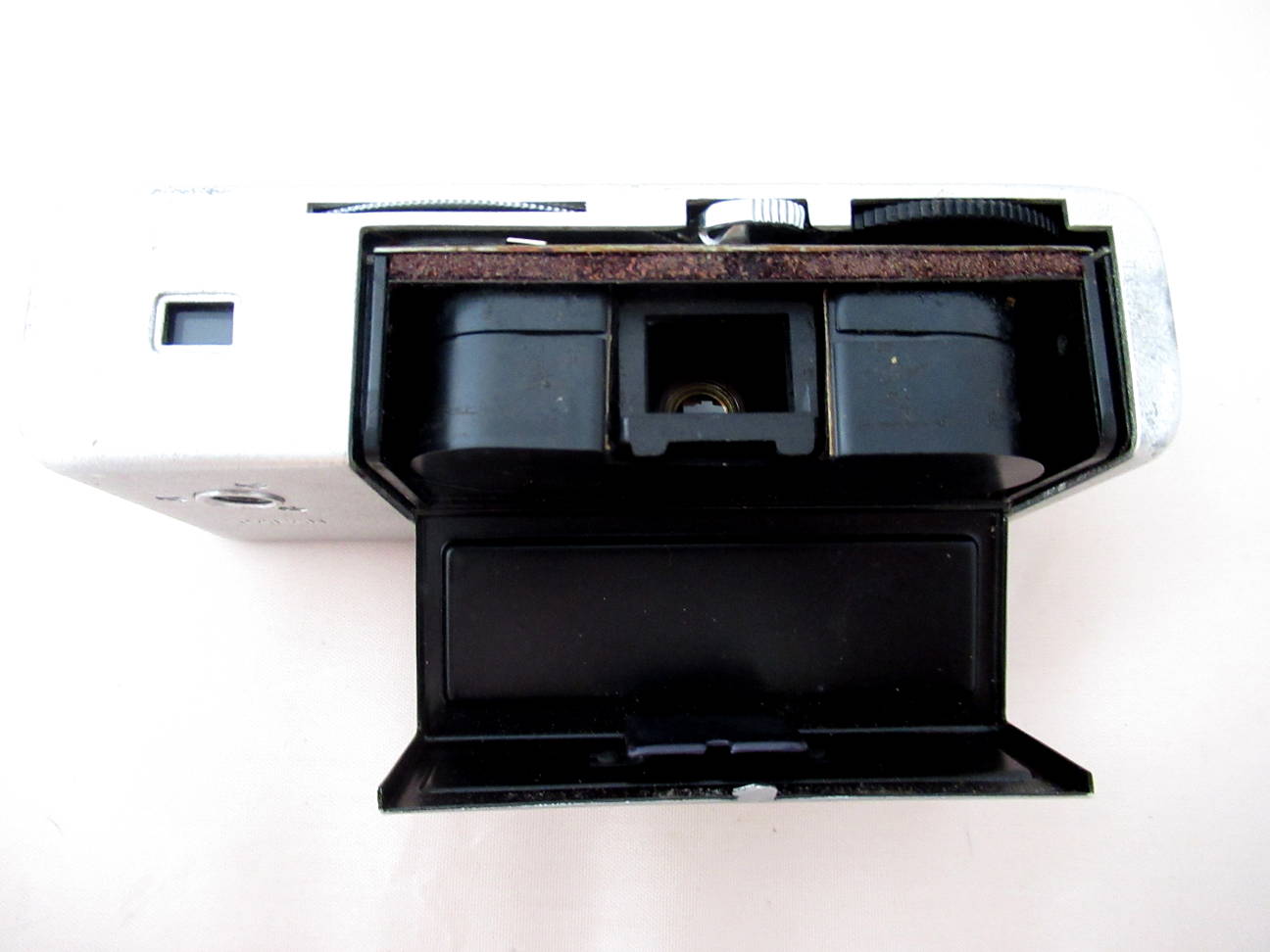 Camera film compartment open. An empty Minolta cartridge. You should have one if you want to use your camera. It's often cheaper to buy an old camera that has one inside than a spare cartridge which tends to be too expensive.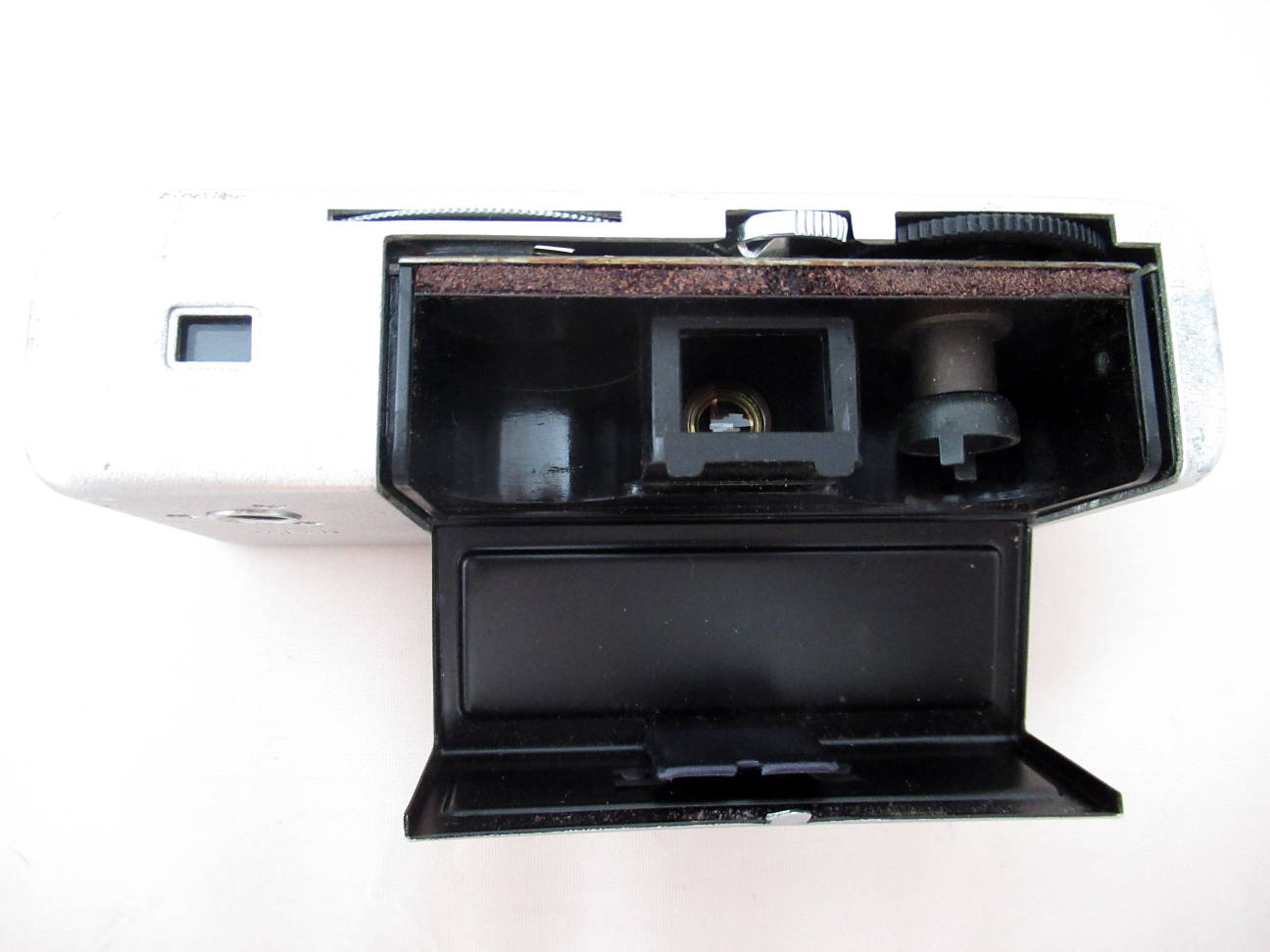 Film compartment.

It's a decent point and shoot camera with quite good picture quality, a nice finish in a very small and light pocketable body. This camera feels solid. The single speed and the fixed focus lens make it less desirable. Picture results were fine.