The Minolta 16 QT was first released 1972, shortly after the launch of 110 film cassettes. It's the last 16mm model for Minolta. It had the bigger picture area, similar to 110 film. It was a top class camera for 16mm Minolta cartridge film* (see below). It has a very good lens, the only focusable lens for Minolta 16mm cameras, as tall the others were fixed focus. There is only a choice of 2 speeds, apertures from 3.5 to 22 and a built-in CdS meter. There was a wide choice of accessories available, those from the MG-S mostly fit.

* 16mm film is a movie film format, as was 35mm film. In the early days it was cut from 35mm film and thus had perforations on one side (single perforation). Please note, that the perfs and their area of 35mm are bigger than those of modern 16mm film. As soon as 1923 Kodak introduced a set with camera, projector, tripod, screen and splicer (or was it a slitter?) aiming at amateurs. The new format was rapidly adopted by still camera producers to build smaller devices. The film usualy sits in a cartridge, but no standard has been established, many have 2 cassettes, one feeding and one taking. So every maker made his own system. Some, like Minolta, even sold a choice of readily available film cassettes. If you want to use your camera, you should at least have one (pair of) cassette(s).

16mm film is still made. There is double perf, single perf and unperforated film. Check, which one suits your camera. Some need perfs to advance. Smaller picture formats can use double perf film, bigger ones would have the perfs (or sprockets) visible in the picture area. There is 10mm of usable space between the perfs of double perf film, 12.5mm to the side of single perf film. Film can also be s(p)lit from other formats like 120.

The camera's main features are:

23mm F3.5 Rokkor lens, 23mm, 3 elements in 3 groups, F3.5-F22, min. focus 1.2m
Shutter speeds 1/30 and 1/250
12x17mm picture format, Minolta cartridge, can use only single perf or unferfed 16mm film
Size 109x45x28, Weight 150 gr.
50 - 400 ISO, viewfinder with parallax compensation marks, CdS meter, manual aperture, many accessories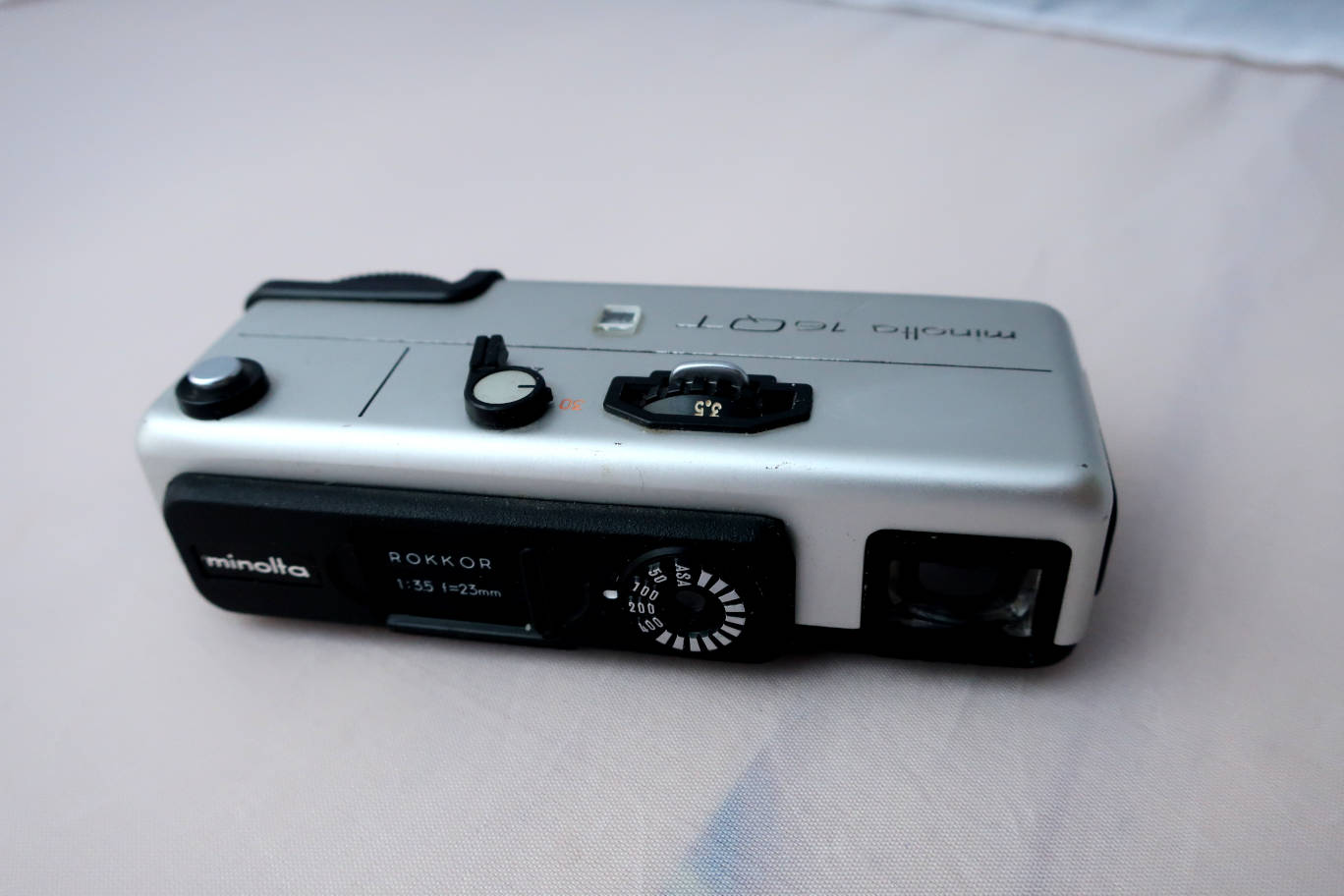 The Minolta 16 QT.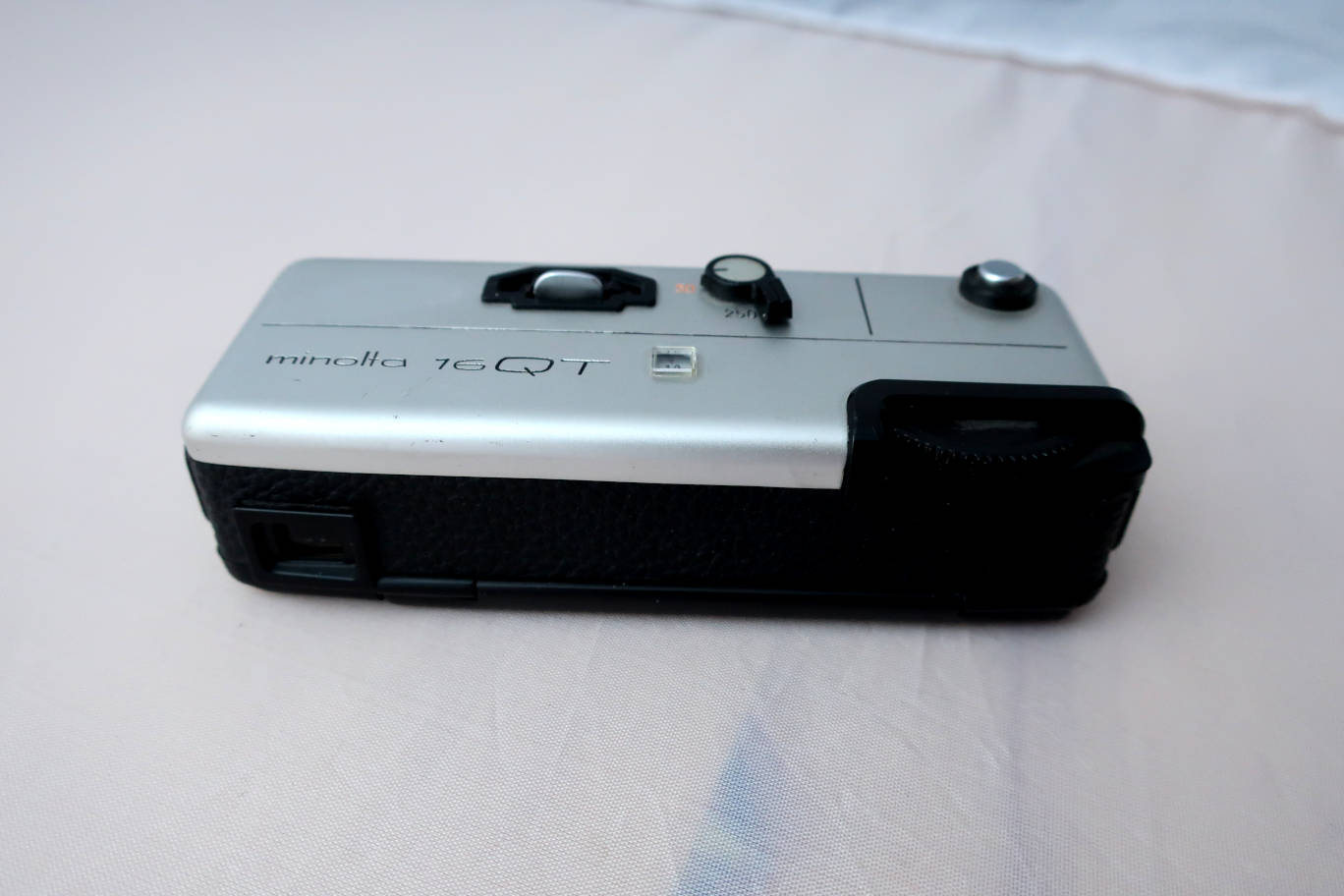 It's very small and light.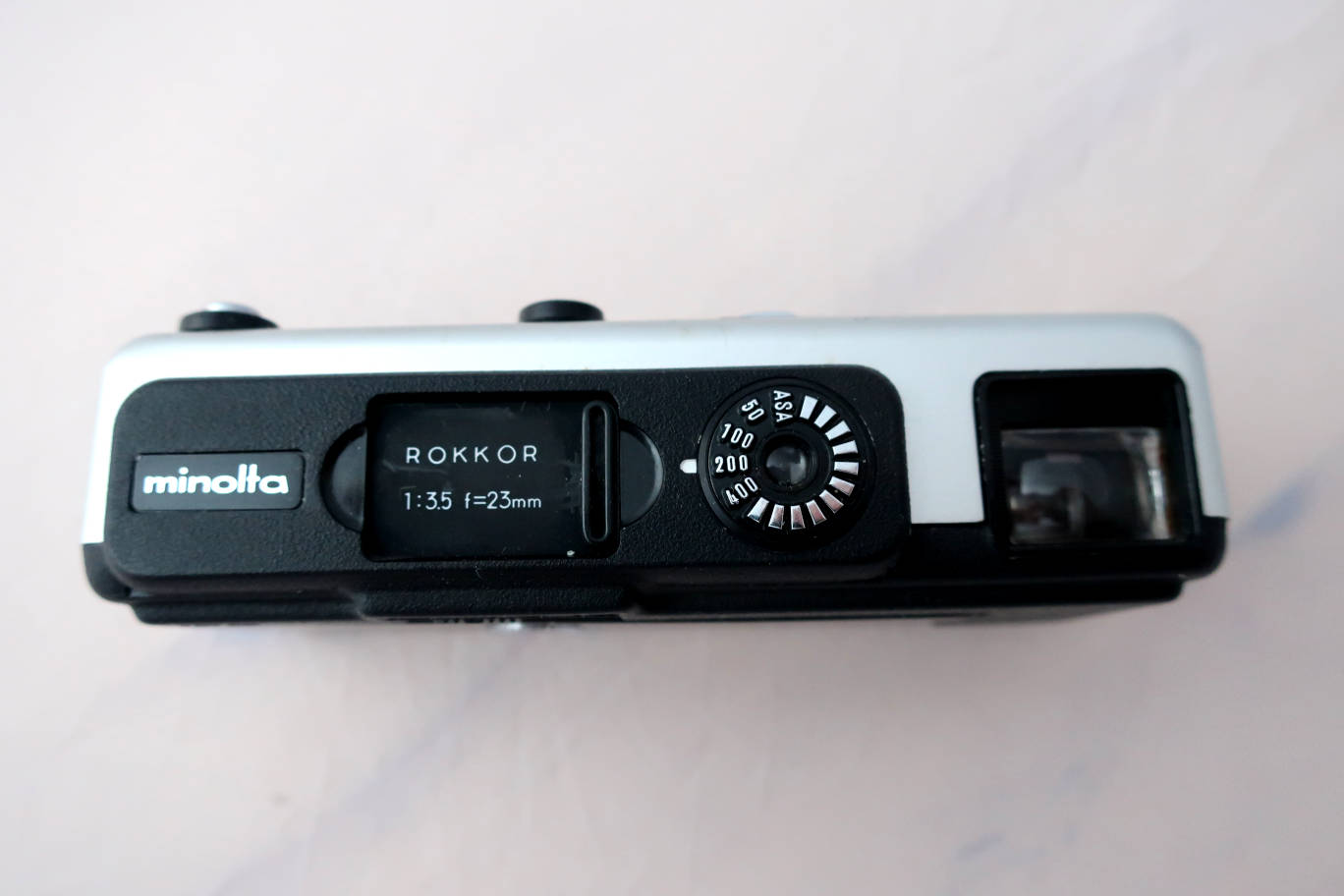 Camera closed, lens well protected. Shutter release is blocked when the camera is closed.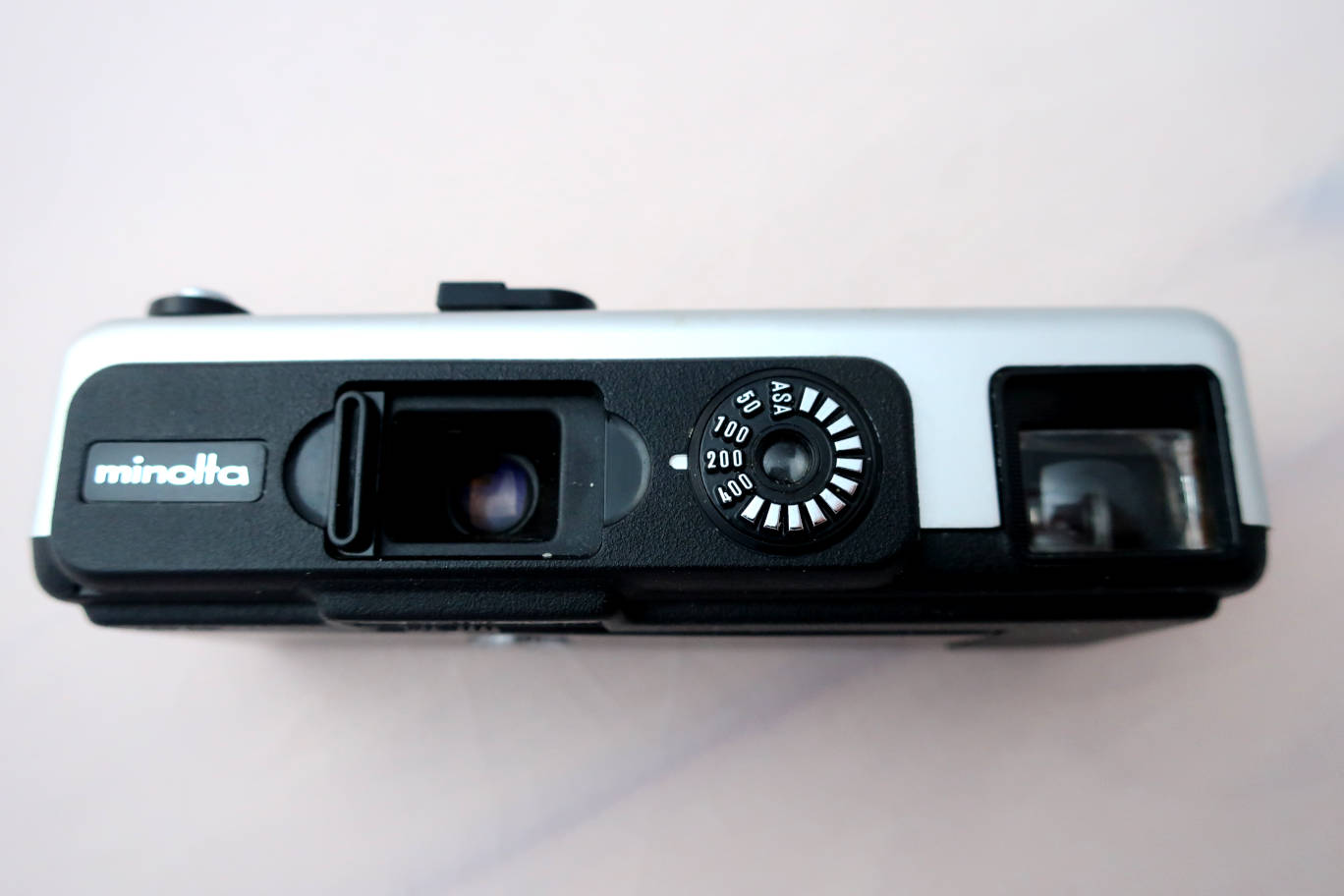 Camera front open.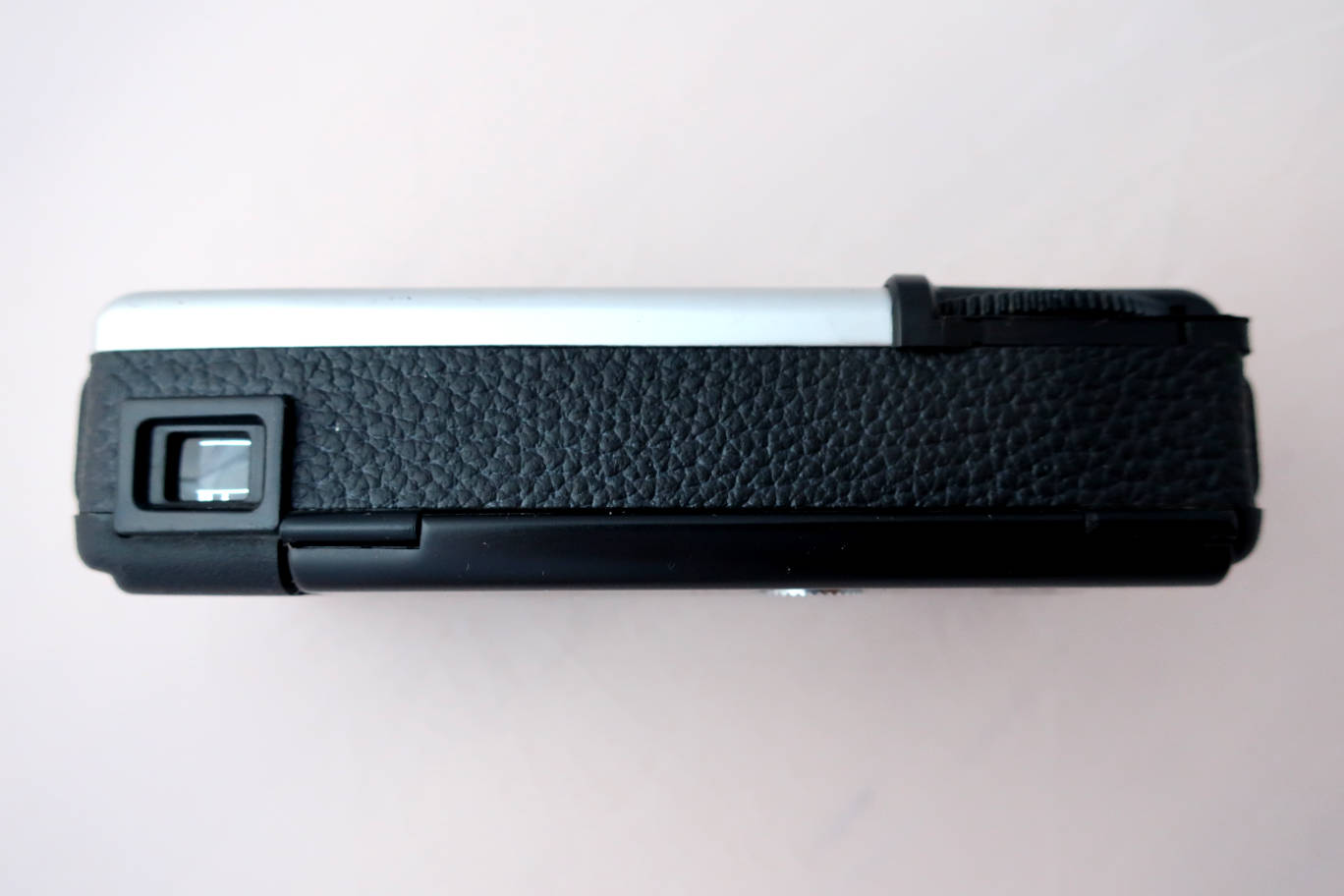 Back view.
The viewer shows the distance setting, a warning when 1/30s is set and 2 LEDs for over- or underexposure. It has parrallax correction marks. To the right: film advance.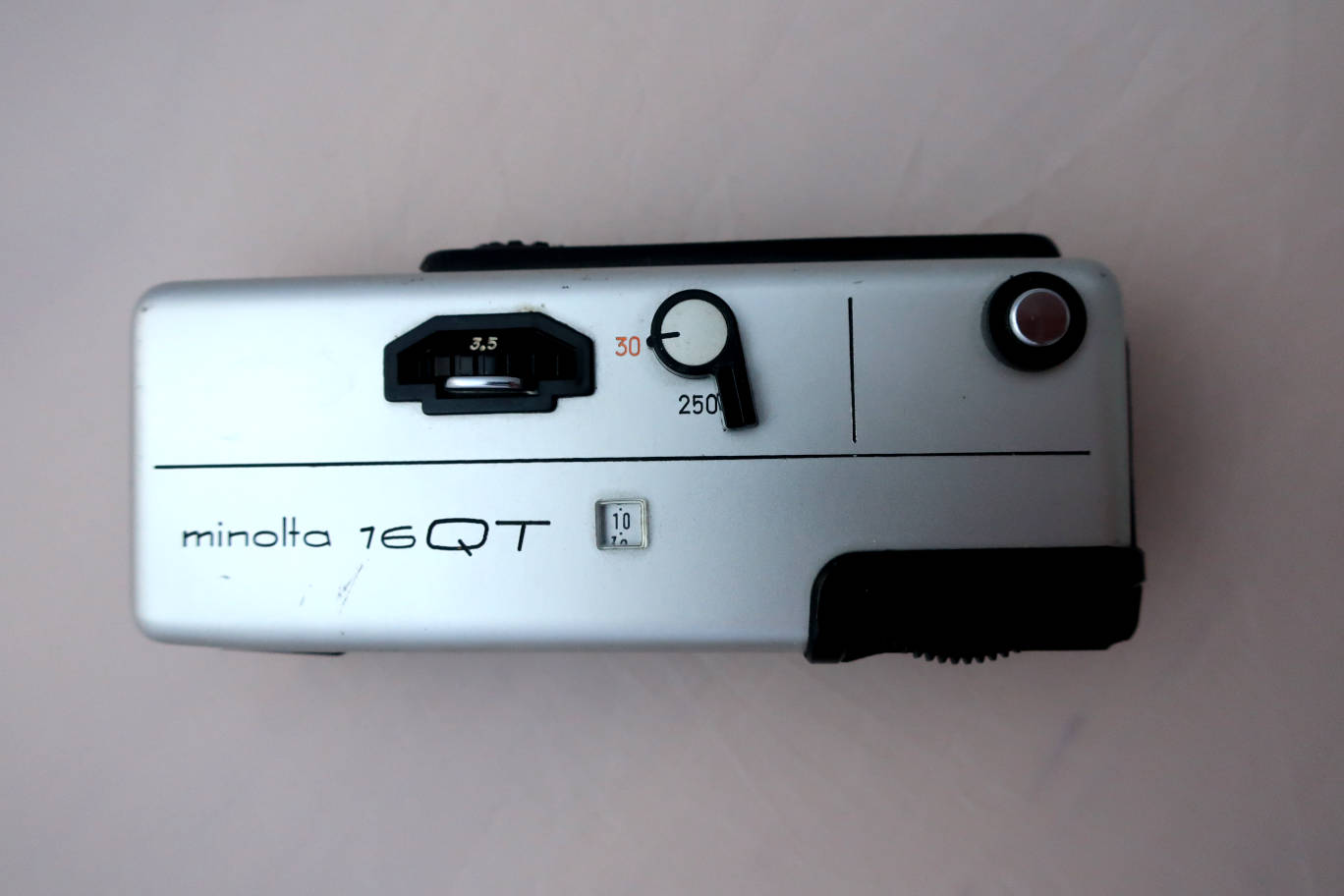 Seen from the top. Exposure setting and a switch which turns on the metering if pressed. You can easily press the switch and turn the setting with one finger. The next switch chooses the speeds, 1/30s or 1/250. The shutter button sits near the front edge. Film counter counts backwards from 18. At film start and end you need to advance twice. Film
advance wheel.
Set 1/250s speed.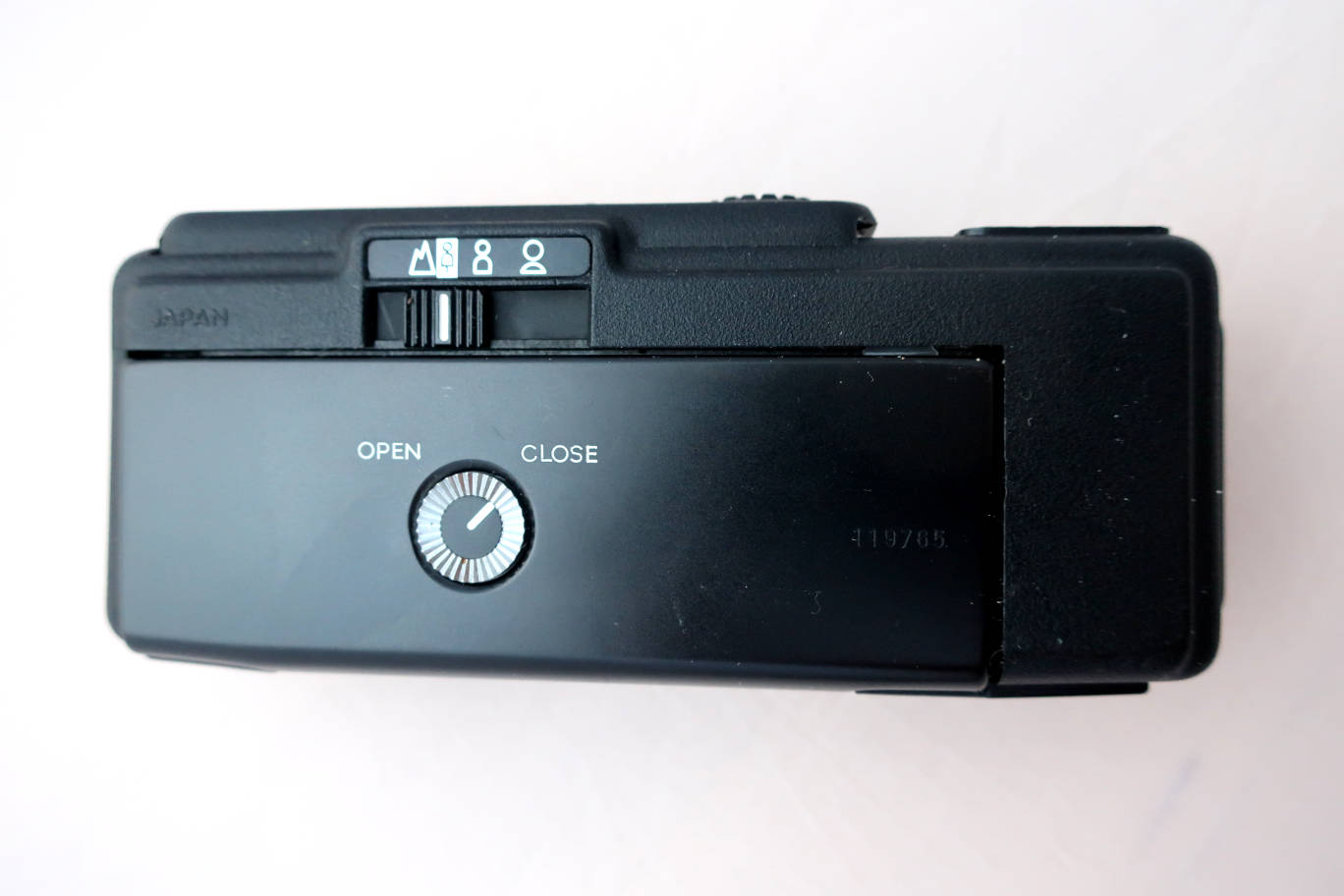 Seen from below. Slider for distance setting, set to hyperfocus setting. Film compartment lid with opening button. No tripod socket.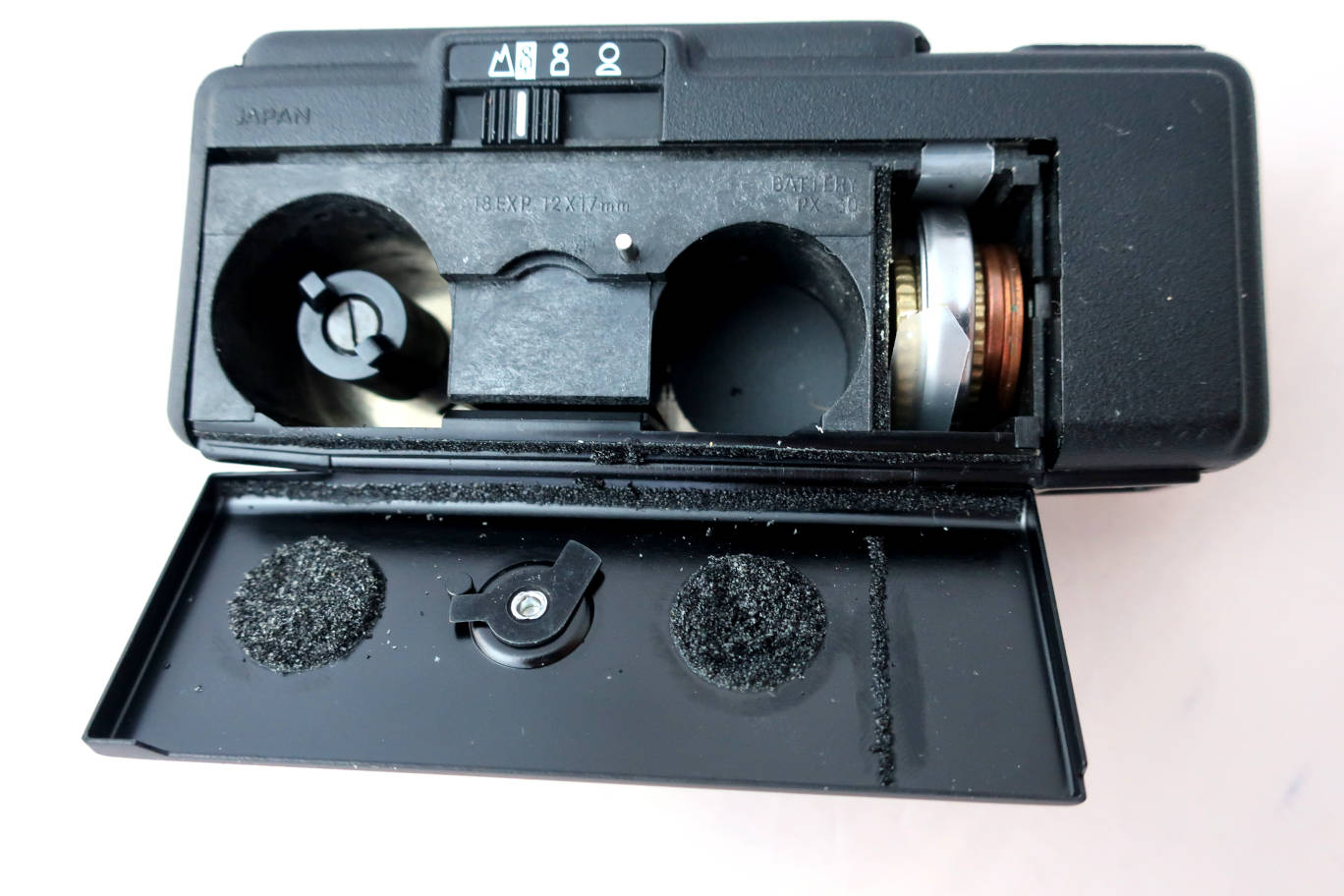 Film compartment with battery compartment. The old PX 30 battery is no longer made. You can put a CR2450 battery and some coins, as on the picture. Don't mix up polarity. The CR2450 has a slightly bigger diameter, but just fits in.

This camera is very easy to use, silde it open and it's ready. It has 2 shutter settings, the aperture is to be set via the meter LEDs in the finder. You have to set the distance, which is also indicated in the finder. Then frame, which is easy via the bright framelines. After taking a picture, you have to turn the advance wheel for film advance and shutter cocking. Putting a film is easy as well, you drop the film into the compartment, advance to the first frame and that's it.

It's an advanced point and shoot camera with a very good lens and nice picture quality, good quality finish in a very small pocketable body. This camera feels solid. It's a major advance that the lens can focus. Picture results were good. It has the bigger 12x17 format, which means + 50% of picture area.